Tawny Newsome On How Her Parents Helped Shape Her Mixed Identity
Tawny Newsome's mother is white, while her father is black.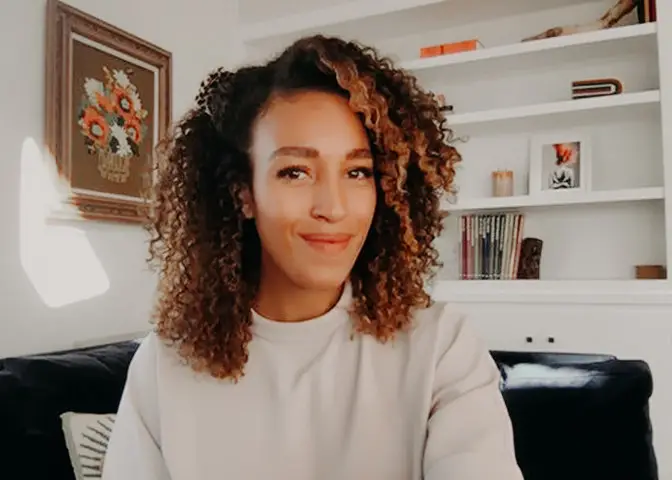 Tawny Newsome is an up-and-coming all-rounder in the entertainment industry. She can act, make music, and make you laugh with her stand-up gigs.
She famously played Chelsea Leight-Leigh on Bajillion Dollar Propertie$, Captain Angela Ali in Netflix's Space Force, and co-hosts the podcast Yo, Is This Racist?.
Her years of work have also taken her to a position where her voice can be heard loud and clear. And she does speak.
In addition to her artistic works, Newsome, a black woman, openly speaks about the need to equalize things for black people. She also has a dream to see a black woman become the face of a major outdoor brand.
Her Biracial Upbringing By Her Parents
In a conversation with Field Mag's Brandy Brooks in August 2020, the 38-year-old talked about everything she and Brooks had in common — love for films, the outdoors, and their biracialism.
Explaining her experience as a biracial kid in America, Newsome stated that her parents were very supportive, and would let her do the things she was interested in.
Her mother, who is white, was the one who exposed her to hiking, mountains and even riding a horse. "We used to go to Mount Lassen a lot when I was a kid. Or go up to the Point Reyes seashore. I grew up riding horses," the actress recalled.
She also remembered living between her father's "tiny tract" home, a black man, and her mother's home, a ranch with pigs and chickens.
Newsome's words also implied that her parents became separated when she was quite young. Despite that, her parents provided her with a good upbringing and shaped her into the person she is today.
Open Conversations with Her Dad
Newsome credits her father for teaching her to understand racism from a young age.
On June 2, 2020, she took to Twitter to share how her father's open conversations when she was 5 or 6 years old about racism helped her understand it.
For anyone worried about talking to their white children right now—worried that their kid is too young for these conversations—I was 5 or 6 when my Dad told me 'no matter what you do, some people will always hate you.' Black children don't get to not understand racism.
She further said she would always remember her dad's "incredible protective act" that saved her from "a world of disillusionment and pain."
Still Goes Hiking with Her Mom
The Vacaville, California native, who grew a liking for nature, especially hiking, when she was young, still explores trails with her mother.
In her 2021's Mother's Day Instagram post, Newsome even described her mom as "a huge Trekkie," while posting adventurous snaps of their recent hikes.
In one of those snaps, her mother wore a blue jacket, a brown and grey watch cap, and a backpack with a grinning face as she stood on a snow-covered hill.
Another slide saw her rocking a black pair of glasses, a military cap, a long-sleeved blue t-shirt, and a backpack, as she stood between an upward rocky place.