Tatiana Maslany Might Have Been with Husband Brendan Hines for Longer than Initially Thought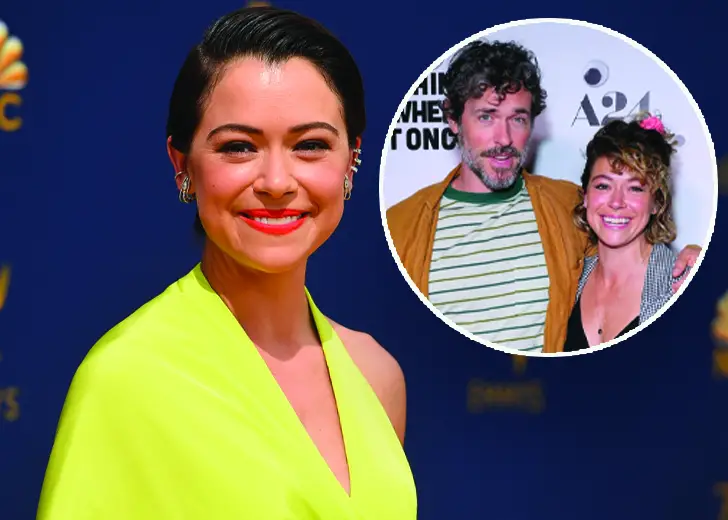 Tatiana Maslany is notorious for keeping things about her dating life close to her heart. Rarely does the She-Hulk actress reveal stuff about her romantic connections.
In April 2022, she made her relationship with her now husband, Brendan Hines, official. It was not a surprise that they were together as they had dating rumors surrounding them since a while ago.
As it turns out, they had been a thing for much longer than just a couple of months.
Tatiana Maslany And Husband Brendan Hines's Relationship
Even though Maslany made things with her now husband official in April 2022, rumors about them being a thing started after they started being spotted in public together often.
These sightings first began in July 2021. The first one of many came on July 25, 2021, when Kelli Williams posted a picture with Maslany, Hines, and Tim Roth in the same frame.
It was a reunion for Williams, Hines, and Roth as had worked together on Lie to Me, a show that ran from 2009 to 2011. Maslany's presence in the picture alongside Hines, though, only served to generate dating rumors about the two.

Tatiana Maslany with her husband Brendan Hines, Kelli Williams, and Tim Roth on July 25, 2021. (Photo: Kelli Williams/Instagram)
Then, on March 15, 2022, they added to these rumors, attending the premiere of X. And again, on March 23, they posed for the cameras on the red carpet at the premiere of Everything Everywhere All At Once.
Finally, on April 3, 2022, walking the red carpet during the opening night of Take Me Out at The Hayes Theatre in New York City, they seemingly confirmed their relationship.
Neither of them has actually confirmed anything, though, at least not with official announcements or loving words about one another. But these appearances were enough for everyone to conclude they were dating.
After their most recent red carpet appearance, some sites even reported that fans had been speculating about their romance since December 2020.
Tatiana Maslany Reveals Not-So-Secret Wedding with Husband
Turns out, the speculations about them being together for longer than everyone thought were true. Maslany confirmed that during her August 12, 2022 appearance on The Late Show with Stephen Colbert.
Maslany, unlike times before, was not shy at all about admitting she was married.
Her marriage was the first thing she brought up on the show, which was her special announcement. She called Hines "a wonderful guy" and said they had just started a "registry" and that Colbert was on it.
When asked how the wedding ceremony was, she revealed it was a small ceremony out on a field.
They did not intend to keep it a secret but since it was COVID, (which means they got married in 2020) it just worked out. "It went very well. It was a very chill day," added Maslany, but also revealed something chaotic that happened on the special day.
Her dog, Earl, was her ring bearer and at one point in their celebrations, he lost the ring. The ring box, which was tied to his neck, was open, and the ring was missing. Her husband found the ring, and all was well in the end.
Why Did Tatiana Maslany and Tom Cullen Break Up?
"Most of my dates have been friends that then became a date scenario," Maslany told Esquire in 2013. Her dating history suggests that to be true.
Before hitting it off with Hines, Maslany had been in almost a decade-long relationship with her ex boyfriend, Welsh actor Tom Cullen. Theirs was a case of co-stars who fell in love while filming.
Maslany met Cullen on the sets of a miniseries they were filming together in 2011. The two kept their love life low-key, but Cullen would talk about it here and there.
In December 2017, the actor was almost on the verge of becoming her husband. Speaking to People, he confessed he was tempted to propose to Maslany, saying, "I'm just waiting for her to put a ring on it." His plans never came to fruition.
Also, Tatiana Maslany & Tom Cullen broke up too apparently! 😰

One Tom gets married this year and a bunch of others split up... 😬🤭

A rift in the Tom Collective space-time continuum... @ThomasJohnston 😅 — PJPJ (@poisonivy2425) September 26, 2020
No wedding bells rang in the next two years, and by the time September 2020 arrived, fans started to think the couple had drifted apart and possibly even broke up. According to reports, they unfollowed each other on Instagram, and she even moved out of the home they shared in Los Angeles.
Again, no official word ever came from the former couple about when and why they broke up, but public appearances or a lack thereof apparently speak volumes about people's relationship status.