Taron Egerton and Girlfriend Emily Thomas Reportedly Break up over Engagement Dispute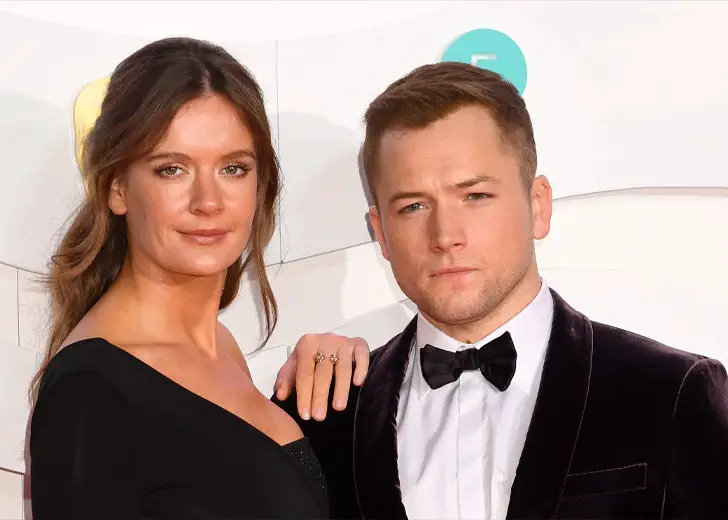 Taron Egerton and Emily Thomas have always had an on-again-off-again relationship. And things ended abruptly between the two in April 2022, as reports suggested their busy schedules impeded their romance.
However, things might have been a lot more serious than that. According to an anonymous tip on Deux Moi, Egerton and Thomas's apparent difference in opinion about starting a life together might have ended things between the two.
The Rocketman actor has even signed up on celebrity dating app Raya after the split.
Did Taron Egerton and Ex Girlfriend Break up after Engagement Disputes?
On April 21, 2020, an anonymous submission on the Instagram celebrity gossip account Deux Moi suggested that Egerton and Thomas were much closer to getting engaged than previously thought.
"Taron Egerton is on Raya after a very messy break up with his long term ex girlfriend," the note read. "(she wanted to get engaged, he didn't)."

Anonymous submission on Deux Moi suggesting Taron Egerton and girlfriend Emily Thomas broke up after he didn't want to get engaged. (Photo: Deux Moi/Instagram)
This comes after reports popped up in the British newspaper Welsh Sun-Times (via MediaMass) on April 22, 2022, that said the couple was shopping for engagement rings.
According to some insider sources, the couple would "soon be engaged" and that an engagement was inevitable between the two, suggesting the relationship was "heating up."
Apparently, it reached boiling point and ended before any rings could be exchanged if the anonymous tip is to be believed.
The submission also suggested that the break up took place after Egerton pulled out of his West End play. The actor passed out on stage on the opening night in March 2022 and subsequently quit the show a few days later on April 2, citing "personal reasons."
Their break up first became news on April 19, 2021, after an insider source told The Sun that their work schedules had torn the relationship apart. "They have separated and it hasn't been easy for either of them," the source claimed.
However, he was immediately open to a new relationship. "He has been putting himself out there on Raya in the hopes he can ease himself back into dating," said the insider.
Taron Egerton and Emily Thomas's Dating Timeline
Egerton met Thomas sometime before 2016, and they officially became a thing in 2016. However, both with blooming careers, their relationship had distance struggles from the very beginning.
Conflicting work schedules caused them to drift apart, and in November 2018, they broke up for the first time.
However, while speaking with Vogue in March 2019, he confirmed they had gotten back together — a reunion he was "really proud" of.
He also realized they had to be careful about the distance their jobs created between them. "Unless you're really vigilant, you can start to occupy separate worlds," he told Vogue.
A poignant note from Thomas, which he found in his home in Aberyst­wyth, might have contributed to their reunion. It made him cry and realize that things should not be forced to be a certain way.
Maybe the couple decided things were better if they were not together.