Who Is Olympic Gold Medalist Sydney McLaughlin's Boyfriend? Inside Her Personal Life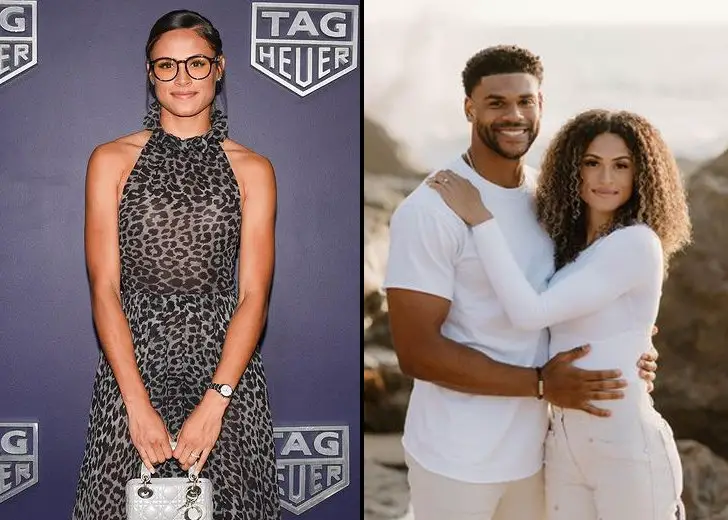 Sydney McLaughlin is best known for winning gold at the 2020 Tokyo Olympics in the women's 400 meters hurdles with the current world record of 51.46 seconds. 
She also won a silver medal at the 2019 World Championships.
Moreover, she was the first woman to break 52 seconds when she set the world record of 51.90s at the 2020 USA Olympic trials.
Coming to her personal life, McLaughlin is in a happy relationship with her boyfriend.
In August 2021, she even got engaged to her beau after he got down on one knee in an outdoor setting surrounded by bouquets of flowers and candles.
Sydney McLaughlin's Boyfriend Is a Former NFL Wide Receiver
The two-time Olympic gold medalist's boyfriend is a former NFL wide receiver Andre Levrone Jr.
The two got engaged at the Four Seasons Resort Scottsdale in Arizona, and sometime later, the couple took to social media to announce the news.
In her Instagram post, McLaughlin shared a series of the couple's pictures and a lengthy yet heartwarming caption while addressing her boyfriend as her "future husband."
"Till this day I still can't comprehend how someone who possesses everything I've prayed for, has finally come into my life," she wrote in the caption.
She further expressed herself by stating that she fell in love with him more and more each day.
As per her, her now-fiancé, Levrone Jr, was the most God-fearing, passionate, honest, loving, hard-working, and protective man she had ever met.

Sydney McLaughlin with her boyfriend Andre Levrone Jr. (Photo: Instagram)
McLaughlin and Levrone Jr have been allegedly dating each other since 2020. They first revealed their relationship by sharing a picture of them on Instagram in December that year.
Sydney McLaughlin's Parents Were Athletes Too!
It turns out that just like herself and her boyfriend, McLaughlin's parents, William and Mary McLaughlin, were also athletes.
The hurdler's father, William or Willie, was a semi-finalist in the 400m at the 1984 Olympic trials. Her mother, Mary, was reportedly a runner in high school, specializing in the 400m and 800m.
Similarly, McLaughlin's older brother, Taylor, had also won silver in the 400m hurdles at the 2016 IAAF World U20 Championships.
Born on August 7, 1999, in Dunellen, New Jersey, the Olympic gold medalist has three siblings: an older sister, Morgan, an older brother, Taylor, and a younger brother, Ryan.
Speaking with a local online media, Willie praised his son and daughter after their praiseworthy performances in high school.
"We aren't surprised by what Taylor and Sydney have done," he said before adding, "They have been prepared for this, but they're still just 16 and 14, so we want to make sure they aren't putting pressure on themselves. We're very proud of them."
Sydney McLaughlin's Ethnic Background
Even though McLaughlin has not openly discussed her ethnic background in public, various online outlets report that her ethnicity is African American.
Her father is reportedly African American, while her mother belongs to a white ethnic background.
Besides, McLaughlin is of American nationality since she was born and raised in the United States.