Susan Sarandon's Childhood with 8 Siblings and Catholic Parents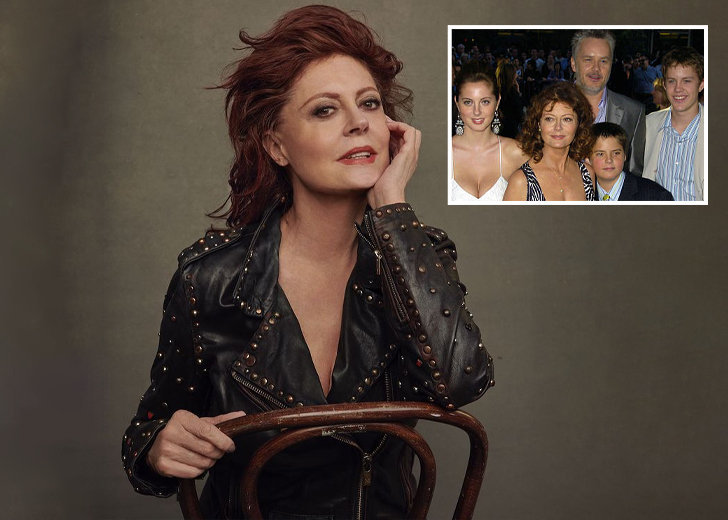 Susan Sarandon grew up with her eight siblings in New Jersey in a catholic family, helmed by her parents — father Phillip "Les" Tomalin and mother, Lenora Tomalin. 
Thanks to her parent's faith in Catholicism, she grew up devout and shy while attending catholic schools. She went to the Catholic University of America in Washington, D.C., in the late '60s.
But during her college days, she realized that there were so many contradictions and myths in her faith.
And that realization became the final blow for her distrust towards religion. 
Here's what we know about her siblings, parents, and childhood.
Susan Sarandon's Siblings
Sarandon has eight siblings — four brothers: Phillip L. Tomalin Jr., Tim Tomalin, O'Brian Tomalin, Terry Tomalin, and four sisters: Amanda Tomalin, Missy Tomalin, Bonnie Lyon, and Meredith Tomalin. 

Susan Sarandon, her mom (top right), and her siblings. (Photo: Susan Sarandon/Instagram)
The 75-year-old is the eldest of all her siblings. And she says that growing up in an enormous family trained her for her future in the entertainment world. 
In an interview with Time Out magazine in August 2014, Sarandon shared she had a lot of responsibility as the eldest child and referred to it as a good thing. 
In her own words, the veteran actress tended to daydream and be spacey from a young age. But being the oldest of multiple sisters and brothers introduced her to reality and kept her grounded. 
The Oscar-winning actress also mentioned how she never had privacy in her childhood. She remarked those challenges were training in a form, stating, "lack of privacy and chaos are very good conditioning for show business."

Susan Sarandon with her brother Terry Tomalin. (Photo: Susan Sarandon/Instagram)
During the same conversation, Sarandon also acknowledged that her brothers and sisters looked up to her as a mother figure because her "parents were pretty overwhelmed."
Susan Sarandon on Her Parents  
Sarandon believes her upbringing was challenging, and mostly because of her parents. As per her accounts, her father Phillip was "very eccentric and very loved and very difficult." 
But he didn't know how to raise a family, for he never had one. His father had died when he turned ten, and his mother disintegrated after that. 
Consequently, he grew without genuine affection and care from his folks. 
Likewise, Sarandon opines that her mother also didn't know the nuts and bolts of motherhood. She was raised in foster care houses through Catholic charities. 
So when her parents met, they ended up creating an enormous family without knowing how to deal with kids. And their first child, obviously Sarandon, shouldered some duties as a parent. 
The budding family responsibilities and relationship issues became troubling day by day, and Sarandon's parents divorced. 
After that, Sarandon's father, a vice president for an advertising agency named Ogilvy & Mather, started living in Maine while her mother lived in Florida. 
Her dad died in 1999 at the age of 82. While her mom is alive, Sarandon told Los Angeles Times the same year that she didn't have a "good relationship" with her mom. 
She also noted that she would hurt her mother if she went into the details, opting to stay away from the topic.