Steve-O's Girlfriend Made Him Eat His Own Skin Only 6 Months into Their Relationship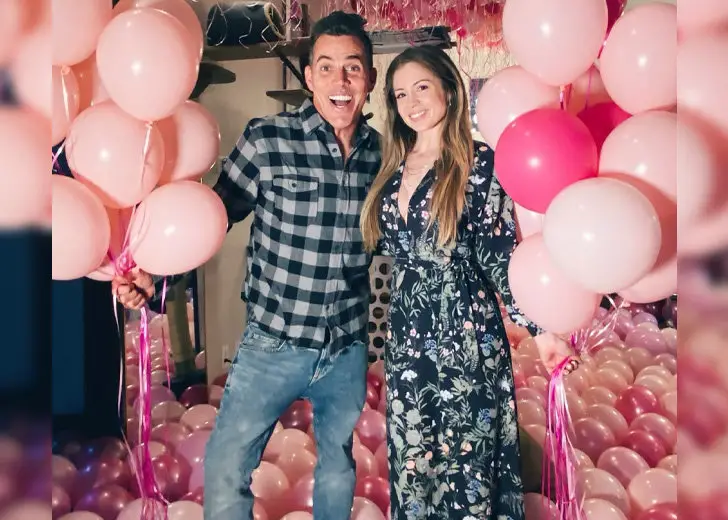 Steve-O and his girlfriend Lux Wright make the perfect couple. No doubt about it!
In the world of entertainment, Steve-O is the gold standard of sometimes weird and always funny stunts. The guy had his own brand of hot sauce injected into his anal cavity for crying out loud!
What's more, is that it was his girlfriend who injected the sauce. That's how much of a perfect match they are.
So when Wright suggested the Jackass star eat his own skin out of a toilet, you bet your bottom dollar that he swallowed it whole! 
Steve-O Set His House on Fire for His Girlfriend to Redecorate
In a video uploaded on February 27, 2021, on Steve-O's Instagram, the couple went on to list out some of the craziest things about their relationship. Some being the keyword here. Anyway, back to the subject at hand. 
The list began with the couple burning down their living room so that Wright could go ahead and redesign the whole thing from the ground up — literally.

Steve-O with his girlfriend Lux Wright in September 2021. (Photo: Instagram)
Admittedly, out in the Hollywood hills, fire is a huge concern, especially if it is someone's house that is burning. But since Steve-O was all in to burn the place down, Wright made sure that he got to do it. 
She took care of all the paperwork required for him to set the house on fire. Then, when the house was lit and the smoke pouring out everywhere, she even closed the doors and the curtains so that the guys could keep filming. 
"I didn't want the neighbors to freak out," she said in the video. 
Steve-O's Girlfriend Lux Wright Suggested He Eat His Skin
Understandably, after voluntarily setting a house on fire, Steve-O had quite a few burns and blisters on him. So, he popped the blisters and threw the burnt skin on the toilet.
At that point, Wright suggested that there was no harm in him picking up his skin from the toilet and eating it because he was on antibiotics, anyway.
Steve-O, being the loving boyfriend he is, decided to comply, and did just what his girlfriend suggested. 
He picked up the skin from the toilet bowl and, after gagging on it for a quick couple of seconds, swallowed the thing whole. 
Steve-O's Girlfriend Has Always Been Supportive
Being his usual daredevil self, Steve-O did his shows in Denver with the wounds he got from burning the house down and ended up in the burn unit.
When he woke up from the surgery, Wright was right there on the bed alongside him.
She had flown all the way from LA to be with her boyfriend to show her support. It might be hard to process, but at the time, Steve-O and Wright had only been dating for about six months.
Wright has been by this daredevil's side throughout some of his craziest stunts, including and not limited to driving a bicycle while on general anesthesia and pumping hot sauce into his anal cavity. They even pee together!
Well, you know the crazy stuff that they did six months into their relationship. They have been together for about six years, as of this writing. The best that we can say is that they are a match made in heaven. 
Is Steve-O Married?
For those of you questioning, "Is Steve-O married?" the answer would be: not yet. 
The couple got engaged back in 2018. He and his would-be-wife even had plans for a wedding, but ended up postponing the ceremony.
Although they are yet to get married, Steve-O and his soon-to-be wife have already planned to start a family of their own. Interestingly, they are not thinking of doing so by adopting animals and not having kids. 
In an interview with Us Weekly on February 11, 2022, Steve-O opened up about the vasectomy he did in 2018. Then he shared that he and his wife to be were expecting to expand their family, not with kids but with animal babies. 
"Neither of us want to have kids," the stunt performer stated, adding that they wanted to turn their house into an animal sanctuary.
At the time of the interview, the lovebirds had already gotten three cats, three dogs, and three goats.