Steve Jones Loves Wife Phylicia Jackson So Much He Wants to Marry Her Again and Again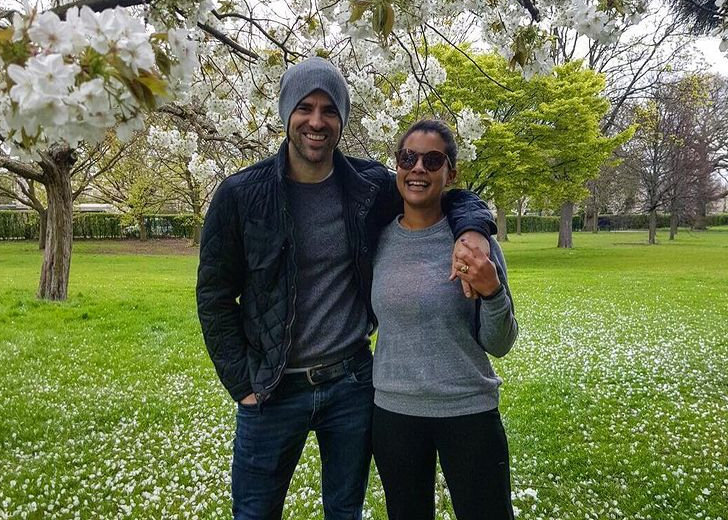 Steve Jones has been married to his wife, Phylicia Jackson-Jones, since 2014. But for the Welsh TV presenter, marrying Phylicia once was enough.
When he first married her, he wanted to do it multiple times, and he actually has.
Steve Jones Married His Wife Multiple Times
Steve first married his wife on October 20, 2014. It was a beautiful wedding in Mayfair, an affluent area in the West End of London.
Phylicia, whose parents are from Las Vegas, Nevada, was born and raised there. She traveled across the Atlantic for her wedding.
Her parents, unfortunately, could not do that. They missed her first wedding with Steve because it was too last-minute for them.
But for Steve, this just presented him with a chance to marry his wife again. And so he planned a second wedding.
The couple then married again — this time in Vegas, with both her parents present for the occasion.
They had their second wedding on July 4, 2015.
The "proper Vegas-style wedding" was also attended by someone else special.
"We got given away by Elvis, there were fireworks on the 4th of July, it was wonderful," Steve told Wales Online in August 2015.
He was still not content with his two weddings. Instead, he wanted to marry his wife again.
"The problem though is that Phylicia's so fantastic I want to keep marrying her," he gushed about his wife.
He expressed he loved her so much he kept wanting to propose to her again and again in the moments he considered suitable. Then he realized that she was already his wife.
When asked about a third wedding on Lorraine in August 2015, he said he was thinking about it.
It has been over five years since he said that, and the third one is yet to happen.
By October 2021, they had been together for over ten years. Phylicia commemorated their 10th anniversary with a cute selfie on October 20, 2021.


Steve Jones with his wife Phylicia Jackson-Jones on a trip together. (Photo: Phylicia Jackson-Jones/Instagram)
"10 years since we found each other," she wrote in the post and revealed that they had married the same day they met each other for the first time.
She said that he had her back to the day, something he literally did on the selfie.
Steve Jones and Wife Phylicia Jones's Love Story
Steve, who considered himself a "success story" when it came to dating, didn't go on many dates before meeting Phylicia.
Then he met her in LA, and that was that for his days as a bachelor.
Then came their proposal, a few years into dating. He kept it a surprise for her and everyone present at the place.
They were spending time in a villa in Italy. All his brothers and her sisters were there with them, as well as some of their friends.
He just got up from dinner one night and made a toast to her side of the family. Then, he just sprung the engagement ring on everyone.
When he told this story on Lorraine, the host's face exuded shock — probably how everyone at the dinner table looked when he proposed to Phylicia.