Stephanie McMahon's Eldest Daughter Wants to Be like Grandfather Vince McMahon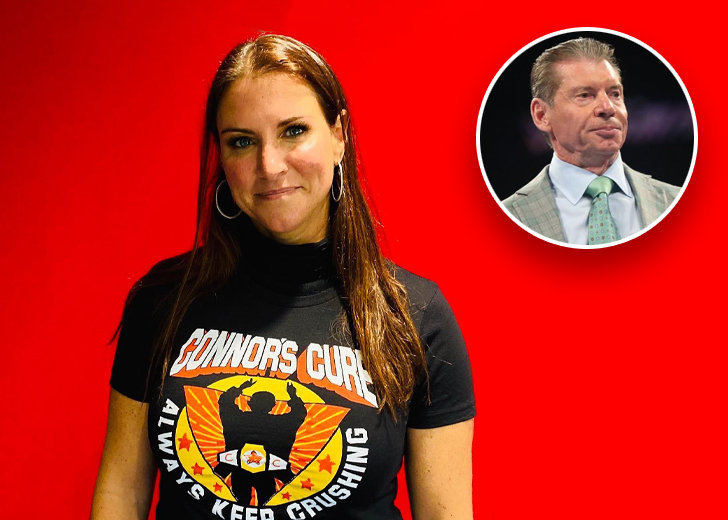 Stephanie McMahon is a wrestling royalty, having grown up in front of the WWE universe.
Her father, Vince McMahon, is the most famous among the McMahon family members. He took the family wrestling business to greater heights from the 80s and beyond.
And as the daughter of a billion-dollar entertainment company owner, Stephanie started learning the ropes of the business from an early age. She was 12 when she worked as a receptionist for her father's company. 
Stephanie McMahon on Training Her Daughter
Now Stephanie, the newly appointed interim chairperson and CEO, is preparing her oldest daughter to take over the business in the future. 

Stephanie McMahon's husband with their daughter on Father's Day. (Source: Instagram)
The CEO shared the news in an interview with Fox Sports' Things First when she was asked whether she would encourage her three children to step into the ring. 
She replied that her 15-year-old Aurora Rose Levesque was already training to become a pro wrestler.
"My eldest daughter has already started training. I would encourage them [her children] to follow their passion and whatever they believe in as long as they work hard at it," Stephanie said. 
She added her children could do anything in the world they wanted, but only if they believed in themselves and worked hard. 
In another interview, she shared her daughter was also keen on managing the logistics of the business. 
She shared that when Aurora was eight years old, she said she did not want her mother or father's job and wanted to be like her grandfather. 
Her daughter's desire to get involved with WWE is not a shocker, given that it is truly a family business.
Stephanie McMahon's Husband and Children
McMahon also has two other daughters: 13-year-old Murphy Claire Levesque and 11-year-old Vaughn Evelyn Levesque, whom she shares with her husband and famous wrestler, Paul "Triple H" Levesque.
Paul proposed to the WWE CEO in 2003 during Valentine's Day. The duo fell in love after they were involved in a storyline in which Paul crashed the wedding of Stephanie and Andrew "Test" Martin. 
WWE employees were forbidden to date wrestlers, so they asked Stephanie's father for permission before they started going out.
Vince gave the green light but later changed his mind, saying their relationship would not work out. As he predicted, Stephanie and Paul broke up.
However, after a ten-month hiatus, they got back together, and Vince approved their reunion. 
In October 2003, the couple tied the knot in Sleepy Hollow, New York, and have been going strong ever since.
Stephanie McMahon Steps Away to Focus On Family
In May 2022, Stephanie announced she was temporarily stepping away from most of her roles within the WWE.
Announcing the decision on Twitter, she said: "As of tomorrow, I am taking a leave of absence from most of my responsibilities at WWE."
She added she was taking the leave to care for her husband and her children. 
However, she confirmed she wouldn't be gone for long and would "look forward" to resuming her role with the promotion.