Things to Know about Stefanos Tsitsipas and His Girlfriend Theodora Petalas
"She also plays tennis, and when I play with her, it is my favourite moment on the court! It brings a huge smile to my face," Tsitsipas said of his girlfriend.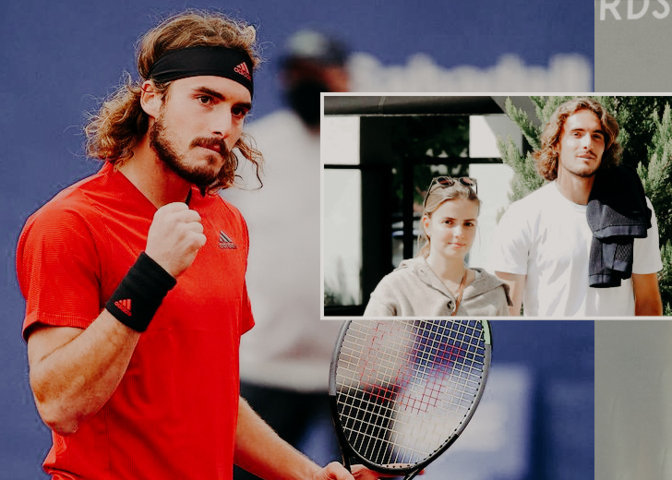 Stefanos Tsitsipas is off the market! 
Tsitsipas revealed in an April 2021 interview that he has been in a relationship with Theodora Petalas for two years now. However, longtime fans of the tennis player have known this for a while now. 
Tsitsipas Met Her in New York
In the interview with Tennis Majors, Tsitsipas opened up about how he met his girlfriend for the first time and how the two of them came to be together. 
Tsitsipas confessed that the two of them had known each other for three years and met for the first time via family friends. Apparently, he met her in New York, but at the time, he was shy, and things didn't really go anywhere. 
He did admit that he had feelings for her even back then. Fast forward one year, and he was in New York again. But this time, he mustered up the courage to ask Petalas out on a date. He added, 
I asked her to go to Brooklyn to snap some photos and I think she liked that.
Tsitsipas told the outlet that the photos he took that day were his favorites to date. 
They Have Great Chemistry
The Greek athlete went on to gush about his girl some more. He outed that Petalas was someone who had supported him a lot and brought stability while doing so. 
"I have a lot of feelings for her," he said, "I think she feels the same!"
Tsitsipas also announced that their relationship was something very special. As he explained further, the two of them understood one another and had quite a few things in common personality-wise, which helped the relationship become what it is. 
Tsitsipas on Having a Long Distance Relationship
Further along in the conversation, the Olympic athlete told the publication that having a long-distance relationship was a "little difficult," but it was nothing that the doting couple could not handle. Petalas lived in London. 
She made the time to come to some of his tournaments and show her support, and when she did, the couple would get a chance to spend some quality time together. 
Even though they spent so much time physically apart, Tsitsipas admitted that they always kept in touch and talked every day. He added that there hadn't been a day in the last two or three years that they hadn't spoken. 
The fact that she sometimes picked up the racket to go against Tsitsipas in the court was something he deeply appreciated. He announced that playing with her was his favorite moment on the court, and it brought a huge smile to his face. 
Back in February 2021, the professional tennis player also dedicated one of his victories to Petalas. He wrote "TP, that's for you!" on one of the cameras filming the event and signed his name on it. 
More on Petalas
Petalas is a New York University alum who pursued both her bachelor's and master's degrees from the reputed institution. She completed her Masters of Science degree from the university in 2020. 
Her LinkedIn bio also revealed that she had been employed by Habitas as a Marketing and Membership Manager from September 2017 to September 2018. Before that, she was a global communications and PR intern with Oscar de la Renta for three months in 2016. 
The profile also enlists her as a brand ambassador for Tripr from August 2014 to July 2016. Her other professional abilities included data analysis, identifying trends, and using them to drive online business. She also claimed that she was an excellent relationship builder and team leader.