How Solange Knowles Raised Son Daniel Julez with Ex Husband Daniel Smith after Giving Birth at 17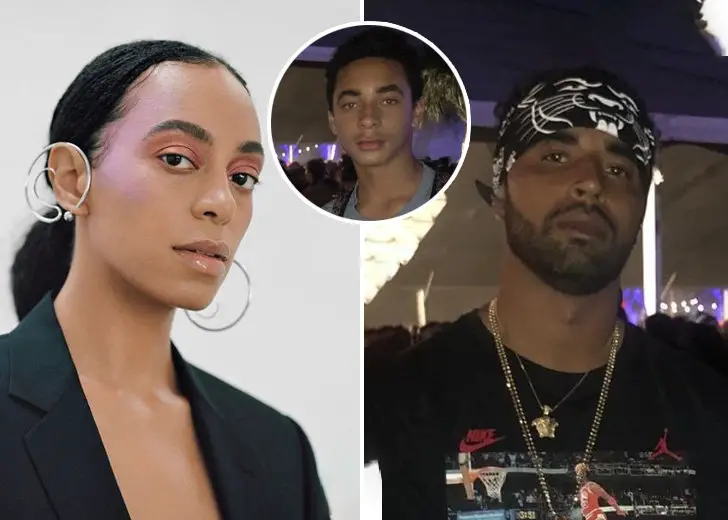 Solange Knowles is in the news again. But this time, it's not for something she did.
Rather, it's her son, Daniel Julez J. Smith Jr., who has caused a stir. He allegedly got a girl pregnant recently.
Daniel Jr., 17, has apparently impregnated a high schooler. This is becoming big news not just because he is 17 but also because he is seemingly repeating his mother's pattern. After all, Daniel Jr., too, was born when Solange was 17.
Solange could now be a grandmother soon, and it is worth revisiting her life back when she was raising a son in her teenage years. Daniel Jr. could pick up a tip or two from his mother if he does become a father this early.
Solange Knowles' Teen Mom Story At 17
Solange was completely career-driven by the time she was 16. The great Beyonce's sister, she had put out a solo album, Solo Star, and performed with her sister's Destiny's Child group, all before she was 17.
But, as she turned 17, her life took an unexpected turn. She got pregnant with Daniel Julez, with her high school sweetheart, Daniel Smith.
So, she started a life together with him. They married and moved to Moscow, Idaho, Smith's college town.
Despite the circumstances, she considers herself fortunate with how things panned out with her son, born in 2004. "I was lucky with Julez," she reflected while talking to Harper's Bazaar in 2014.
More difficult moments were yet to come in her life. By the time she was 21, her marriage with now ex husband had ended. She filed for divorce in 2006 and relocated to L.A.
There, she found a bit of stability as Daniel Julez started school, and her second solo album turned out successful. The move was mostly for her son's benefit, but it served her career well on the side.
That is a theme that had been dominant throughout her many decisions to move homes. After L.A., she and Daniel Jr. moved to Brooklyn's Carroll Gardens.
There, too, she found a home for her artistic taste, as well as Daniel. But it was time to move again, this time to New Orleans.
"I've thought about moving to New Orleans for years but just never had the courage to do it," Solange told Harper's Bazaar. This move happened just a while before the interview in March 2014.

Solange Knowles with her son, Daniel Julez Jr. (Photo: Daniel Julez Jr./Instagram)
The thing that provided her with the final push was Daniel's age and tendencies. "Now my son is at that age where he's really establishing friends and a community, so I feel like this is a good time to try it out," she confessed.
In all these moves and changes in life, one thing that remained constant was Daniel Sr.'s support for her and their son. They had split amicably.
"We co-parent really well," Solange said of her relationship with her baby daddy. He was always there to take care of their baby whenever she was in a crunch at her work.
Solange Knowles' Son Daniel Julez Allegedly Got Teenager Pregnant
The news about Daniel Julez getting a high school girl pregnant broke around April 11, 2022. By that time, there had been a lot of silent developments in the matter.
The girl, whose name is said to be Adore, had herself taken to social media to reveal details about the relationship they had. They had gone back and forth on getting intimate, and they even had discussions about the intercourse they had.
In the screenshots of their text messages she uploaded, he apparently had asked her to take a "plan b," but she refused to do so, saying, "just do it & pray."
Further, into the conversation, Daniel Jr. also brought his mom into the mix, saying she "didn't have eyes on her at that age," referring to his fame.
In other Instagram stories, the girl allegedly also clarified her position on the matter. She claimed she did not need financial support from him as she made decent money herself and explained that she was not exposing Daniel Jr. for clout.
She did what she did just because she did not want him to get away with his acts.
This sparked a conversation on social media, especially on Twitter, about how Daniel Jr. is following his parents' pattern of becoming a father very young. Of course, him being 17 doesn't help him, either.
Amid this, Julez himself addressed the screenshots. On his Instagram stories that same day, he claimed Adore was lying about being pregnant with his baby.
He uploaded screenshots from a conversation he had with her, where she asked him to tell everyone what she said before was fabricated.
Adore later came back with her rebuttal, calling Julez a liar for trying to make her seem bad.
While all this is happening, there's still no confirmation on whether Adore is actually pregnant with his baby. And the story is still unfolding, with both sides not staying silent on the matter. Solange, however, is yet to speak.