Skip Bayless' Wife Appreciated His Honesty about Football Obsession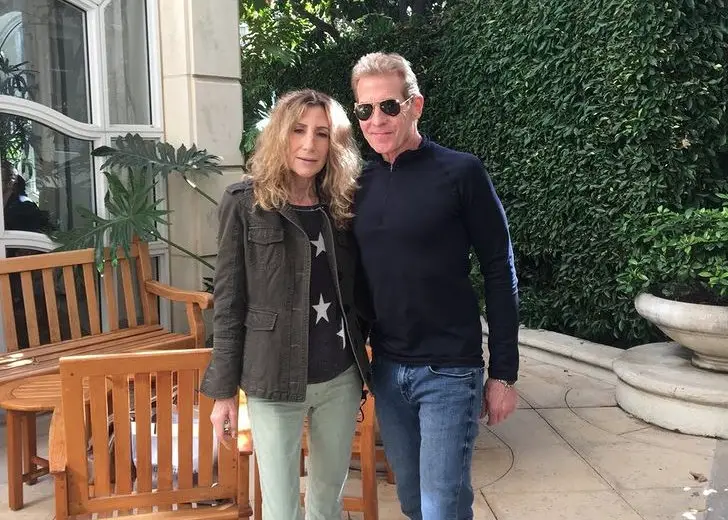 Skip Bayless is a self-professed "complete psycho." He is crazy about American football.
So much so, he has made a career out of watching and reacting to games.
His wife, Ernestine Sclafani Bayless, knew about his obsession when she met him. But she still stuck by him.
Her job now seems to be to maintain their marriage, whereas Bayless is still out there being a professional troll.
Skip Bayless's Wife Appreciated His Honesty
Bayless and Sclafani first met in around 2005. She was a PR executive for ESPN, and they first came across one another on the set of Cold Pizza, of which he was a host.
Even back then, Bayless was as crazy about sports as he is now. He considered his job to be his first wife.
He stated this exact thing to his now-spouse when things first took off.

Skip Bayless with wife Ernestine Sclafani Bayless during Thanksgiving 2021. (Photo: Skip Bayless/Instagram)
"I told her I'm married to my job," Bayless told The New York Post in September 2019. "I have always been."
But he had a "weird feeling" that the relationship could be something nice. So he warned her about her position in his life.
He told her, "If it ever does, you'll always be 1A to my job."
Bayless revealed his wife hated him for telling that story, but it was the truth. That being said, he had a hunch that his wife might have liked his honesty.
"At least I divulged myself up front, which I think she grudgingly appreciated," he told the Post.
They didn't tie the knot until after about 11 years of dating. They got engaged in 2010 and waited until 2016 to plan out their wedding.
The couple got married in secret. Not even their nearest ones were present at the ceremony.
On July 28, 2016, they took their vows in front of a judge, where the bailiff served as the best man and the rest of the court their witness.
Their loved ones weren't admittedly upset at them for going about the wedding that way.
Skip Bayless's Wife on Living with a "Complete Psycho"
Sclafani now adjusts her life around Bayless, a thing she decided she was okay with when her mother asked her the same question.
She told the Post that while they did not argue all the time, she had to work around his schedule.
They slept in separate bedrooms during the week, and she managed their afternoons so he would not miss games.
Things do get hellish for her, though, especially when his favorite team suffers during the football season.
A time like this came in 2019 when the Dallas Cowboys were having the worst season. 
Sclafani appeared on Skip and Shannon: UNDISPUTED in December 2019, where she discussed how it was to live with him when things weren't going great with the Cowboys.
When asked how it had been living with Bayless during that time, she replied saying it had been "sheer hell."
Shannon Sharpe then asked how she handled his short temper.
Sclafani revealed that she would walk out of the room. She also stayed out of the house on game days.
Sclafani has become an expert on navigating life being with someone that's crazy about sports — she has written a book on how to do that.
Her book, Balls: How to Keep Your Relationship Alive When You Live with a Sports-Obsessed Guy, was featured on the show.
Bayless has called her the "greatest thing that's ever happened to me." He didn't know who else could put up with him, but she had, right from the beginning.