Know about Sheena Melwani's Husband 'TRID' Face Reveal, Wedding, Net Worth & Age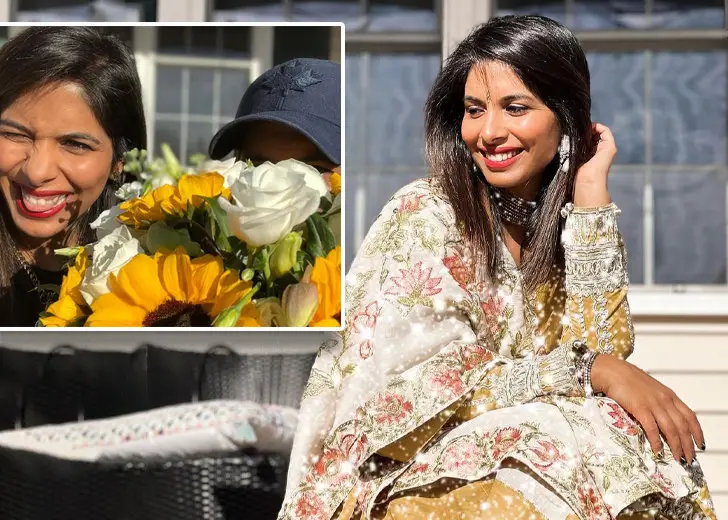 Canadian multimedia artist and social media content creator Sheena Melwani catapulted to TikTok fame with her Interrupted series that had a fairly simple premise: she would play her piano and sing covers of popular songs while her husband made witty remarks about the lyrics—the stint started during the pandemic. 
For the longest time, the host of SheenaTV was the face of the operation, with her husband only voicing his comments from behind the camera. 
Eventually, the 2022 'Short Form STreamy Award' winner's husband initially decided to come onscreen, mainly for their YouTube-based content.
Still, his face was hidden behind a virtual avatar, a cartoon bobblehead, the whole time, as he started to make appreances on her social media and his own Instagram and Tiktok pages. 
Read the full article to know about Sheena Melwani's husband 'TRID' face reveal and also about her dad, wedding, net worth & age
Is the real Indian dad Sheena Melwani's Husband?
Yes, Sheena Melwani's husband is "The Real Indian Dad," who is also known by his nickname's short form TRID. 
As promised, her husband Dinesh Melwani had a face reveal in the video of his wife's song, Better, in July 2022, on the occasion of the pair getting one million YouTube subscribers.
With the reveal, it ended a long wait of the fans as Sheena revealed that TRID was not her father but the father of her two children.  
If you didn't know, Melwani is a transactional lawyer by profession. He is also active on TikTok and Facebook. 
Back in 2020, Sheena revealed to CNN how she came up with the idea of collaboration with her husband. She shared,
I started doing live concerts on my Facebook page, where I'd take requests, almost like a human jukebox, three times a week. Then I decided to record a song after one of my online sessions to post on Instagram.

As I started the song, the heckling started. I decided to keep singing, fully expecting to delete the video. But after seeing how we both were laughing so hard, I decided to post it on my TikTok page.
When did Sheena Melwani & Husband have their Wedding?
Sheena Melwani and her husband Dinesh, who is known as "The Real Indian Dad," got married in May 2009.
Although in-depth details of their wedding couldn't be traced, we have found a tweet from Sheena from 2009 in which she talked about her wedding. 
She tells in the May 2009 Twitter post, "Day 3 of the wedding. Can't decide if I like my shoes. What do you think? Outfit pic coming next," uploading a picture of her feet flaunting beautiful yellow shoes. 
Day 3 of the wedding. Can't decide if I like my shoes. What do you think? Outfit pic coming next. http://twitpic.com/5eaoh — SheenaMelwani (@SheenaMelwani) May 17, 2009
What is Sheena Melwani's Net Worth?
As of now, Sheena's estimated net worth is $2 million, whereas her husband, Dinesh Melwani has an estimated net worth of $4 million. 
How old is Sheena Melwani?
Born on 1 September 1983, in Montreal, Canada, Sheena is of Indian descent and comes from a business family.
Sheena Melwani & Her Husband's Claim to Fame
Understandably, fans of the adorable couple were curious. They all wanted to know who The Real Indian Dad was and, of course, what he looked like. 
During an episode of their YouTube series Asinine Advice, Melwani and her husband were posed the same question.
A fan asked, "Why always the cartoon face? Surely you're a handsome fellow." 
Melwani actively dodged the question by complaining about how fans always encouraged her husband by saying such nice things about him. Thankfully, they weren't the only fan bothered by this question. 
The subsequent question was, "When can we see your real face?"
This time around, there was no avoiding the question. Having noticed this, the husband announced that he would be showing his face once their YouTube channel got a million followers. 
A User Supposedly revealed The Real Indian Dad's Face
Apparently, this was not the first time the social media stars announced this, or so a fan claimed. 
Back in February 2022, a user named @huntyfay claimed that Melwani and her husband were supposed to do the face reveal video once they hit a million followers on TikTok.
However, the creator duo supposedly carried over the milestone to YouTube.
The user went on to post a video of Melwani and her husband alongside a slideshow of close-up portraits.
This further implied that the man being featured was what The Real Indian Dad looked like behind his virtual mask. 
@huntyfay made the call to post the video revealing The Real Indian Dad's face because they were not happy with the fact that the couple changed their original clause. 
The Real Indian Dad Face Reveal was Promised
Melwani and her husband finally hit their goal of getting a million subscribers, and they executed their plan to do the face reveal. 
On 21 November 2021, the songstress put up an Instagram selfie of herself and her husband, but sadly, his face was hidden behind a bouquet.
She thanked her fans for tuning in to their channel and being with them for the crazy ride. 
That same day, The Real Indian Dad made an announcement on his Instagram page, claiming that they were getting ready to make the big reveal. They just needed a little help from the fans. 
He asked his fans to reach out to his email address with a video sharing how the couples' YouTube videos impacted them.