Sharon Horgan's Ex Husband Jeremy Commended Her for 'Drawing from Life'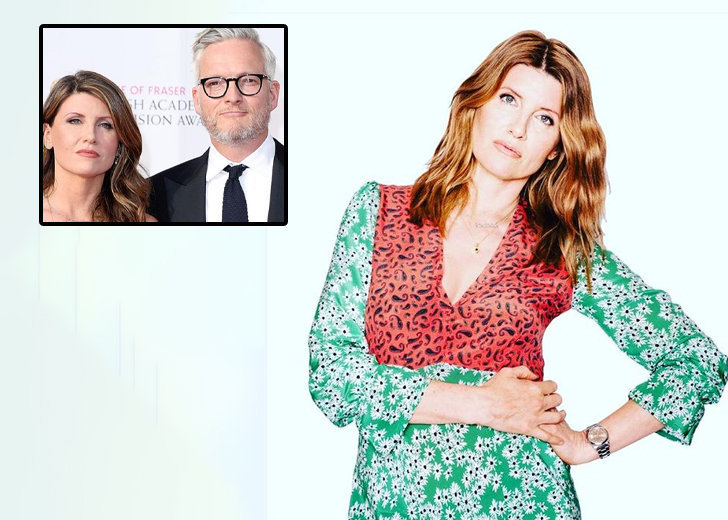 In late 2019, Sharon Horgan ended her marriage to her husband, Jeremy Rainbird, after 14 years together.
The actress, best known for writing and starring in TV dramas based on her life, confirmed her divorce in November that year while speaking with The Sunday Times.
At the time, Dailymail further reported that her real-life divorce echoed with the storyline of her HBO drama Divorce, which aired between 2016 and 2019.
Sharon Horgan's Ex Husband Praised Her
After the actress confirmed her split from her businessman husband, Rainbird clarified that they parted on good terms.
He went on to praise Horgan during the aforementioned interview with The Sunday Times.

Sharon Horgan with her former husband Jeremy Rainbird before their divorce. (Photo: Twitter)
He first commended his ex-wife for "drawing from life" while insisting that they would remain great friends despite their divorce.
Clarifying that he and Horgan would legally separate "in the next three to four months" [from the date of the interview], he continued to share, "She is a great mum and a great business partner. And I love her dearly."
In addition to staying good friends, the former couple also added that they would co-parent their two children, Sadhbh and Amer.
The actress precisely claimed that the family recently [at that time] hung out together, and all of them felt lucky that they were "genuinely mates."
Sharon Horgan and Jeremy Rainbird's Marriage Timeline
Horgan and her ex husband reportedly got married on October 16, 2005, at Chelsea Register Office, London.
Adding to the context, they walked down the aisle more than a year after they first met — but the interesting part is they also had over a six-month-old daughter at that time.
"I met my husband when I was 34, and found myself pregnant after we'd been together for only six months, and did this extreme life change thing, thought: s***, I better get all this sorted out," the actress recounted to The Guardian in January 2007.
During the conversation, Horgan also stated that she and Rainbird felt they were the right people for each other and were happy that they found one another.
"I know he'll never find anyone more suited to him, and I know I'll never find anyone more suited to me," she added.
As stated earlier, the couple later went on to have two kids together in their marriage and lived together in Victoria Park Hackney, London.
It seemed like their marriage would last forever. That said, it didn't go as planned for them.
Sharon Horgan's Life after Divorce
After the split, Horgan focused on her career while also co-parenting her children with Rainbird.
Talking about life after divorce, she told The Telegraph [via Entertainment Daily UK] that she had to be more organized and plan things in advance.
"If you think you're going to be filming in Ireland for three weeks, you'd better make sure that your co-parent knows about it," she shared.
In recent years, she starred in projects such as Dating Amber, Criminal: UK, Modern Love, HouseBroken, and Together.