Who Is 'Catastrophe' Creator Sharon Horgan's Dating After Ex-husband Jeremy?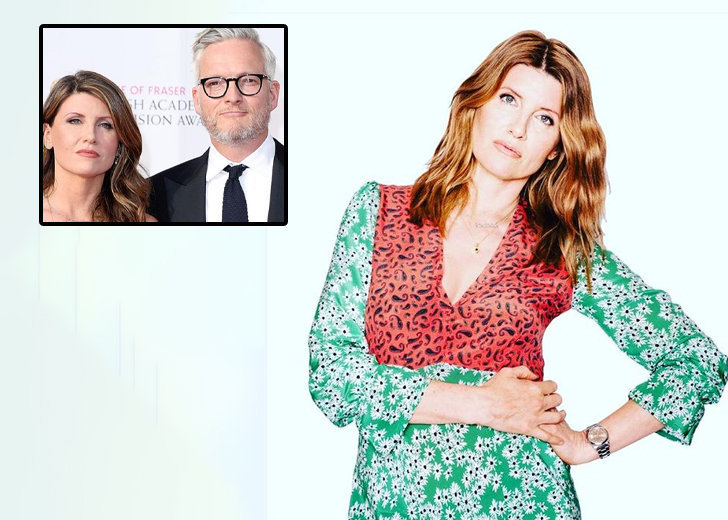 Irish actress, comedian, writer, and producer Sharon Horgan, who in 2023 won the CWIP's Witty Impact Award confirmed her divorce in November of that year while speaking with The Sunday Times.
In this article, know about the Bad Sisters and Dreamland creator's past marital life and her entire dating history, particularly who she dated after her divorce. We also answer if she is in the dating game now. 
How old is Sharon Horgan now?
Sharon Lorencia Horgan, @sharonhorgan, is 52 years old as of writing. She was born on 13 July 1970  in Hackney, London, England.
She derives her Irish heritage from her mother, who is Irish. Her father is originally from Newzealand. Her family moved to Ireland from London when she was four years old. With the change in place, her parents also switched professions from pub owners to poultry farmers. 
Who is Sharon Horgan's Ex-husband?
In late 2019, Sharon Horgan ended her marriage to her husband, Jeremy Rainbird, after 14 years together. An Eastbourne College graduate, Rainbird was born in East London in 1974. He started his career as a production runner in Soho.
Rainbird was working in the production business when he married Horgan. According to The Sunday Times, Rainbird regards his ex-wife Horgan as his biggest investment in life. He has a good business and personal relationship with her despite their divorce.
In 2013, the pair opened a production company called Merman, which produced hits such as Motehrland, Catastrophe, and Divorce.
Currently, Rainbird functions as the founder of Cloud Hero Holdings and The Creative District Company. 
Who was Sharon Hagan's Alleged Boyfriend?
In March 2022, there was widespread coverage about Sharon Horgan allegedly dating Charlatans frontman Tim Burgess.
A source to The Sun revealed that they had a kiss publicly "next to a busy road in London." The magazine also reports that Sharon is reportedly fan of the musician since his breakthrough from The Only One I Know in 1990 when she was a teenager.
They are said to have met after he tweeted about his love for her show Catastrophe and she re-tweeted back as a fangirl. 
And one after another, their stars aligned and they got to meet at music festivals.
Sharon even invited him on the set of Divorce (2016-2019). She would also describe the experience of meeting him on the set and in New York in general as "I didn't really have anybody in New York so it was nice having a friend there. It felt a bit more real, like, 'someone knows what I'm doing out here'."
Talking to Evening Standard in 2017, the two revealed how she went on to sing the backing vocals for her favorite band. He sang for none other than Tim Burgess' band Charlatans' album Different Days in 2017.
Burgess has a son from electronic musician Nik Colk Void. 
Sharon Horgan's Ex-husband Praised Her after Divorce
Horgan is someone who is cautious but outspoken and witty. She is a strong woman who has given several hits in drama to the entertainment world.
She is also someone who is an avid supporter of women's causes. She and her team even cautiously hired a majority female crew, from directors to editors, for the series Bad Sisters, as the show revolves around the five Gray sisters subject of a life insurance investigation related to the abusive husband of one of the sisters. 
And amazingly, Sharon plays the protective eldest sister Eva Garvey in the Irish black comedy television series.  
After the actress confirmed her split from her businessman husband, Rainbird, he clarified that they parted on good terms.
He went on to praise Horgan during the aforementioned interview with The Sunday Times.

Sharon Horgan with her former husband Jeremy Rainbird before their divorce. (Photo: Twitter)
Rainbird first commended his ex-wife for "drawing from life" as she had been known for writing the plots of television series based on her life. And he also insisted that they would remain great friends despite their divorce. 
At the time, Dailymail had reported that her real-life divorce echoed the storyline of the HBO drama Divorce, which she create and wrote. The series aired between 2016 and 2019 and starred stars such as Sarah Jessica Parker and Thomas Haden Church. 
Clarifying that he and Horgan would legally separate "in the next three to four months" [from the date of the interview], he continued to share, "She is a great mum and a great business partner. And I love her dearly."
In addition to staying good friends, the former couple also added that they would co-parent their two children, Sadhbh and Amer.
The actress precisely claimed that the family recently [at that time] hung out together, and all of them felt lucky that they were "genuinely mates."
In 2022, Horgan spoke to Big Issue and implied that the divorce had been helpful to her, Belfasttelegraph reports. She also insisted that it wasn't right to attach shame for a failure in a relationship. She explained:
I'd tell my younger self that sometimes it's a really positive thing to move on from a relationship. It can mean your life suddenly just opens up and feels much more suited to your personality.I feel like, especially if you come from a religious background – I was brought up Catholic – divorce is kind of a dirty word. But it shouldn't be.
Sharon Horgan and Ex-husband Jeremy Rainbird's Marriage Timeline
Horgan and her ex-husband reportedly got married on October 16, 2005, at Chelsea Register Office, London.
Adding to the context, they walked down the aisle more than a year after they first met — but the interesting part is they also had over a six-month-old daughter at that time.
Their first daughter Sadhbh Rainbird was born in January 2004 and their second daughter Amer Rainbird was born in 2008. 
"I met my husband when I was 34 and found myself pregnant after we'd been together for only six months, and did this extreme life change thing, thought: s***, I better get all this sorted out," the actress recounted to The Guardian in January 2007.
During the conversation, Horgan also stated that she and Rainbird felt they were the right people for each other and were happy that they found one another.
"I know he'll never find anyone more suited to him, and I know I'll never find anyone more suited to me," she added.
As stated earlier, the couple later went on to have two kids together in their marriage and lived together in Victoria Park Hackney, London.
It seemed like their marriage would last forever. That said, it didn't go as planned for them.
Sharon Horgan's Life after Divorce
After the split, Horgan focused on her career while also co-parenting her children with Rainbird.
Talking about life after divorce, she told The Telegraph [via Entertainment Daily UK] that she had to be more organized and plan things in advance.
"If you think you're going to be filming in Ireland for three weeks, you'd better make sure that your co-parent knows about it," she shared.
In recent years, she starred in projects such as Dating Amber, Criminal: UK, Modern Love, HouseBroken, and Together.