Inside Shanola Hampton and Husband Daren Dukes' Married Life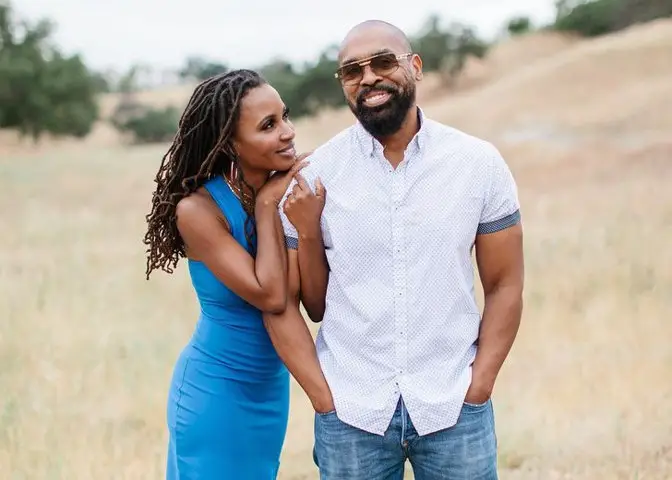 Shanola Hampton and her husband, Daren Dukes, have one of the most adorable marriages in the Hollywood industry. The two have been together for over two decades and are still going strong. 
The couple is blessed with two children - a daughter named Cai and a son Daren O.C, aka Doc. 
Here is a look into the actress's family life. 
Shanola Hampton and Her Husband, Daren Dukes
Hampton grew up in suburban South Carolina and later moved to L.A. after graduating college. She studied Fine Arts for her Master's degree, and after earning it, she moved to pursue her career. 
In a cover story by SCV Elite Magazine, the Shameless star said that she met Dukes in the city. The two soon fell in love and married on March 11, 2000. 

Shanola Hampton and her husband, Daren Dukes. (Source: Instagram)
This year, the two celebrated their 21st marriage anniversary. Hampton took to Instagram to post a picture of the two and gushed about how much she loved her husband.
She said she "married the perfect partner" and appreciated seeing the world with him. She further added that she loved "sharing this incredible life together." 
She ended her note wishing her husband a happy 21st anniversary and dubbed him the "love of her life."
Shanola Hampton's Kids
Hampton has two kids. She gave birth to her first child and daughter, Cai, in January 2014. The couple told People they did not know what they were missing until they welcomed Cai. 
They said, "so blessed, so overjoyed, pure bliss" to the tabloid as they gushed about their daughter. The Shameless actress first announced about her child on Twitter. 

Shanola Hampton with her husband Daren Dukes and children Cai and Doc. (Source: Instagram)
She could not believe that her daughter was here and said, "I thought I knew love before, but now I know love on a completely different level!"
Hampton welcomed their baby boy on May 9, 2016. She revealed her pregnancy at the premiere of If/Then, where she showed off her baby bump. 
She later confirmed with People that she and her husband were expecting a baby boy. She said they were "blessed being words" to complete their family. 
She also announced it via Instagram in November 2016 on the occasion of Thanksgiving. The actress said they were thankful for the expansion of their family. 
After Doc was born, Hampton took to Instagram to post a black-and-white picture of the mother-son duo. She wrote, "And then God gave me my son..."

Shanola Hampton. (Source: Instagram)
Shanola Hampton on Losing Baby Weight 
Giving birth to two babies can do things with a woman's body. However, Hampton did not let that affect her and bounced back after giving birth to Doc. 
Her trick was that she worked out till the day she gave birth and went to the gym as soon as possible. Since she was staying in shape during the pregnancy, it was easier to maintain it. 
She did not have a personal trainer but met once with Torri Shack, who taught her how to work out with her baby boy. All in all, Hampton could work out and spend time with Doc simultaneously.