Seth Rogen Hit the Internet with a Shocking Transformation after Shaving His Beard and Hair
Seth Rogen will be seen in beardless looks in 'Pam & Tommy.'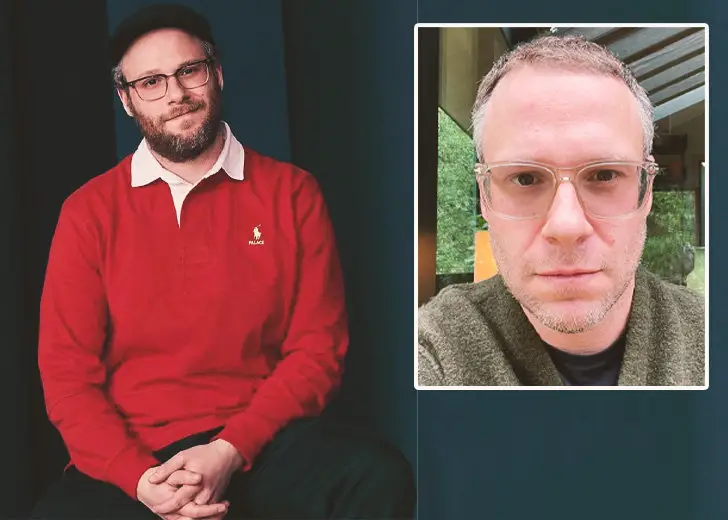 Actor Seth Rogen's hirsute look is gone. The 39-year-old actor shocked the industry on Wednesday, September 1, with his hair and beard transformation.
He took to Instagram to reveal the fresh look that showed him sporting a different hairstyle than he usually did.
Rogen donned closely cropped hair with a bit of gray on the sides while keeping a light stubble on his face. In addition, he wore a pair of transparent glasses that had a matching white frame.
"New hair, same smoldering look," he wrote in the caption about his rather serious facial expression.
His comment section was soon filled with mixed reactions from fans. Some were surprised by his news looks, while others dropped supportive messages.
Some of the actor's friends and co-stars, including David Krumholtz, Lenny Jacobson, and Robyn Lawley, also shared their impression of Rogen's looks.
"You just stared into my soul and extracted my heart's only remaining drop of darkness," wrote Krumholtz, who appeared with Rogen in This Is the End. Similarly, a fan asked, "Wait. This is Seth Rogen?"
Meanwhile, some were curious about what led the Vancouver native, who usually has shaggy locks and beards, to get a wholesome facial transformation.
Most of them guessed that the new look might be for his unannounced upcoming project since he underwent a similar transformation earlier this year in May.
The last time, he showed off a major transformation to play a role in Hulu's forthcoming limited series Pam & Tommy, shaving his beard after 11 years.
His Upcoming Project 'Pam & Tommy'
In May, Rogen teased fans with a glimpse of his beardless look, making them eagerly wait for his next project, which will follow the story of one of the most iconic and scandalous celebrity couples of the entertainment industry — Pamela Anderson and Tommy Lee.
The eight-episode series, which does not have a release date yet, will see Lily James as Anderson, Sebastian Stan as Lee, and Rogen as the man who stole Anderson and Lee's tape that featured the couple's private moments.
According to Deadline, even though the scandalous honeymoon tape plays a big part in the narrative, Pam & Tommy will mostly focus on Anderson and Lee's "whirlwind romance that started with them marrying after only knowing each other for 96 hours in 1995."
In case you're curious what happened next, the leak of the couple's private honeymoon footage "shook the industry when it comes to celebrity privacy" and evolved into a messy legal dispute. The pair immediately sued the video distribution company Internet Entertainment Group and reached a confidential settlement.
According to reports, the couple is not involved in the series's making, but they are reportedly aware that their story is being adapted into a series.
Rogen serves as the executive producer on the series, while the project is directed by Craig Gillespie and written by Rob Siegel.