Sebastian Stan Blesses Fans With Snippets From The Sets Of 'Pam And Tommy'
The biopic miniseries related to the infamous Anderson and Lee scandal is in production.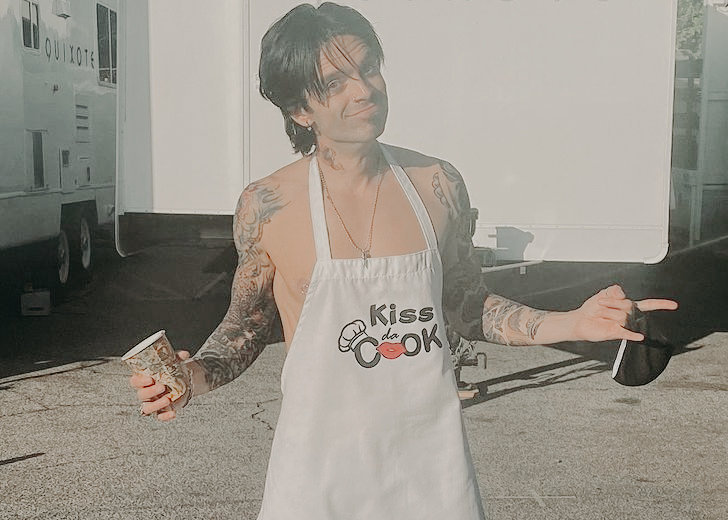 Widely known for his role as Bucky Barnes or the Winter Soldier in the Marvel Cinematic Universe (MCU), Sebastian Stan has been critically acclaimed. His recent award-winning role was as his MCU character in The Falcon and the Winter Soldier, a Disney+ miniseries. 
Unlike his superhero movies and series, Stan has taken upon a new biopic miniseries, Pam & Tommy. He will portray the Mötley Crüe drummer, Tommy Lee, alongside Lily James, as Pamela Anderson. 
Since May, Stan has posted several behind-the-scenes pictures of himself as Lee, showing off his tattoo-laden arms and abs, promoting the series.
Behind The Scenes of 'Pam And Tommy'
On May 30, Stan posted a picture of himself in front of trailers, wearing a white apron that said 'Kiss da Chef.' In his Lee attire, he looked strikingly similar to the drummer. Stan showed off his tattooed arms by posing with a paper cup in one hand and throwing a 'Rock on' hand sign with the other. 
He captioned the picture "#sunday," presumably showing his fans and followers that he was working hard on the series even during the weekends. 
Before this, he also uploaded a picture of himself shirtless and sitting on the bonnet of a car. He wore tight black pants and a belt with a big buckle. He captioned the photo with a quote by Lee about playing drums. 
Similarly, on World Meditation Day, Stan posted a picture of him praying to a bronze Buddha with a funny look on his face. He wished his followers Happy World Meditation Day and advised them to find their zen. 
The actor also posted a picture with his co-star James in their ensemble. The pair looked exactly like Lee and Anderson, with Stan's shocked face and eye makeup and James biting his piercing. 
James also took to Instagram to share a picture of herself as Anderson. 
About The Upcoming Movie
On May 7, the online streaming service Hulu shared the first sneak peek of their expected movie on the official Instagram. 
Directed by I, Tonya director Craig Gillespie the mini-series will revolve around the true story of the 90s iconic couple, Tommy and Pamela. It will follow the journey of their whirlwind romance that started with them marrying after only knowing each other for 96 hours to the legal battle for their leaked scandalous videos. 
Neighbors actor Seth Rogen will play the electrician who stole the tape, which caused a lot of controversy and headlines for years. 
As reported by Deadline, Rogen is the producer with his partner Evan Goldberg through their Point Grey banner. Dylan Sellers through Limelight, Dave Franco and Sue Naegle, and Megan Ellison at Annapurna will be joining them. Rob Siegel is on board as the writer of the eight-episode mini-series. However, Anderson and Lee themselves are not involved in the project.
The official release date has not been announced yet, but the series is already in production.
Real Story Behind The Biopic
Anderson and Lee met at a New Year's Eve party and got married in just four days of knowing each other on a beach in Cancún. They immediately moved in together, and on their honeymoon in 1995, the couple made a tape which they stored in their safe.
The pair were known to have arguments with their employees. The fight with one particular worker turned out to be ugly. The couple owed an electrician, Rand Gauthier, $20,000. When Gauthier returned to get his tools, Lee pointed a gun at him and threatened him to leave. 
It was then the electrician took revenge. Initially, he had just planned to steal some jewels and some prized possessions. However, he found something more valuable, their scandalous tape. He stole the tape, and after finding out about its contents, he took it to his friend's studio to examine it. 
Gauthier and his friend tried to sell it, but no studio would since they wanted written consent from Lee and Anderson. As they were unsuccessful in selling it, they took matters into their hands. 
They created websites and began dealing with people for money. After The Daily Mail reported on it, Lee and Anderson were aware of their leaked tape. Lee hired detectives and motorcycle gangs to track the video down. One particular website called Club Love even had the tape playing on loop over five hours. 
Anderson sued Internet Entertainment Group (IEG), the video distribution company. However, they reached a confidential settlement, which led to IEG making the tape available to their subscribers only. After it was streaming on their websites, it resulted in three times higher traffic than the usual viewership.