Season 5 Might Be the Final Chapter for HBO Max's Genre-Shifting Series 'Search Party'
HBO Max has yet to confirm the future of 'Search Party.'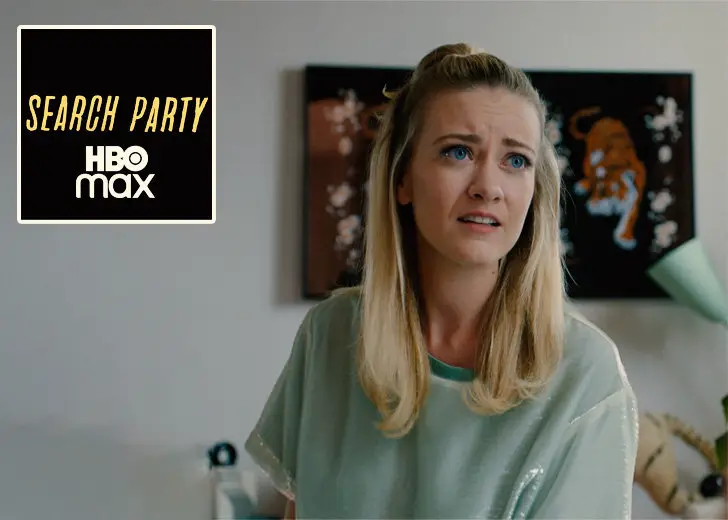 SPOILER WARNING: Plot and ending details for Search Party  follow
Meredith Hagner, who portrayed the spoiled actress Portia Davenport in the HBO Max mystery series Search Party, hinted that the cult series might not return for the sixth season. 
The 34-year-old actress took to Instagram to share a group photo of the cast members and penned a heartfelt tribute to the HBO Max series and her character Portia for the last day of their filming.
She posed for a group photo with the titular Search Party members — John Reynolds as Drew, Alia Shawkat as Dory, and John Early as Elliot. The picture also included associate producer Kristen Buckels and co-creators Sarah-Violet Bliss and Charles Rogers.
"Last day shooting season 5," she captioned the photo.
Hagner noted that everyone had been crying in the picture and that she had no words to express what the show meant to her. 
While HBO Max has said nothing about the supposed finale of the series, Rogers previously hinted that season 5 might be the last. 
What the Show Is About
The dark comedy Search Party premiered on TBS in 2016. It is about a young and bored twenty-something New Yorker named Dory who gets caught up in the disappearance of Chantal Witherbottom. 
She drags her egotistical friends — boyfriend Drew, attention-seeking actress Portia, and sociopath Elliot to go on a search party for the college acquaintance she barely knew. 
Search Party initially started as a dark comedy, but, as seasons passed, it morphed into a heart-pounding thriller. The series immediately developed a cult following, and after 2 seasons and a three-year hiatus, the series moved to HBO Max. The third season returned last year, followed by the fourth early this year. 
Season 4 had fans at the edge of their seat as the leading lady, Dory, went missing, and her friends were forced to search for her. Fans were led to believe that she had died, which could have been a fitting finale to the series, but a surprising revelation at the very end proved otherwise. 
The cliffhanger left fans wondering if there was more, and true enough, in February 2021, Deadline reported that HBO Max ordered a fifth season of the series. 
Details of Season 5
Patience is definitely something the fans of the series have, considering they waited out three years. Although an exact date has not been confirmed, according to Vanity Fair, Search Party had already started filming Season 5 on June 2021.
Additionally, Hagner also confirmed in her heartfelt post that the filming for season 5 had wrapped up. It seems possible that season 5 of the series will arrive in the new year of 2022, considering season 4 dropped around the start of this year.
And as far as cast members go, Dory, Drew, Portia, and Elliot will be back. Fans have also seen a wide variety of guest stars throughout the season, and season 5 will be no different.
Apparently, Jeff Goldblum will play Tunnel Quinn, and comedian Kathy Griffin will star as Liquorice Montague.