Inside 'Once upon a Time' Star Sean Maguire's Idyllic Family Life with Detective Wife and Three Kids
"Our family is complete," Maguire announced.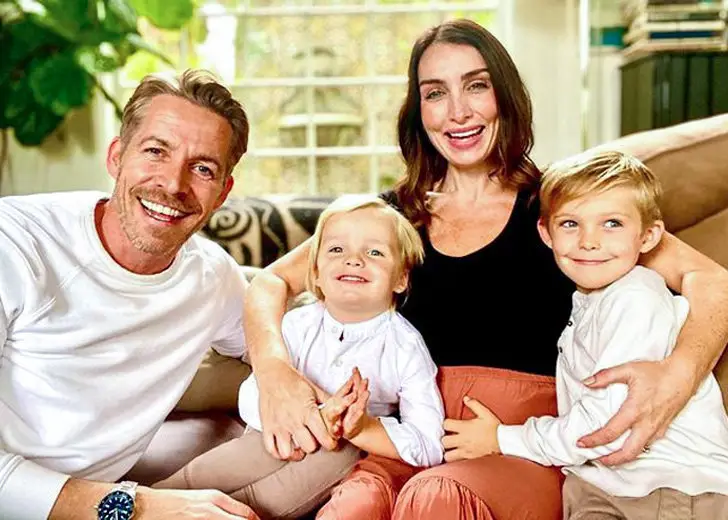 With the British actor Sean Maguire welcoming baby number three with his wife Tanya Flynn, they are now a family of five!
Maguire took to Instagram on September 8, 2021, to let the world know that he was now a father to a beautiful baby girl. The post showcased the little one holding onto her father's index finger, and in the caption, he announced, "Welcome to the world my little angel."
Sean Maguire & Wife Welcome Baby Number 3
More recently, on September 16, 2021, the actor revealed the name of his little angel: Amèlie Rose via another Instagram update. This time around, the father-daughter duo was joined by his other two kids, Flynn Patrick, 6, and Leo James, 3.
He also shared that he was grateful to his incredible wife for bringing Amèlie into the world. He added, 
The boys & I couldn't be more in love with her. Our family is complete.
Fans had been patiently waiting for Maguire to announce the arrival of his family's latest addition since April 2021, when the couple announced that they were pregnant with a baby girl. Apparently, they had kept Amèlie's elder brothers in the dark, setting them up for a surprise. 
Sean Maguire Married His Wife Twice
Maguire had moved to the United States from London back in the year 2000. Twelve years later, in October 2012, he married Flynn for the first time. But, by the looks of it, sharing their vows for the first time wasn't enough for this couple. 
Maguire and Flynn wanted to relive their big day so much that they remarried for a second time right before 2014 ended. While snaps from their first wedding were somewhat scant, the second time around, the couple made sure that fans didn't miss out. 
A close friend of the couple, actor Marcus Kayne, shared a snap of the second-time newlyweds walking down the aisle after their ceremony. Maguire held his wife's hand proudly in the air as the bride held her bouquet on her other hand. 
Sean Maguire & Wife Against Climate Change
While Maguire's career has been a whirlwind of projects from soaps to dramas and movies to music, Flynn is a former police detective. Now, the couple works hand in hand to speak up about climate change. 
And for them, climate change was about leaving a better world for their kids. In an article by Sean Maguire Daily, Maguire recalled the importance of providing a better world for the coming generations. He argued, 
Being a parent is providing a safe future for our children and regardless of what your politics are, climate change is not up for negotiation. It's a real thing … So, parenthood has made me feel more responsibility for that.
According to the Englishman, who only recently became an American citizen, the environment was the first thing one had to talk about whenever a discussion for parenting was up. 
He has, however, expressed his confidence in what the United States of America had to offer to change the world for the better. He put forth that he became a US citizen so that he could be a part of the change.