Are Fox News' Sean Hannity and Ainsley Earhardt Dating?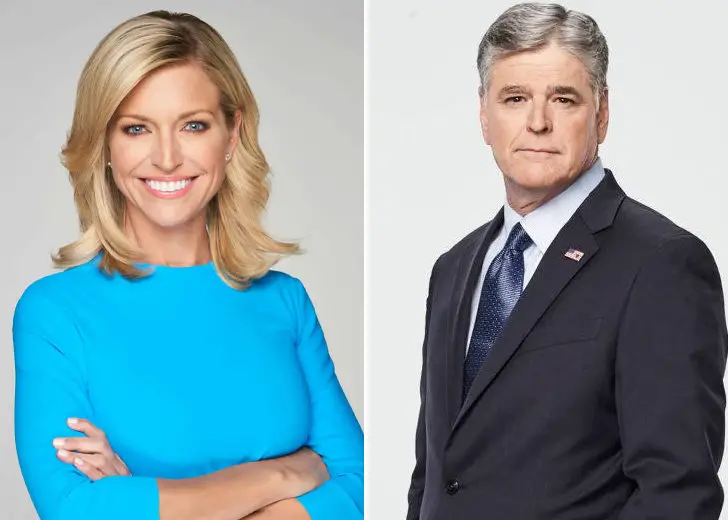 It seems like Sean Hannity and Ainsley Earhardt are dating and keeping their relationship under wraps. 
Both of them are conservative TV personalities who work for Fox News. Earhardt started working at the station in 2000. 
One of her first segments was 'Ainsley Across America,' which was a part of her co-star's talk show named Hannity. Hannity is a conservative TV program hosted by Hannity himself.
Currently, Earhardt co-hosts Fox & Friends with two other hosts, Steve Doocy and Brian Kilmeade. Earhardt and Hannity have worked together for over a decade, but the dating rumors started around 2020. 

Sean Hannity posing for a picture at the Conservative Review Convention in South Carolina. (Source: Wikimedia Commons)
Sean Hannity and Ainsley Earhardt Dating 
On June 11, 2020, Vanity Fair reported that Hannity and Earhardt were dating. While the TV personalities have not explicitly confirmed their relationship, sources for the tabloid assured it. 
The speculations started in August 2019 after the duo attended Pete Hegseth and Jennifer Rauchet's wedding. The ceremony was held at Trump National Gold Course in New Jersey. 
Hannity shocked people when he arrived at the location via a helicopter with Earhardt. One of the former executives of Fox defined their arrival as a "grand entrance."
The pair did not address if they were a couple to anyone at the wedding. But according to the observers, they acted like couples. 
Four Fox News staff members, both old and new, confirmed the two were in a relationship. In fact, they had been dating for a while. 

Sean Hannity and Ainsley Earhardt posing for a photo. (Source: Instagram)
One observer told Vanity Fair, "I knew they were involved. I saw it when we were all together."
Similarly, after the COVID-19 pandemic hit the world, Earhardt worked from the basement of Hannity's mansion on Long Island, New York. 
Hannity has denied their relationship saying, "I do not discuss my personal life in public." Similarly, Earhardt echoed her alleged boyfriend and said she was not dating anyone. 
Sean Hannity and Ainsley Earhardt's Past Relationships
Before Hannity and Earhardt allegedly started seeing each other, they were married to their spouses. Hannity met his wife, Jill Rhodes, in 1991, and two years later, they got married. 
They have two children, a daughter Merri Kelly and a son Patrick. After over twenty years of being married, Hannity and Rhoades got divorced. 
According to Page Six, the pair were separated years before their divorce. The announcement was made in June 2020, but it was reported that the two were legally divorced for more than a year before it made headlines. 
Regardless of them parting ways amicably, they are on good terms for the sake of their kids. Earhardt, on the other hand, was married twice. 
Her first marriage was to Kevin McKinney in August 2005. Unfortunately, their relationship did not work out, and the pair got divorced in 2009.
Three years later, she married Will Proctor, the former quarterback of Clemson University, in October 2012. They share a daughter named Hayden. 
A couple of years after their marriage, Earhardt accused her husband of cheating on her with one of her closest friends. Moreover, the Fox & Friends host claimed that she had evidence to back up her statement. 
Proctor denied the accusations and filed for divorce in October 2018, which was finalized in 2019.