Who Is Scott Evans' Partner? Inside His Dating Life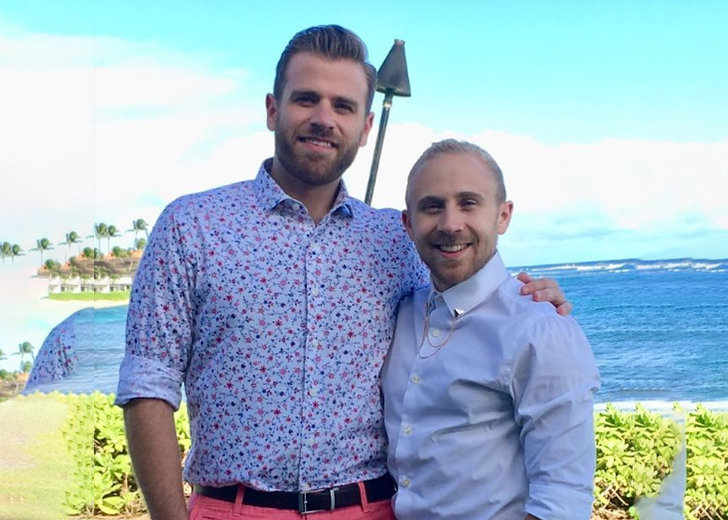 Scott Evans was publicly outed as gay by his brother, Chris Evans, back in 2009.
Since then, he has received a lot of attention for his relationships as well as his acting career.
He was previously in a relationship with his previous boyfriend, Zach Volin. However, the two have since gone their separate ways.
Here's a look at Evans' partner and relationship.
Scott Evans and His Former Boyfriend Zach Volin
Evans and Volin started dating in 2018. During their time together, Evans frequently took to Instagram to share his life with his partner.
In February 2020, Evans posted a picture of himself and his boyfriend on Instagram. He wrote in the caption that it was his second year spending Valentine's Day with Volin.

Scott Evans with ex boyfriend, Zach Volin (Source: Scott Evans' Instagram)
He also noted that it was the longest he had been with someone. "Happy Valentine's Day to the only person I've spent 2 consecutive Valentine's Day with. Love you the most @zachvolin!!!"
Unfortunately, their relationship didn't last for much longer, and he shared that he and his boyfriend had called it quits in April of the same year. He broke the news during an interview with New Now Next.
"Here's a little side info: We actually broke up a few weeks ago, but it's not a bad breakup." Evans said while adding there was no bad blood between them.
While the actor didn't spell out what caused him and his partner to end their relationship, he hinted the pandemic had something to do with it.
Who is Scott Evans' Former Partner?
Volin is a senior associate at Matterkind, an advertising agency, where he has been working since April 2020. He is a graduate of Utah State University.
Before Matterkind, Volin had worked with Cadreon as an associate. 
He also has experience working as a programmatic account manager at eBay Advertising and an account manager at Monumetric.
Coming Out as Gay
The fact that Evans was gay was revealed to the public after his brother, Chris Evans, mentioned it in an interview with Advocate. "Yes, I do have a gay brother. I'm down with the gays."
When talking to We Love Soaps, Evans got candid about the incident. He shared his brother got a lot of flack for outing him publicly, but he didn't mind.
Though it wasn't known publicly, he had never hidden that he was gay.
And people close to him knew the fact all along, as he had come out when he was just 19 years old.
Evans also revealed that his brother hadn't intended to reveal the information and messaged him to apologize as soon as the article was published.
However, Evans recalled it wasn't a problem for him, especially because he saw it as a part of himself and wasn't afraid of putting himself out there.
For the same reason, he noted he was lucky because there were other celebrities who had found fame at an early age and were afraid of coming out.
He was already clear about his sexuality before embarking on his acting career and didn't have any pressure to hide it for the industry.