Is Saquon Barkley Married to Anna Congdon Yet? A Look inside His Personal Life
Saquon Barkley has a daughter with girlfriend Anna Congdon.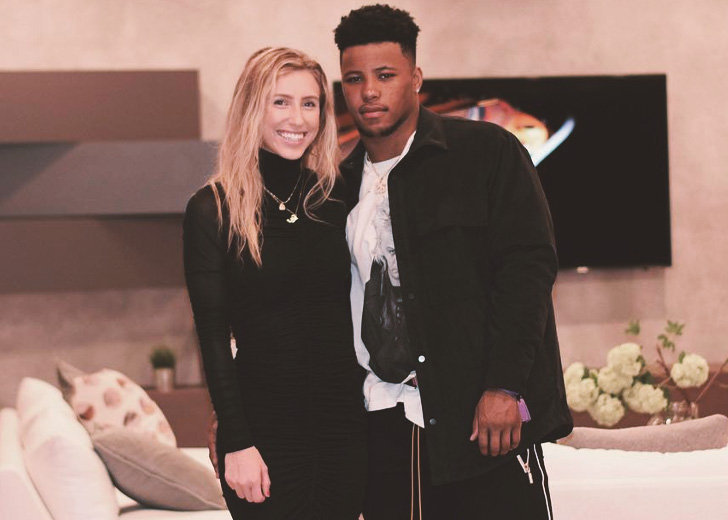 Saquon Barkley realized his lifelong dream of being drafted into the NFL on April 26, 2018. Just two days earlier, he had welcomed daughter Jada Clare Barkley with his girlfriend, Anna Congdon.
When writing on The Player's Tribune, Barkley shared he was very close to missing out on being in New York for the draft because of his daughter's birth. When choosing between his daughter and the NFL draft, the player shared he would always put his family first.
My girlfriend is pregnant. I'm worried she's going to give birth on the same day I'm supposed to be in New York for the draft… Actually, I'm not worried. I mean, if it's between the draft and my daughter's birth, my little girl is gonna win. Getting drafted is a dream come true. But as much as I love football, family is always first.
Thankfully, Barkley and Congdon gave birth to daughter Jara two days before the draft. He calls it the "best draft story ever" because he got to fulfill both his dreams of playing in the NFL and having his own family mere days from each other.
The New York Giants running back has expressed his wish to be the best father he can be for his daughter. He is raising his daughter together with his girlfriend. And though many assume Congdon to be his wife, that isn't the case yet. So, here's a look at his relationship and family life.
Saquoan Barkley And Girlfriend Anna Congdon
Barkley and Congdon met at Pennsylvania State, where he played collegiate football. The two began dating in 2017. The couple has kept their relationship mostly private.
Congdon took to Instagram in February 2019 to wish Barkley a happy birthday. Other than that, there are very few posts of them together.
Is Saquon Barkley Married?
No, Barkley is not yet married to a wife yet. He also has not spoken about any plans of tying the knot.
His and Congdon's relationship was also brought into question after rumors of his infidelity started spreading. He was pictured partying with Josie Canseco after her split with Brody Jenner.
Barkley was then spotted with Kylie Jenner's best friend, Stassie Baby. However, despite his sightings with Canseco and Stassie Baby, Barkley and Congdon haven't announced anything regarding their split.
Saquon Barkley Wants To Stay Close To Football Even After Retiring
In the same piece he wrote for The Player's Tribune, Barkley shared he wanted to be involved with football even after he retired.
The athlete wrote he understood he couldn't be a player forever, noting that the NFL also stood for "not for long." After he retires, he wants to be an anchor, broadcaster, debater, or analyst in the sport.
Barkley also wants to be a mentor for other kids by opening up a youth gym that gives kids opportunities to try different sports and find out what they are good at. The inspiration for the idea comes from his father, who exposed him to boxing from a young age, but let him have the ultimate say in what he wanted to become.
Barkley chose to be a football player in the end but says he understands how blessed he was to have all the opportunities and choices. For the same reason, he wants to create a similar environment for the youth.