Why Samira Wiley and Lauren Morelli Wanted Wedding to Go Public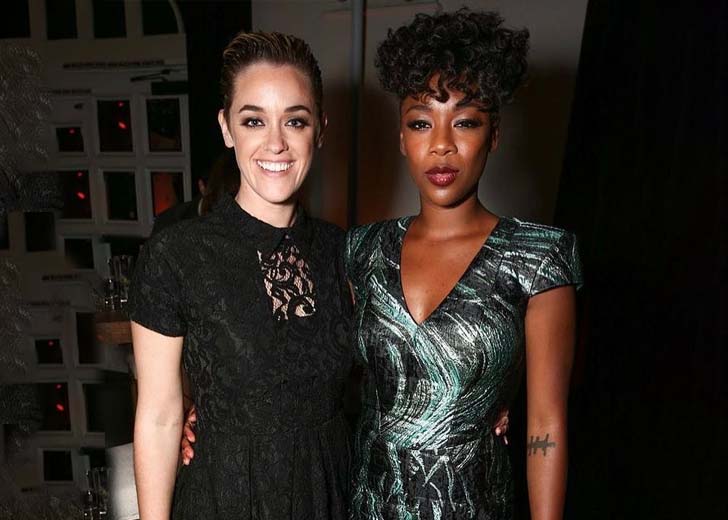 Samira Wiley not only catapulted to fame with Orange Is The New Black, but she found the love of her life, Lauren Morelli, on set. 
Unlike other couples who are notoriously private about their love life, Wiley and Morelli are not.
The two have always been public about their relationship, and in 2016, they even appeared together on the cover of Out magazine. 
The following year, the couple tied the knot in Palm Springs, California, and shared beautiful images of their wedding on Martha Stewart Weddings.
The guests were showered with rainbow-colored confetti to celebrate their queer love during the wedding.
Samira told Cosmopolitan that she wanted to be open about her life with her wife to inspire queer youths. As the winner of the highly prestigious Human Rights Campaign Visibility Award, she intentionally puts her relationship out there.
We felt like so many young girls and boys don't see queer couples on the covers of magazines in a wedding being proud of who they are and having [their] parents officiate.
Samira Wiley and Lauren Morelli's Relationship
The couple was introduced on the Orange Is The New Black set, but they only connected when Morelli wrote an episode involving Wiley's character. The two met to discuss it, and they hit it off instantly. But they kept it professional, as Morelli was married. 

Samira Wiley and Laren Morelli Wedding (Source: Samira Wiley's Instagram)
Still, they couldn't deny the sparks. Wiley tried to find reasons to be around Morelli all the time, and when she learned that Morelli was married, she assumed it was a woman, but she was wrong about that. Morelli was married to a man. 
The duo became friends immediately, and Wiley, who had come out earlier, helped Morelli with her sexuality.
Morelli explained that while Wiley became her safe person, she was also afraid and confused about her newfound feelings for Wiley. 
Two years later, in 2014, Morelli divorced her husband and officially dated Wiley. 
Earlier in March, Wiley marked the couple's fourth wedding anniversary, sharing a black-and-white image of the brides as they stood before all their guests at their reception.
Is Samira Wiley Pregnant?
The couple welcomed their first child back in April, and for fans who were wondering, "is Samira Wiley pregnant," Wiley cleared it up when she announced the birth of their daughter George Elizabeth. 
She posted a snapshot of their baby and revealed in the captions that her wife labored for three days.
Fans speculated that Wiley was pregnant when filming the dystopian drama series, The Handmaid's Tale. 
The pair kept the entire pregnancy a secret and only shared the birth, so naturally, fans were a little confused.
But they were wrong about this one. Wiley was not the one carrying the baby, and it was Morelli who was pregnant while the show was in production.
Wiley told The Hollywood Reporter, "Throughout filming, my wife [Lauren] was with me in Canada and she was pregnant the whole time."
The couple often give fans an update about their daughter through their Instagram.