Who Is Samantha Bee's Husband? Inside Her Family Life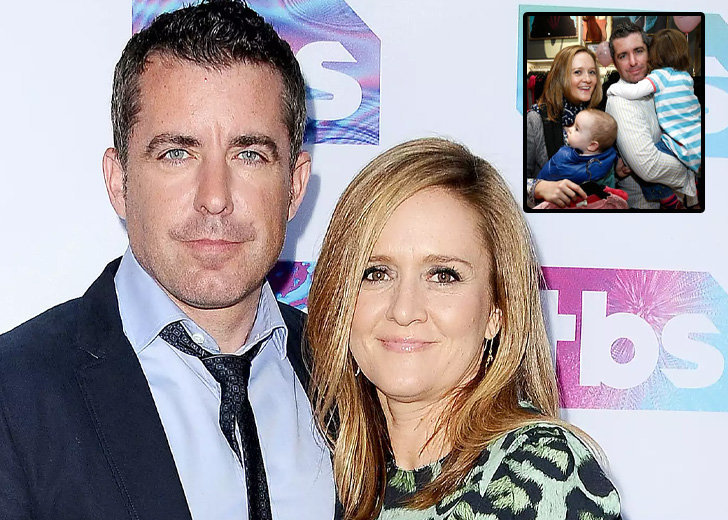 Samantha Anne Bee has found success as a comedian, actress, writer, producer, and TV host. Among the dozens of shows and series she has worked on, she is best known for hosting Full Frontal with Samantha Bee and The Daily Show.
Like Bee, her husband, Jason Jones, has also made his presence known in several fields. In fact, the two worked together on The Daily Show for a decade.
Since then, Bee and Jones have collaborated on various projects, including Full Frontal with Samantha Bee, where he serves as an executive producer. Together, the couple produced and co-wrote The Detour, among various other works.

Samantha Bee on 'Full Frontal with Samantha Bee' (Source: YouTube)
Who Is Samantha Bee's Husband?
Jason Jones is an actor, producer, director, and writer best known for his works on Ham & Cheese (2004), Pitch Perfect (2012), The Detour (2016-2019), and Creative Galaxy (2014-2017).
Like Bee, Jones also hails from Ontario, Canada. His wife is from Toronto, while he is from Hamilton.
Jones has been acting professionally since 1995 and has since worked in over 70 movies and TV series. Aside from acting, Jones is also heavily involved in writing and directing.
He has directed over a dozen episodes of Full Frontal with Samantha Bee. He also directed five episodes of The Detour.
Samantha Bee & Husband
Bee and Jones met in the late 1990s. She shared the story during an interview with Cracked.
"We met doing children's theater," she said. "People that work in children's theater are bitter, and we were no exception to that."
"That's what really brought us together, really. Once you discover that the people you're working with hate the show as much as you do, everybody relaxes."
After a few years of dating, Bee and Jones tied the knot on October 13, 2001. Since then, the two of them have shown their support for each other on multiple occasions.
Bee said she really enjoyed working with her husband since it was the only time they spent together when away from their kids. She also praised his works.
Similarly, Jones also gushed about his wife when talking to the Daily Beast. "I'm so proud of her. She's doing such a great job on the show. And she's really enjoying it too, which is the best scenario."
In another interview, Jones expressed how he couldn't wrap his head around how it took Bee 12 years to gain recognition despite doing the same thing even after she blew up.
They Have Three Kids
Together, Bee and her husband have three kids. The pair welcomed their first child together, daughter Piper, in 2006.
Their family of three grew larger two years later when Bee gave birth to son Fletcher in 2008. Bee and Jones welcomed their third child together, daughter Ripley, in 2010.
Bee previously told People that her kids don't watch her show, and that was just the way she liked it.
"I think it keeps the natural order of parent and child intact," she said. "It's important for them to not think what I do is cool or interesting in any way. They should always think I'm a nerd and awkward and just their mom."
She also shared that while her kids didn't think she was cool, that wasn't the case for the kids thinking about their dad.
Bee noted they thought Jones was "really cool" because he's more sporty and could impress their kids with his ice skating skills, among others.