Salma Hayek and Daughter Valentina at 'Eternals' Premiere — Meet Salma Hayek's Daughter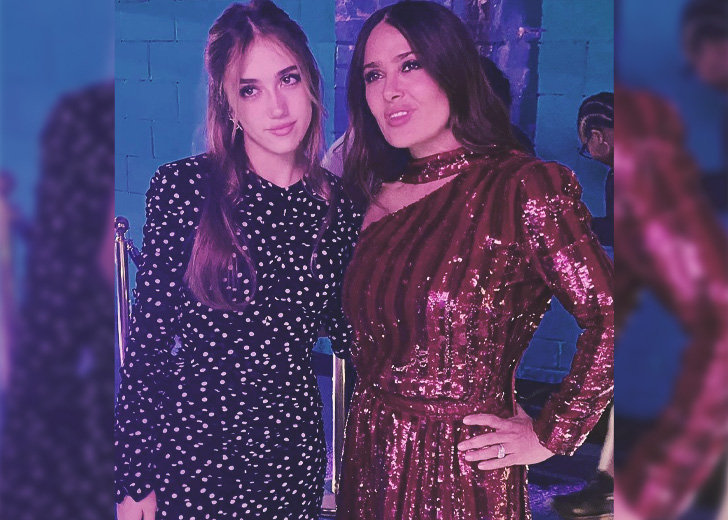 Salma Hayek was recently spotted at the Eternals premiere, but it wasn't her presence that turned heads at the event but rather who she was with. 
She was accompanied by her 14-year-old daughter, Valentina Paloma Pinault, rocking a mini black and white polka dot Saint Laurent dress with black tights and booties. To complete the look, the teenager accessorized her look with a simple clutch and a gold necklace.
Meanwhile, Hayek was dressed in a sleeveless black Gucci gown with a plunging neckline and a high slit. The actress stars as Ajak in the Marvel film alongside Angelina Jolie, Kit Harington, Richard Madden, Kumail Nanjiani, Barry Keoghan, Brian Tyree Henry, Ma Dong-seok, Lauren Ridloff, and Gemma Chan.
At the event, Hayek and her daughter talked about the Frida actress taking on the superhero role, which she thought was impossible. 
For me, it's a shocker in many ways. Just to know that in your 50s, you're going to be a hero, an action hero, in the Marvel family. I mean, if somebody told me this five years ago, I would've laughed so hard.
As for Valentina, she thinks it's cool her mother is a Marvel superhero. 
Salma Hayek's Daughter Is Everything to Her
The Hitman's Wife's Bodyguard actress often shares photos of her work but rarely gives a glimpse of her family and her kids on social media. But sometimes, she lets her guard down.
On September 21, she shared a photo of herself with her daughter in honor of her 14th birthday. Hayek and Valentina looked lovingly at one another in front of a beautiful sunrise in the adorable snap. "My precious girl, you are everything to me," Hayek wrote, also sharing the caption in Spanish.
Hayek has also shared tidbits about her daughter in separate interviews. During her interview with The Telegraph, the star opened up about their lockdown experience last year and shared that Valentina found it challenging. 
Although Valentina was very independent and did her schoolwork on her own, she did not enjoy it because she missed her friends. 
On another occasion, during her appearance on The Tonight Show Starring Jimmy Fallon in 2017, the actress shared she took her daughter to Morrocco for a mother-daughter trip and had breakfast on a hot-air balloon. 
Salma Hayek's Marriage and Husband 
Valentina is Hayek's only child, whom she shares with her husband, Francois-Henri Pinault. The couple is also parents to Mathilde Pinault and François Pinault from Pinault's marriage to Dorothée Lepère and Augustin James Evangelista whom they share with Linda Evangelista. 
Hayek's husband is the chairman and CEO of Kering, a luxury fashion group whose portfolio includes Bottega Veneta, Saint Laurent, Gucci, Balenciaga, and Alexander McQueen. He's also the chairman of the Kering Foundation, which combats violence against women.
The couple first started dating in 2006 and then announced their engagement in 2007, the same time they were expecting a child. They tied the knot in the City of Love, Paris, France, on Valentine's Day in 2009 
The couple is still very much in love to this day.