Is Paige Ronnie Radke's Wife? Here's a Look inside His Personal Life
"I show her my music and I look at her face and immediately can tell if the song is done or needs work," Radke spoke of Paige, who he called his musical barometer.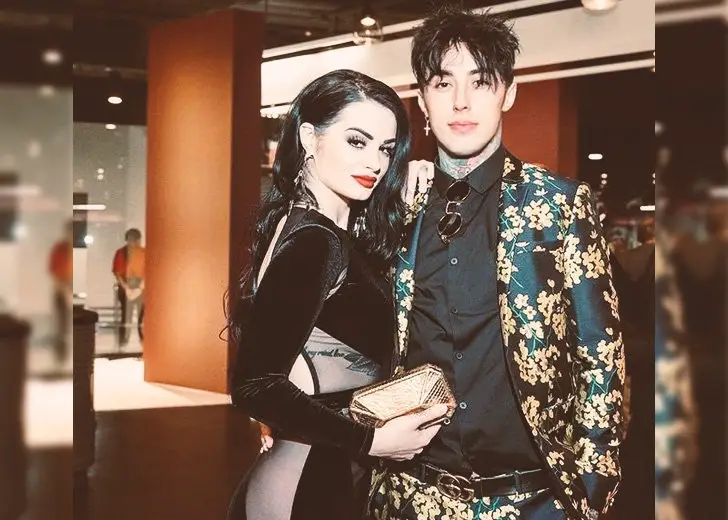 Ronnie Radke has been in a committed relationship for the better part of the last three years with the former WWE superstar Saraya Bevis, better known as Paige, and the two have been anything but shy about flaunting their relationship on social media.
The couple can often be seen showing off their love for one another via Instagram posts. Prior to his relationship with the former WWE star, he was engaged to model Crissy Henderson, the mother of his daughter. 
Paige Flaunted Her Beau on Instagram
On July 7, 2021, Paige made a post on her Instagram featuring a monochrome snap of her beau. The snap framed the rocker with his flowing locks parted to the side, with some of it tucked behind his ear, bringing his cross earring into view. 
Besides the snap of Radke donning a dashing denim jacket, his girlfriend revealed in the caption that she was a lucky girl for having been able to spend nearly three years with him. 
The timeline fits perfectly with Cosmopolitan reporting that Radke and Paige have been in a relationship since late 2018. 
Ronnie Radke Celebrating His Girlfriend's Birthday
Radke is no less when it comes to flaunting his beautiful girl on his social media. On August 18, 2021, the rocker took to Instagram to share his love for Paige on her birthday. 
The post featured a slideshow of three snaps, each featuring special moments with Paige. The first one in the lineup was a picture of Paige kneeling in front of a wall that housed her birthday props. 
Next was a monochrome snap of the dashing couple who were caught sharing a candid moment. The former wrestler held out her hand to her beau while he posed like a diva. 
The last slide was a snap of the pair dressed in back, possibly for Halloween. The duo even wore matching red footwear for this one, while a lineup of perfectly orange pumpkins set up the vibe. 
Paige Is Ronnie Radke's Musical Barometer
In the caption, Radke adored his girlfriend, who he claimed was his musical barometer. He shared that he could show her his music, and gauging her reaction was enough for him to know if the song was done or needed more work. 
He announced that fans could thank her directly for the last four songs that he released. Ending his birthday wish, he added he was immensely proud of her. But, of course, the message would have been incomplete without an "I love you," to go with it. 
Paige, in turn, slid into the comments section to reciprocate the love. She affirmed the rocker made every day great and reinstated that she was the luckiest girl in the world. 
As for fans who ask, "Is Paige Ronnie Radke's wife?" the answer is sadly no.
While the couple has been in a picture-perfect relationship for almost three years now, there has been no word about when they plan to change their boyfriend-girlfriend title into husband-wife.