Ronda Rousey Finds Her Husband 'Suspiciously Perfect'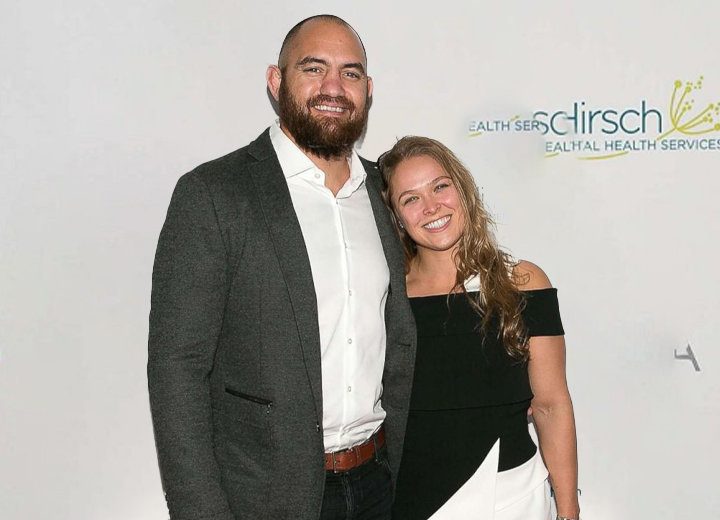 Ronda Rousey's name was once synonymous with women's MMA. She was part of the UFC's first-ever female fight at UFC 157 and held the record for most UFC title defenses.
The fighter retired from MMA in 2016 and signed to WWE, eventually becoming the longest-reigning Raw Women's Champion in the title's history.
But she has since taken a hiatus from fighting and is living a quiet life with her husband and former UFC heavyweight Travis Browne. 
The couple met in their MMA gym while training under Edmond Tarverdyan at the Glendale Fighting Club. Rousey initially kept her love life private but later confirmed she was dating Browne. 
"I don't talk about my personal life much. That's why it's called 'personal life.' It's true that Travis and I are in a relationship. I've really enjoyed the time we have spent together and getting to know one another. And that's all I'm going to say about it," Rousey told ESPN.
After almost two years of dating, they got engaged in April 2017 and married in August 2017 in Hawaii.
Ronda Rousey Opens up about Her Husband
A year later, during her first anniversary, the MMA fighter appeared on Live with Kelly and Ryan and opened up about her husband. 
Host Ryan Seacrest revealed that Rousey told the producer that Browne was "suspiciously perfect" and then asked Rousey to explain. 
Rousey explained that "suspiciously perfect" meant her husband did things for her that "a real human actually would not."
"I was filming while 22 in Bogota, and he flew all the way down to come and visit me, and he shows up, and he was like 'you said nothing about it but I thought maybe you would forget and I brought you a box of tampons'" shared the fighter. 

Ronda Rousey talking about her husband on Live with Kelly and Ryan. (Source: YouTube)
She also shared another lovely gesture the former UFC heavyweight did for her. 
While calling Browne to ask how he was holding up without her, her husband said he had gotten her these cast-iron pans because Rousey loved them, but she was too busy to season them.  
So Browne ended up seasoning those pans for her, to which Rousey jokingly said it made her suspicious at how sweet her partner was. 
After getting married, Rousey took a break from WWE because she wanted to start a family. 
Ronda Rousey Welcomes a Baby Girl
In April 2021, the couple confirmed they were pregnant in a YouTube video titled 'Ronda and Travis Have An Announcement!' 
Rousey revealed she had been pregnant since January, adding she could not hide her baby bump anymore, so it was time to show it off. 
A few months later, the soon-to-be mother opened up about her pregnancy journey and her excitement to meet her daughter in an Instagram post.
"I wish I could say pregnancy feels amazing and that I've never felt more powerful as a woman. But it feels more like my organs are being crushed by the miracle of life. I've never felt more exhausted, unmotivated, or aware of gravity. Some days I have to lie on my side for hours just to breathe comfortably," said the WWE star. 
Thankfully, Browne was there every step of the way, helping her. And then, on September 27, 2021, the couple finally met their daughter.