Inside Ronan Keating's Family Life with Wife and Children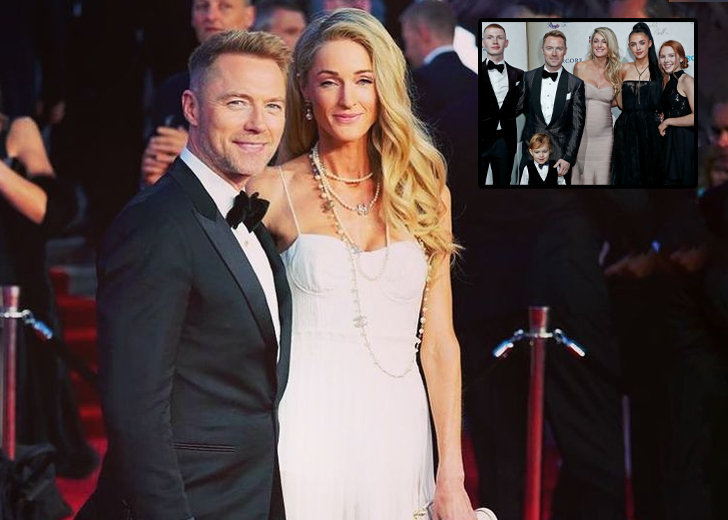 Ronan Keating has been married twice. He is currently living with his second wife, Storm, and his children.
However, he shares three of his kids with his first wife, Yvonne Connolly. His relationship with Connolly was full of ups and downs, which eventually led to their breakup.
Here is everything about Keating and his relationships. 
Ronan Keating and His First Wife
It is unknown if Keating was in a relationship before Connolly. Similarly, how and when they met is also not known. 
However, the pair got married in April 1998 when the singer was 21. Back then, it had just been two months since his mother had succumbed to cancer.
Therefore, getting married and settling down was "not necessarily the right choice" he made. Regardless, the couple made their relationship work. 

Ronan Keating posing for a picture. (Source: Instagram)
A year into their marriage, the pair welcomed their first child, Jack, in 1999. A year later, their daughter Marie, aka Missy, was born, and they were blessed with another daughter, Ali, in 2005. 
Keating and his spouse had a happy twelve years of marriage before things started going downhill. In 2010, they had purchased a £3.5 million mansion in Dublin. 
But during that time, Connolly had sensed something was wrong with her marriage. This was confirmed when she was packing to move to their new home.
She discovered her husband's phone bills, which revealed a number that she did not know. However, she was curious and called the number only to realize that it was Francine Cornell's number. 
When she called, the number reached voicemail which revealed Cornell's name. Then, Connolly found out that her husband had an affair for at least seven months. 
Initially, Keating denied it and said Cornell was just a good friend. But his partner did not believe him, so she talked to the dancer directly. 

Ronan Keating with his children, Jack and Missy, and current wife, Storm. (Source: Instagram)
Cornell confessed to Connolly that she and Keating were in love. After a few days, Keating broke things off with Connolly to patch things up with his spouse. 
He promised her he would never talk to the dancer again. But the damage was done. The pair moved to their new mansion and tried to work on their marriage. 
Unfortunately, it did not go as planned, so they went separate ways in 2010. Their divorce was finalized five years later, in March 2015. 
Co-Parenting Their Children 
Regardless of their divorce, Keating and Connolly are very active in their children's life. The singer admitted that co-parenting is not easy, but calm is its solution.
He needs to be in "an adult state of mind" to deal with co-parenting. Similarly, he confessed that he got angry and frustrated throughout the process.
Regardless, he knew that their main objective was to protect the children always, so they worked accordingly. Both Connolly and Keating made the children their priority to co-parent successfully.

The singer posing with his wife, Storm, and their children. (Source: Instagram)
Ronan Keating with His Second Wife
Keating met his second wife, Storm, in September 2012, when both of them were working on The X Factor Australia. Before Keating, Storm was married to her boyfriend, Tim Ivers, in 2009.
She parted ways with him three years later. Keating and Storm tied the knot in 2015. A year later, in 2016, they announced they were pregnant with their first child.
They were blessed with their first son together, Cooper, on April 27, 2017. Three years later, the duo was blessed with their daughter Coco in March 2020. 
Keating often posts pictures of his children on Instagram and shares his family with his friends and family.