Rochelle Aytes and Her Husband's Love Story Was Years in the Making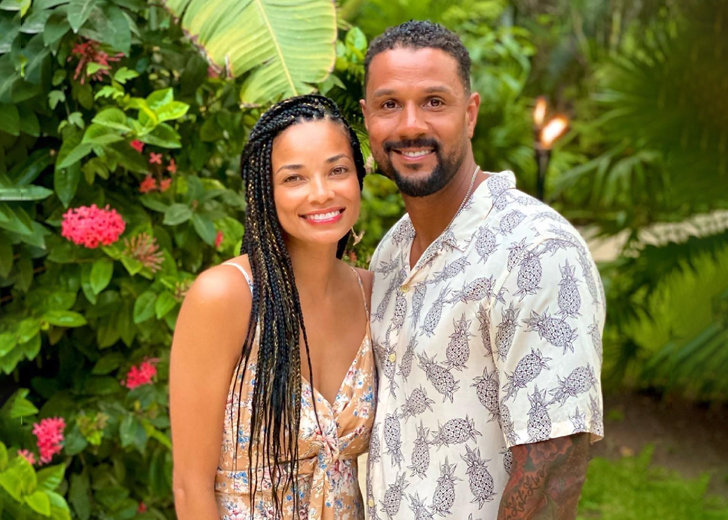 Mistresses star Rochelle Aytes has been married to her husband and fellow thespian CJ Lindsey since August 2016. 
Aytes and her husband exchanged their vows in an outdoor ceremony at the Tappan Hill Mansion in Tarrytown, New York. 
The celebration was an intimate affair and only involved the couple's closest friends and family members.
Lindsey had proposed to the ABC star during a romantic road trip from Vancouver, where Rochelle has been shooting the hit ABC series, to Los Angeles.
The actress shared she was completely shocked because they never really talked about it. 
They were going along the coast and were preparing to stop at a hotel for the night when Lindsey suggested stopping at one last beach, which Aytes wasn't keen about. 
"He wanted to walk towards this big rock that was like a mile away. Long story short, I went to find a restroom and came back and saw that he had he wrote it out in the sand 'Will you marry me?'" Aytes continued.

Rochelle Aytes and her husband during their wedding (Source: Rochelle Aytes/Instagram)
Lindsey wanted to propose at the big rock because it was called the proposal rock.
Rochelle Aytes and Her Husband's Love Story
In 2017, the couple shared their story for the second season of Black Love Doc. 
They had first met in 1998 as students attending the same college in New York.
But their love story only began after over a decade when they reconnected in Los Angeles, where they were both pursuing their dreams.
Lindsey worked as a bartender in Aytes' former boyfriends' club, and they had a lot of mutual friends. 
The former bartender shared that they weren't close, but he admired Aytes from afar and loved how classy she was. 
They often bumped into each other at different events, and in 2010, a mutual friend suggested they would make a great couple. 
After hanging out in groups with their mutual friends a couple of times, Aytes' husband asked for her number, and they went on their first date. 
One would think that they might have hit it off, but it was the total opposite. 
The duo had an awkward first date because Lindsey felt guilty about dating an ex of someone he knew. 
Rochelle Aytes and Her Husband Finally Hit It Off
They went on several dates, but nothing materialized. 
Eventually, Lindsey moved to New York from Los Angeles to be with his son and realized he was not ready to be in a relationship. 
But they stayed in touch, and flash forward to 2014; Lindsey was finally ready to get back into the dating scene. 
And the only person he could think of was the Mistress star. 
After Aytes moved to New York, they began dating again, and after several dates, Lindsey said he was ready to commit. 
But the actress, who was tired of playing relationship games with other men, was unsure and said she needed to sleep on it. 
Aytes thought about it for a few months until one day when they were watching a romantic comedy.  
In the movie, someone asked, "are we going steady?" and at the end of the film, Aytes asked the same thing to her partner. 
And that was what sealed the deal.