Robson Green Wife, Height, Son, TV Shows & Net Worth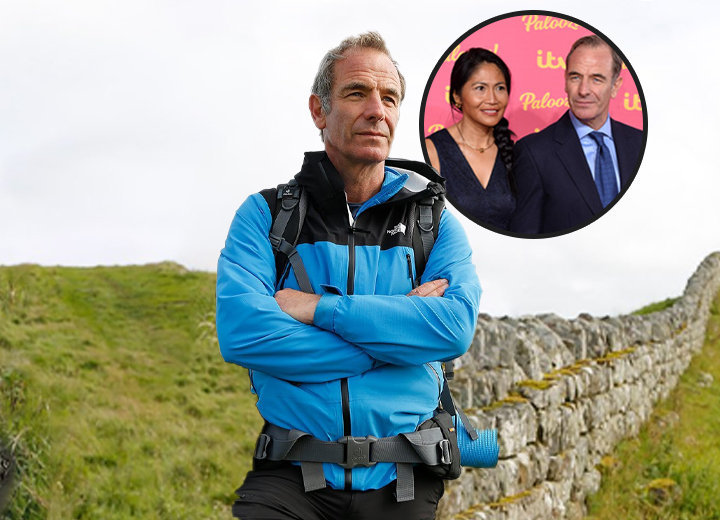 Robson Green is a fascinating actor who has captivated the audience with his stellar performance as Detective Inspector Geordie Keating in the ITV detective drama Grantchester. He is also the director of Rivers Meet Productions Limited. 
In the British ITV detective drama, Green's Keating and Tom Brittney's Reverend Will Davenport work together to find the culprit and the events that lead to the killings.

Robson Green and his co-star Tom Brittney. (Source: Instagram)
Read the article in full to get exclusive information on Green's ex-wives, current girlfriend, house, son, tv shows, height, & net worth
What TV Shows Robson Green is doing now? 
Green still has been portraying the character of Detective Inspector on the British detective series Grantchester since series 1 in 2014. The show has spanned series 8 (season 8) in 2023.
In 2023, he also came up with two shows, BBC Two's real-life travel show Robson Green's Weekend Escapes and ITV's fly-fishing adventure Robson and Jim's British Fly Fishing Adventure alongside Jim Murray.
Where is Robson Green now?
The former one-half of the pop singing duo Robson & Jerome currently resides in a historic villa, which he calls "his dream home," located on the banks of the River Tyne, which in 2015 suffered from a vicious flood, washing away his important belongings. 
Who is Robson Green's Girlfriend Zolia Short?
And while Green may be a great actor, the drama in his personal life is just as fascinating. He is currently in a relationship with a Sunday school teacher of Filipino descent named Zoila Brozas. The pair have no plans in the near future of getting married, according to Robson's interview with The Times. The pair also made appearances in the Scottish edition of the Robson and Jim's Fly Fishing Adventure alongside Jim Murray and his wife Sarah Parish.  
In the interview, he praised her "kindest heart" but walked away from the rising wedding rumors. He said, "No, I've done enough of that. We're very happy together."
In 2016, they first met at a gym in Newcastle, started dating, and eventually moved into Green's home in Northumberland.
In 2018, the couple was spotted for the first time in public on the set of Grantchester. 
Before the duo began dating, Brozas was married to a reverend, and when they got together, their relationship made headlines, with many speculating that Green came between Brozas and her husband. 
Robson Green Blamed for Breaking up Geoffrey Short and His Former Wife, Brozas 
In 2016, reports surfaced Robson was involved in an affair, causing the breakdown of a marriage between Reverend Geoffrey Short and his wife. 
The reverend, who was given an OBE by the Queen at Buckingham Palace, had three children with Brozas.
The former couple had met while he worked in financial services and was staying in Hong Kong. They remained married six years after their first meeting. 
Speaking to the Mirror about his then-wife's affair, Geoffrey said he was shocked when he learned about the romance as it was sudden. 
It made him question his faith but he praised the mother of his children for the life they had together.
"We had a great life together. People thought she was the ideal vicar's wife, and she was. She loves the boys, and everyone said what a fantastic mother she was," Geoffrey told the outlet.
He added he got home from work one day, and suddenly, everything changed. 
Brazost told him she was leaving to live with the actor. She told him she had fallen in love with Green after they got talking in the gym. The reverend noted he was struggling to forgive his wife. 
Robson Green's had Two Divorces before Dating Girlfriend  Zoila
Green was married twice before falling in love with Zolia Brozas.
His first marriage was to occupational therapist Alison Ogilvie on June 22, 1991, but they separated eight years later after reports surfaced that he had reportedly cheated on his wife with Pamela McDonald, who was married to Emmerdale actor Ian Sharrock at the time. 
In 2016, he opened up about the affair, noting fame had gotten to him and caused him to "lose touch with what matters in life." He said that in his mid-twenties he loved getting recognized and he also got addicted to drinking and drugs. "But my relationships were a car crash. I started having real problems with fame and alcohol and drugs," he revealed.
He also revealed that he went to a therapist as per his father's suggestions. The therapist advised him to go pursue his love for fishing to fight his inner demons. 
"Getting back into fishing was a turning point for me. It has been and still is my road to Damascus. I needed something in life that made sense and, for me, fishing makes sense. I've learned so much from fishing and found an inner peace that was missing," he revealed. 
After splitting with the therapist, he met his second wife Vanya Seager, a former Page 3 model, in 1995, while recording Unchained Melody at BMG Records.
They welcomed their son, Taylor Seager-Green, on 29 April 2000, and a year later got married. They exchanged their vows in Buckinghamshire, after which they celebrated with their family in Mauritius.
But after 16 years together, the couple divorced, stating their marriage had "irretrievably broken down."
What is Robson Green's Net Worth?
Born on 18 December 1964, Robson Green has an estimated net worth of $5 million.
He was born in Hexham, Northumberland, England to a miner father Robson Green, and a cleaner and shopkeeper mother Anne.