Rhyce Power Is Engaged to Girlfriend Taylor Peters — Check Out the Ring
Rhyce Power and Taylor Peters had made their romance Instagram official in May 2021.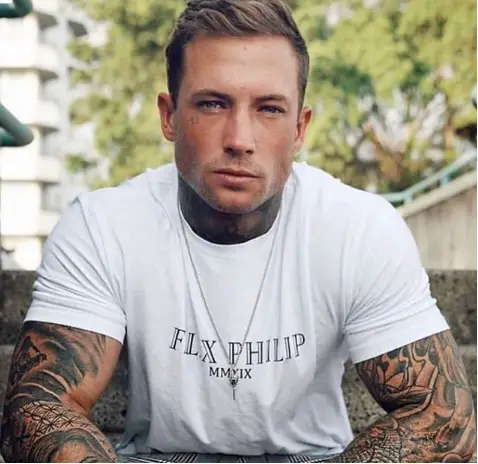 Congratulations to Rhyce Power and his girlfriend Taylor Peters on their engagement.
The Married At First Sight star announced his engagement through Instagram stories on July 17, 2021, sharing a series of photos and videos of the intimate engagement.
Revealing the exciting news, Power first re-posted his girlfriend Peters' Instagram stories' video on his Instagram stories.
In the video, Peters, a Queensland-based false eyelash technician, showed off her engagement ring while Power clasped her hands.

Taylor Peters shows off her engagement ring. (Photo: Rhyce Power's Instagram stories)
The shiny diamond ring looked pretty in her hands. She also wore a gold-plated ring on her index finger. In addition, she also has a heart-shaped tattoo on her middle finger.
His latter IG stories saw Daniela Gioia, jewelry designer and managing director of BOSS MGMT GRP, wishing the couple on their new journey.
"IT WAS A PLEASURE MAKING THIS FOR YOU GUYS," Gioia wrote in her congratulatory message, unveiling she had made the ring for them.
Trent Theodore, who flew Peters to Melbourne for the engagement, also provided a sneak peek of Power and Peters' engagement through his social media.
So happy for these two...He popped the question...She said YES.
After the midnight engagement ceremony, Power took his newly engaged fiancée on a drive around the hilly roads between the lush green woods.
The revelation also excited a lot of the couple's fans and family members.
"I'm very happy for my brother and Taylor - I've known his intentions for some time and I'm so overjoyed to see her say yes," Power's sister, Jessika, told Daily Mail Australia.
"I'm very pleased to welcome Taylor into the family and I hope they both have a happy and healthy future together," the Married At First Sight bride added.
The couple became Instagram official earlier on May 26, 2021, when Peters dedicated a post to her beau.
In the post, she shared a snap of the two passionately kissing each other while she expressed he would always be the man of her life.
Power, who was touched by her words, dropped three heart emojis in her post, to which she later replied with a kiss emoji.
"Aw this is so cute!! love you beautiful," one fan commented on her post.
While Power's present relationship is going smoothly, he had a failed relationship two years ago.
He was dumped by his ex-girlfriend Cheyenne O'Leary, a fitness model, after accusing him of "cheating" on her with two other women.
O'Leary took to Instagram to say,
I feel like I am always the polite, quiet one, and never let anything spill, but I'm sorry, I'm not going to be quiet anymore. You were all right, everything you think about that person is exactly who he is. Absolute scumbag. You have an hour to get all your [expletive] out of my house.
In the wake of that event, Power admitted he had messed up his relationship with ex-girlfriend O'Leary while speaking to Daily Mail Australia.
However, he also said he saw her as a beautiful, amazing girl and a wonderful mother.