Inside 'Resort to Love's Exotic Location — Cast Dishes on Shirtless Scenes and Fear of Geckos
'Resort to Love's filming location was filled with adventure.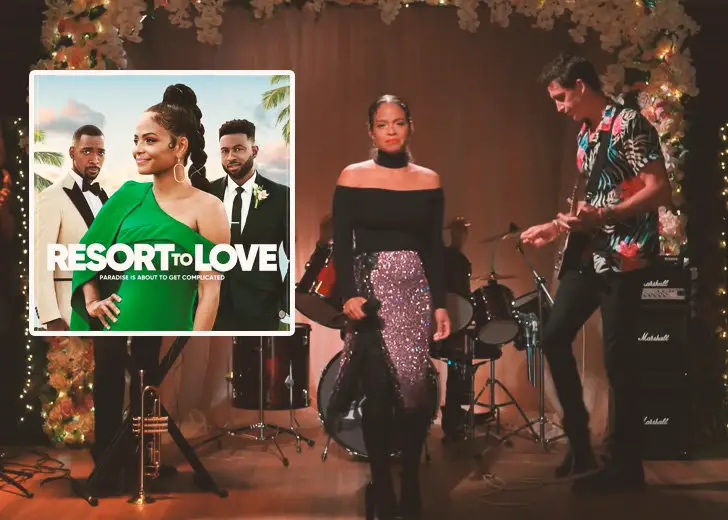 Netflix's latest romantic drama, Resort to Love, revolves around the lead character, Erica Wilson, played by American actress Christina Milian.
The aspiring pop star finds her music career falling apart, after getting dumped by her fiancé.
To get her life back together, she accepts a singing job at a luxury resort. But, to her dismay, Wilson finds out she has to sing at the said ex-fiancé's wedding with his new partner, Beverly. 
In light of such a situation, Wilson finds herself battling the feelings for her ex and struggling to find inner peace. The romantic plotline of the movie makes it a classic case of trouble in paradise. 
Besides impressive acting from the cast, the movie unfolds under picturesque tropical backdrops. It encapsulates awe-inspiring backgrounds of the blue sky, exquisite ocean views, and the beach, which has prompted fans to wonder— 
Where Was 'Resort to Love' Filmed?
Resort to Love was filmed in a six-star Constance Prince Maurice resort in the Republic of Mauritius, an island nation in the Indian Ocean. The movie featured Mauritius's capital, Port Louis, and the breathtaking beach, mountain, and ocean shots. 
The filming started in October 2020, when the COVID-19 pandemic was still in effect. So, production was under strict health guidelines.
That being said, the cast, including Christiani Pitts, Jay Pharoah, Sinqua Walls, had a whale of a time during their stay on the East African island.
As per an article by Decider, the crew members visited the famous peninsula, Le Morne Brabant, at the southwestern tip of the island. And the actors even opened up about their experience filming in such an exotic place. 
Filming Location Was A Paradise
Walls and Milian shared their filming adventures during an interview with Entertainment Weekly in July 2021.
The Falling Inn Love actress recounted filming in the location for two months and stated the island was a paradise. Her co-star, Walls, also supported her, asserting that every day in Mauritius was amazing. 
Adding to the details of their filming location, the 39-year-old mentioned the food was so good that she ate whatever she wanted. Walls, however, couldn't eat the food of his choice. 
Since he had a lot of shirtless acting scenes, he needed to keep his diet in control. The American Soul star remembered being envious of the cast because they were eating without constraints. He added, 
It was definitely a challenge. There are a lot of times where I'm looking at the food on other people plates like, How does it taste? Does it taste good? What's it like.
Besides nature and food, the co-actors also gushed about geckos that populate the island. Milian recalled how the little lizards dominated the room at nighttime.  
So you'd walk in the room and all of a sudden there's like a whole family of them walking across the wall in the middle of the night or in the bathrooms.
While Geckos didn't scare the New Jersey native, she shared that a creepy-looking spider freaked her out. Other than that, she admittedly had an adventurous time watching crabs and trying to "catch things in the water." 
Like Milian, Walls also didn't have a problem with Geckos, but what troubled him were larger spiders, bigger bees, and longer centipedes that ran freely in his villa.