Inside Ray J and Sister Brandy's Ties with Kim Kardashian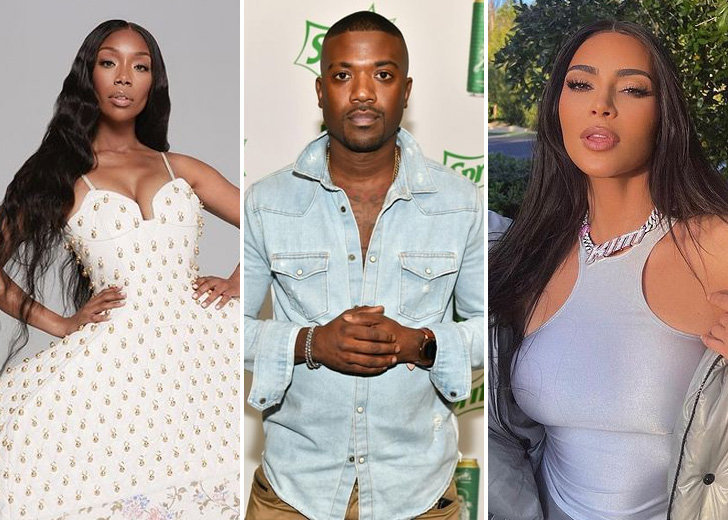 For years, people didn't know that Ray J and Brandy were siblings.
So much so that when the information became public in late 2021, Ray J and his elder sister went trending on Twitter. 
Some were shocked to know they were siblings, and some were appalled that so many didn't know. 
In the wake of the buzz, Brandy showcases her disbelief. The Grammy-winning musician posted a photo with her brother on Instagram, mentioning the Twitter trend.
She wrote, "Bro, it still tickles me that we were trending on Twitter a few weeks ago because the new generation didn't know we have the same Mama and Pops, lol."
Ray J Shares a Close Bond with Sister Brandy
Just like their relationship, many might not know that Ray's sister, Brandy, was the one to pave the way for him in the music industry. 
Brandy already had an eponymous multi-platinum debut album and the titular role on the popular sitcom Moesha when Ray made his debut. 
Later he got the opportunity to star in his sister's music video for 'Best Friend' and the TV show Moesha. 
Seemingly grateful for his sister's support, Ray J has got a tattoo of her name on his forearm. 

Ray J with his sister Brandy. (Source: Instagram)
No doubt, the brother-sister duo has affection for each other. And the goodwill is quite visible on their social media posts. 
On January 17, 2022, Brandy wished her "genius" brother Ray a happy birthday.
"I am so proud to be your sister," Brandy captioned an Instagram carousel that featured multiple photos of her brother. 
While their adorable relationship is widely known now, not everyone knows that they both share ties with the KUWTK star Kim Kardashian.
Kim Kardashian Worked as 
Brandy

's Stylist

Before Kim became a reality star, she worked as a stylist for her childhood friend Paris Hilton. She even appeared in a few episodes of The Simple Life as her closet organizer and stylist. 

The makeup mogul was also a stylist for other celebrities like Serena Williams, Cindy Crawford, and Brandy.

In fact, Kardashian and Brandy were friends, but their relationship ended on a messy note. 

Brandy's mother accused Kim and her siblings of running up her credit card to $120,000 without permission.

Later, they admitted they used the card to help stock & open their store, Dash & Smooch. And reportedly, they settled the beef outside the court. 

In Brandy's appearance on The Wendy Williams Show, she expressed she missed their friendship. 
Ray J Once Dated 

Kim Kardashian  

While Kim was Brandy's stylist, she also dated her younger brother, Ray. Kim and Ray were in an on-and-off relationship from 2003 to 2007. 

During their relationship, the pair made the infamous sex tape, which reportedly catapulted Kim to her superstar status.

The scandal introduced the KUWTK star to the world, but it's not what has sustained her in the stoplight. 

She has built multiple business empires to get people to see her worth. But although she has been successful, the tape has never completely disappeared. 

In the debut episode of the famous family's new Hulu series, The Kardashians, Kim's tape was the center of the drama, much like in the debut episode of KUWTK back in 2007. 

When asked about how she would address the video with her kids, "I think I'm just gonna be super honest and real with them," Kardashian told Bravo's Andy Cohen in 2019.