Rauw Alejandro Addresses Rosalia's Dating Rumors — Here's Everything We Know About Their Relationship
Rauw Alejandro and Rosalia have stepped out together!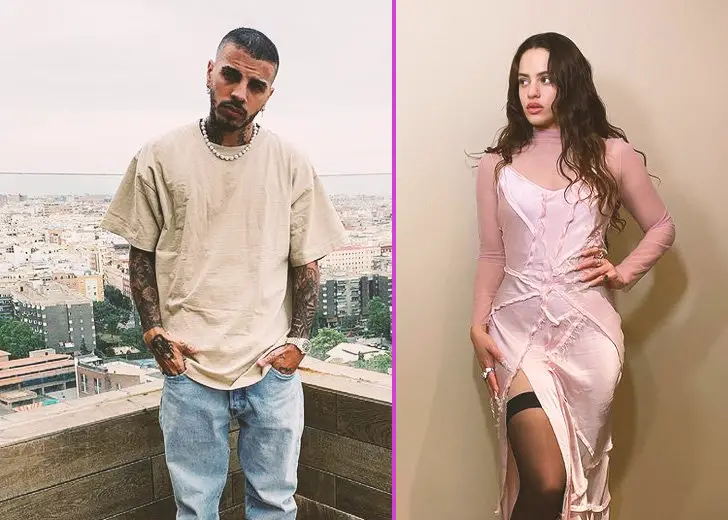 Rauw Alejandro has been linked with Rosalia for a while now. The rumors about them going out with one another have been circulating since late 2020.
They are yet to come out with an official confirmation. But, that doesn't mean the internet stops gathering hints about them from various places.
Here are the few times the Puerto Rican rapper and the Spanish singer have ignited or added fuel to the fire about their dating speculations.
Rumors and Hints
Alejandro and Rosalia have a connection that predates their dating rumors. While talking to Cosmopolitan in June 2021, Alejandro admitted he had a great friendship with her.
He said in the interview that they had been exchanging ideas and working on her projects lately, revealing great chemistry in the studio. They also collaborated on his debut album, Afrodisíaco, which came out in November 2020.
Further, he also heaped praise on Rosalia as a musical artist, saying, "For me, she is the top. Not only in Spain but also worldwide. She is extremely talented."
However, around the time his album came out — about a month earlier, to be exact — their dating rumors started.
On October 27, 2020, Rosalia posted a picture on her Instagram and Twitter. She was seen sitting on a staircase holding a bouquet of red roses. In the caption, she thanked the seemingly anonymous sender of those flowers.
But, it seemed like Alejandro couldn't keep himself from commenting on the picture on both platforms. And he did, sending a clear message as to who sent those lovely things her way.
This prompted eagle-eyed fans to keep track of their every move on social media. And thus came up a lot of hints about their possible relationship.
More than a couple of times, fans saw them with matching clothes on the internet. And not just clothes, but also matching kitchen decor and shoes.
Initially, people thought they were subtly hinting at a collaboration. But those speculations didn't turn into anything concrete.
Nevertheless, the rumors continued when Rosalia posted Alejandro's Instagram pictures on her stories a while ago, sending fans into a frenzy and seemingly confirming that there is something between them.
Messages Get Clear
Despite the apparent hints on social media, there was yet to be an official confirmation. And Alejandro addressed his connections to Rosalia, as well as Ester Exposito, during an interview with El Mundo.
He laughed before answering the query from the interviewer. But then he got serious and responded, saying that what he had with Rosalia was a "good relationship" and just musical.
"Can't I have friends? Can't I have a good time for a while?" said the Puerto Rican, seemingly dismissing the rumors and implying he was single.
But, the latest developments seem to have spilled water on his ruse, if he said what he said, to deflect any further rumors. On August 19, 2021, the duo was seen together in LA. And this marks the first time they've been spotted together in public.
The pair were pictured them leaving The Nice Guy, a popular celebrity night out spot, with his hand on hers. What's interesting is, they didn't try to hide their intimacy or come out separately or even not hold hands.
So, does this public outing confirm that they're officially boyfriend and girlfriend? Everybody seems to think so. But, there's always the possibility that they're just REALLY good friends.