What is Rae Carruth Doing Now after Conspiring to Kill girlfriend and their Unborn Son?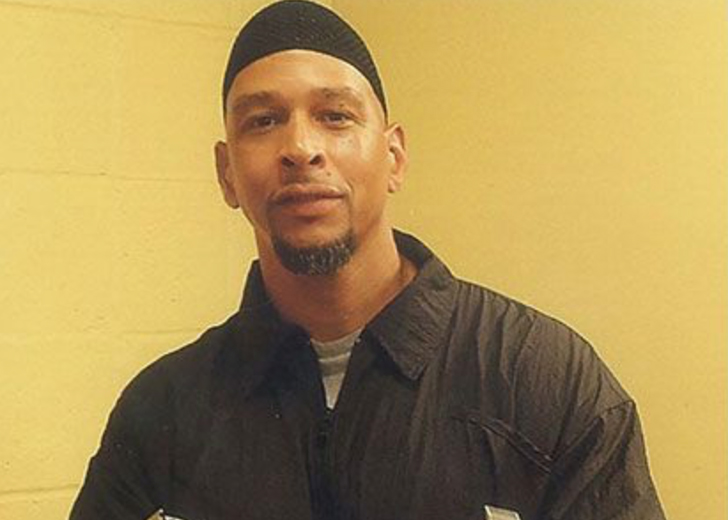 Former American wide receiver Rae Carruth was once at the top of the NFL world. But now, he is merely a former football player and a convicted felon arrested and charged for the death of the mother of his unborn child.   
Carruth was selected by Carolina Panthers in the 1997 NFL draft and had signed a four-year contract in a $3.7 million deal that included a $1.3 million signing bonus. He was starting his NFL career and getting famous through his football skills before everything went down the drain on 16 November 1999.
In 2001, Carruth was sentenced to jail for a minimum of 18 years and 11 months to a maximum of  24 years and four months for his hand in the death of his girlfriend, Cherica Adams. He was found guilty of three convictions, namely conspiring to murder his girlfriend, using an instrument to take the life of the unborn, and discharging a firearm into occupied property. The murder trial was nationally televised. 
In this article, learn about the Sacramento native's conviction story and what horrible happened that day on 16 November. Also, know more details on Carruth's personal life, including his children, age, former girlfriends, and relationship with his deceased girlfriend's mother and his son.  
How much time did Rae Carruth do? His conviction story in short
Carruth was in a casual relationship with real estate agent Cherica Adams. She was pregnant with his son, Lee.
Unfortunately, when she was eight months pregnant, things turned for the worse between the two. 
On November 16, 1999, Carruth and Adams were at the theater. While returning, they got into two separate cars and left.
Minutes after they parted, Adams was shot four times by nightclub manager Van Brett Watkins Sr, an associate of Carruth. Even though she was severely injured, she called 911 and reported her baby daddy was behind the shooting. 
The Grandmother is an amazing woman! Her Miracle Grandson represents the power of FORGIVENESS! Absolutely incredible they are both blessings of GOD gifts to the world! Listen to 911| Former NFL Player Rae Carruth's Baby's Mother| Carolina P... https://t.co/Ld32GdzQtr via @YouTube — Santiago Valentin (@Santiag75978986) February 16, 2023
She told them he stopped his car in front of hers before she was shot by another passenger car.
Soon after the report, she was taken to a hospital where she had an emergency cesarean section to deliver baby Chancellor. 
Chancellor survived but was born with lifelong brain impairment and cerebral palsy. On the other hand, Adams did not survive her injuries and died 28 days because of organ failure after the incident that gave her severe injuries. 
After the incident, Carruth was on the run and was wanted on a $3 million bail condition that had caused him to turn himself if either Adams or the unborn died. Carruth was apprehended after a countrywide manhunt in December 1999. 
He was hiding in the trunk of a car in the parking lot of a Best Western in Tennessee. At the trial, it was revealed that he hired Watkins to murder his baby mama since she refused an abortion. His lawyers, however, argued that the incident happened because of their client's refusal to fund Watkins' led drug deal. 
Two years later, in 2001, the former footballer was convicted of murder conspiracy, shooting a handgun into inhabited premises and attempting to kill an unborn child.
He was, however, acquitted of first-degree murder, avoiding the capital penalty, but sentenced to 18 to 24 years in jail.
However, he only served for a little over 18 years and was released on October 22, 2018. 
Does Rae Carruth have any children?
Carruth has two sons, one from his first wife and the other named Chancellor Lee from his dead girlfriend, who gave birth to the newborn in 1999 via emergency cesarean section while she was in a coma before her death. Despite the successful birthing of Lee, he got permanent brain damage and cerebral palsy since he didn't get oxygen for 70 minutes prior to his birth. 
According to the Detroit News, Carruth's motive for coining the plot to kill her was to ensure he wouldn't have to pay child support for the newborn. His then-girlfriend Adams remained in the hospital for less than a month before her death. He was charged nine days after the shooting that took place near his home in Charlotte, North Carolina.
"He intended that child never come into this world. I ask you to hold him responsible for what he did, for what Cherica saw him do," prosecutor Gentry Caudill requested jurors in his closing arguments.

Rae Carruth before his conviction. (Source: YouTube)
Previously, Carruth had a turbulent relationship with his first baby mama, Michelle Wright. She gave birth to his son, Raelondo, while the former NFL player was in his sophomore year at Colorado.
Carruth was an absent father, and Wright even sued him for child support. Later, the two concluded he would pay $2,700 in child support and be a better father. 
What is Rae Carruth doing now?
Carruth is now a free man, but the shadow of being a felon still has not left him. On October  2018, he was released after spending nearly 19 years in prison, after which he moved to Pennsylvania with a friend.
It is reported that he works from home and is now trying to live as a changed man. Before his release, he had expressed wanting to rekindle his relationship with his son.
But the former NFL player has never directly admitted to  Cherica Adam's murder but has confessed to feeling responsible for everything. In a 16-page long, 3000-word letter to his deceased girlfriend's mother, Saundra, which he sent via WBTV-TV in February 2018, Rae asked for forgiveness from Saundra but also pointed out the "lies" he claimed she made in many interviews that he had never apologized to her was false.
He wrote, "I feel responsible for everything that happened. And I just want (Saundra Adams) to know that truly I am sorry for everything."
And he also thanked her for the "unconditional care, compassion, love, and support" she gave to his son and insisted that the only thing he wanted in the world was to develop his relationship with his son. In addition, he went on to allege that the loving grandmother, who has now spent more than two decades looking after Lee, was using his son for monetary gain. 
"I'm actually in awe of the way that you manage to come up with a new detrimental fact or statement about me year after year," he penned.
He added,
"Ms Adams, I want to sincerely apologize to you for the senseless act that led to the death of your daughter Cherica and the permanent physical difficulties that Chancellor has to suffer through...Having had time to look back and ponder on how the events of that night unfolded, I want you to know that I take full responsibility for everything. I could have done a better job of keeping Cherica and Chancellor out of harm's way, and it's something that will definitely weigh on me for the rest of my life.
And Carruth had also expressed his concerns and nervousness regarding his prison exit a week before his release.
"I'm nervous just about how I'll be received by the public. I still have to work. I still have to live. I have to exist out there, and it just seems like there is so much hate and negativity toward me," he told WSOC-TV.
Did Rae Carruth and his son Chancellor Lee ever meet?
In February 2018, Saundra Adams told the Charlotte Observer that she was open to having a potential relationship with Carruth after she got his emotional letter dedicated to her. However, she also stated that she would never give custody of her grandson to Carruth. 
In the letter, Carruth had criticized her for her lies regarding him and alleged that she used his son for money while also appreciating her for her limitless love. 
"I've forgiven Rae already, but to have any type of relationship with him, there does have to be some repentance," Adams said.  She added, "But I can say definitively he's not ever going to have custody of Chancellor. "Chancellor will be raised either by me or after I'm gone, by someone else who loves him and who knows him. He will never be raised by a stranger -- someone he doesn't know and who tried to kill him."
Later In 2019, he sent large amounts of cash (several thousand dollars) to his son Chancellor Lee and Adam's mother, Saundra.
Initially, Saundra, who raised Chancellor after her daughter was murdered, did not know where the money came from since it was an anonymous check with no return address. But later, she discovered Carruth had sent it through the Mecklenburg court system. 
"I want to acknowledge that Rae did this. To me, it spoke volumes. I am truly grateful. And if he never sends another dime to his son, to me this still means that his heart is changing," Adams stated in a phone interview, according to WBTV. 
If you didn't know, Carruth and the other three men who were convicted of the conspiracy to murder Saundra's daughter Cherica Adams were asked to pay nearly $5.8 million in total to Saundra. WBTV notes that the award was a symbolic decision since all the men were unemployed or in prison at the time. 
And despite Lee's grandmother Sandra Adam's effort to try communicating with Carruth, she said in 2021 that the father and the son hadn't met face-to-face yet. At the time, she spoke to the media on the occasion of Lee's graduation from a Charlotte high school. He was 21 years old at the time of graduation.
"I'm hoping that someone will tell him about this great milestone that Chancellor is reaching. And as always, I'm still open — maybe we can have some communication," Saundra said. 
Previously in January 2017, Saundra Adams had also told WTNH News 18 TV that she would go to prison when Carruth would be released and also insisted that she wanted him to accept his son. However, Adams and Chaarth's possible reunion fell sour after Charrath penned the letter that, despite crediting Adams for raising his son, also blamed her for using him for money. 
How old is Rae Carruth?
Born on 20 January 1974 in Sacramento, California, Rae Theotis Carruth was born as Rae Lamar Wiggins. After completing high school at Valley High School, Carruth landed a football scholarship at the University of Colorado Boulder and later played four seasons for the university's team, The Colorado Buffaloes. He got named first-team All-American in 1996. 
Carruth completed his university studies with a double major in English. His final record in four seasons for Buffaloes was 135 passes for 2,540 yards and 11 touchdowns with an average of 18.8 yards per catch.