Rachel Zegler Is Dating Her 'West Side Story' Co-Star Josh Andres Rivera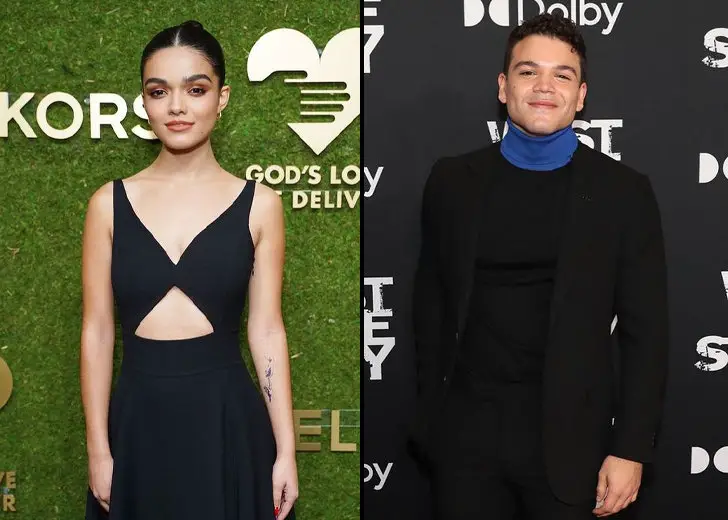 Rachel Zegler finally confirms that she is dating her long speculated boyfriend, Josh Andres Rivera.
Marking the occasion of Valentine's Day 2022, the actress took to Instagram to confirm the relationship with her West Side Story co-star.
In case you don't know, Zegler plays Maria in the 2021 remake of the classic movie musical, while Rivera plays the role of Chino, who dates her before she meets Tony, played by actor Ansel Elgort.
Rachel Zegler Confirms Relationship with Boyfriend
Cut to the chase — the actress, age 20, shared an adorable black and white selfie of herself and Rivera, while her announcement post's caption read, "committing valen-crimes."

Rachel Zegler admitted she is dating Josh Andres Rivera sharing their picture. (Photo: Instagram)
Zegler also posted a similar picture of them — along with the previous one — on Twitter, where many fans quickly dropped congratulatory messages for the newly out lovebirds.
But it didn't end there. She further updated her fans that she and her boyfriend were out for dinner at Mr. White's Leicester Square via Instagram stories.
"@mrwhiteslondon took good care of us reeeeeal good this Valentine's day," Zegler wrote in one of her stories.
She later revealed one of their dining traditions, noting, "@joshandresrivera and I always look for gnocchi bolognese when we go out," ending with, "Thank you Mr. White's!!!"
Fans React to Rachel Zegler Dating Josh Andres Rivera
The fans on the internet appear to be very appreciative of Zegler and Rivera's romance. Hence, most of them were spotted writing good things about the couple after the actress confirmed she was dating.
"you two are so cute," one fan tweeted, replying to her tweet.
Another similarly wrote, "in love with u both."
Someone also asked the actress if Rivera was the same guy she shared the screen with, writing, "wait isn't that the guy from that one movie?"
A user on Instagram noted, "So I guess this does confirm there dating ? I was always wondered if they were just like best freinds or bf and gf lol."
From 'West Side Story' to Real Life Couple
Zegler and Rivera reportedly met for the first time on the set of West Side Story. They subsequently got close while filming the movie, making fans inquire if they were also dating.
The dating rumors were fueled whenever they posted pictures with each other, but it reached its peak on Valentine's Day 2021 when the actress tweeted, "i love josh andres rivera."
Even though the tweet hinted a lot at her relationship with her co-star, it was still not official.
In the wake of the situation, the diva posted a series of photos to Instagram in December 2021, highlighting moments from 2021 that made her feel "big love i have never felt before."

Rachel Zegler with her boyfriend Josh Andres Rivera. (Photo: Instagram)
The very first picture was a snap of her hugging Rivera, who was wearing a holiday sweater.
"Spending christmas eve with a man i have never met before, maybe you know him, he seems pretty cool— like he could be the love child of iron man and john wick, idk though," she wrote, describing her picture with him.
Likewise, in her November 2021 post, she posted a cryptic post where she stated that she found her "best friend in the whole world" after starring in West Side Story.
And fans were quick to point out that she was hinting at Rivera.
Wishing the best years ahead to the new couple!