Rachel Riley Seemed to Be Overjoyed with the Arrival of Her Baby Daughter Nova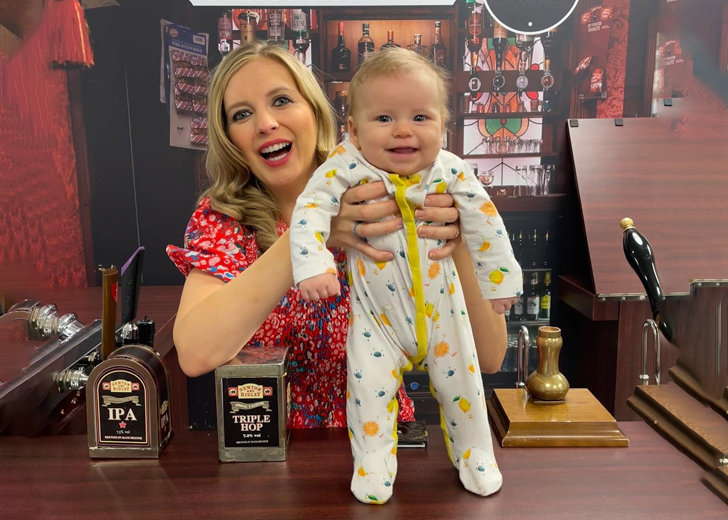 Rachel Riley was spotted exiting the Countdown studio with her eldest daughter, Maven, and husband, Pasha Kovalev, on January 17, 2022.
After the birth of her second baby, Noa, it was her first day back on set.
A few days later, she stepped out, looking radiant, in west London with her newborn baby, Noa, for the first time on Wednesday.
Riley gave birth to Noa on November 5, more than a fortnight after her due date, at the family's London home.
She announced the good news on social media saying that her elder daughter has a "new dance partner."
She added that her big sister had already started offering Oatly and pickles as a welcoming gesture to the "totally adorable" newborn.
Riley celebrated her last day of filming for Countdown last month before taking maternity leave.
The pregnant mother announced the news on Instagram, writing she had finally finished filming to "pop a baby out!"
Rachel Rily and Her Husband on Family Planning
Riley, 35, revealed that throughout the early stages of their relationship, she and her husband were apprehensive about having children.
They decided to move "full steam" ahead only after considering her age and the potential that establishing a family might be difficult later on.
"We've bashed them out! Get the sleep deprivation over in one go is the plan" explained the television presenter.
Riley is considered "biologically old" at her age and has dealt with a miscarriage between her two phases of being pregnant.
On social media, the mother-of-two shared a heartfelt tribute, offering her followers a rare glimpse inside her devastating miscarriage last year.
"This time last year I was shedding a tear for the baby that wasn't meant to be… this year I was dancing around the living room… with Pasha, his mum, and two little girls in tow."
However, Riley seems to be grateful for her ability to "get pregnant easily." She described both of her times being pregnant as "plain sailing."
Relationship History of Rachel Riley
The couple originally met on the BBC show, Strictly Come Dancing in 2013, when they were matched together.
In June of 2019, they turned from dancing partners to life partners, five years after they began dating in 2014.

Pregnant Rachel Riley with her husband and baby. (Source: Riley's Instagram)
They said the 'Strictly curse' had struck and Riley was leaving her husband Jamie Gilbert for a new life with Kovalev. It was barely a month after they were ousted from the competition.
They tied the knot in a secret Las Vegas wedding and had their honeymoon in Barcelona, Spain.
Riley was previously married to her former husband, Gilbert, who she met at Oxford University. They married in 2012 after a brief split in 2009.
However, the pair separated after just 16 months of marriage, partly due to the chemistry that was building between Kovalev and Riley.
Kovalev is a professional dancer who is 41 years old. He began dancing at the age of eight and competed in the American reality show So You Think You Can Dance.