Will Jon Bernthal's Punisher Be Featured in the 'Moon Knight'? — Fan Theory Explained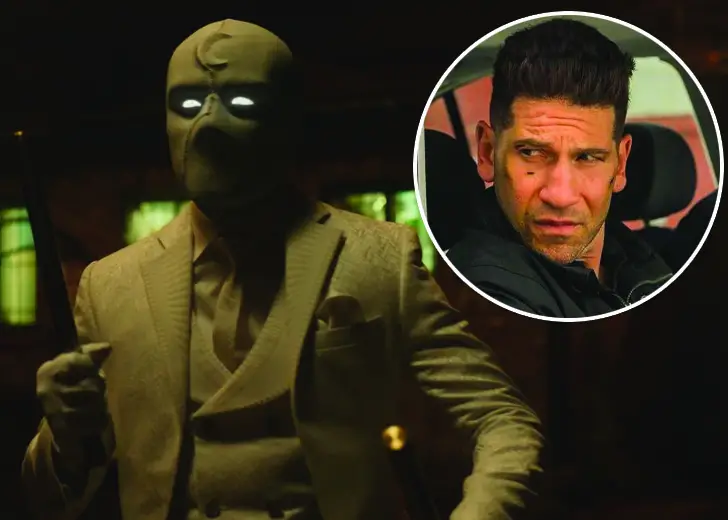 After much anticipation, Marvel's Moon Knight finally debuted on Disney Plus on March 30, 2022. 
There are six episodes that last around 40 to 50 minutes each, and so far, four episodes have been released.
And as the series draws close to an end, netizens are debating how MCU will carry on its traditions of dropping Easter eggs and introducing cameos. 
Netizens suspect that this time the cameo might be made by one of the Midnight Sons members, aka Punisher.
Before the Disney Plus series release, there was an awful lot of talk surrounding the potential return of Jon Bernthal's Punisher in the Marvel Cinematic Universe. 
Fan Theories on Punisher's Return on Moon Knight
The last time fans saw Punisher was in the Netflix series The Punisher, which got canceled after two seasons in 2019.
MCU often brings back characters such as Daredevil in Spider-Man No Way Home and Vincent D'Onofrio's return as Kingpin in Hawkeye. 
Fans have questioned why other characters haven't gotten the same treatment.
Punisher was popular with the critics and fans who have been dying to see him in the MCU since his departure. 
Therefore, netizens have opined that there is a high possibility that Punisher, aka Frank Castle, would be making a cameo. 

Jon Bernthal as the Punisher set to make a cameo on Moon Knight. (Source: The Punisher/Instagram)
Another reason fans are sure that Castle will be making a comeback is that he is no longer considered too violent for MCU.
Marvel has a PG-13 rating that spans the whole MCU, and because of the violent nature of Bernthal's character, fans didn't think he would be reprising his role. 
Even Bernthal noted he would only be back if he were allowed to preserve the character's vicious nature. 
But recently, though, Marvel has been changing its rules. 
Marvel Making Room for Darker Characters
The production house integrated violent characters like Moon Knight and Blade into the MCU, which means excluding Punisher for being violent makes no more sense. 
No Way Home brought back Daredevil and Hawkeye Kingpin, and although these characters are not as vicious as Punisher, they are still much more villainous than the average MCU character. 
And some characters are way worse than Punisher, like Moon Knight, who has earned an individual project for phase 4.
This shows that Marvel is ready to make room for darker characters. 
However, users on Reddit had different opinions.
They said that a Castle cameo was unlikely because Punisher and Moon Knight had no special connection, despite crossing paths in the comics. 
One user commented that there wasn't any reason for the two anti-heroes to meet because, in the new Disney Plus series, it did not seem like there would be a situation in this show that called for them butting heads.
Another user commented that bringing back agent Dinah Madani made more sense, as she could be called upon to investigate weird occurrences in the region.
Fans will have to wait and see if Castle will make a cameo as there is no way to confirm any of it beforehand.