Prue Leith Reveals She and Husband John Playfair Are Still Active in the Bedroom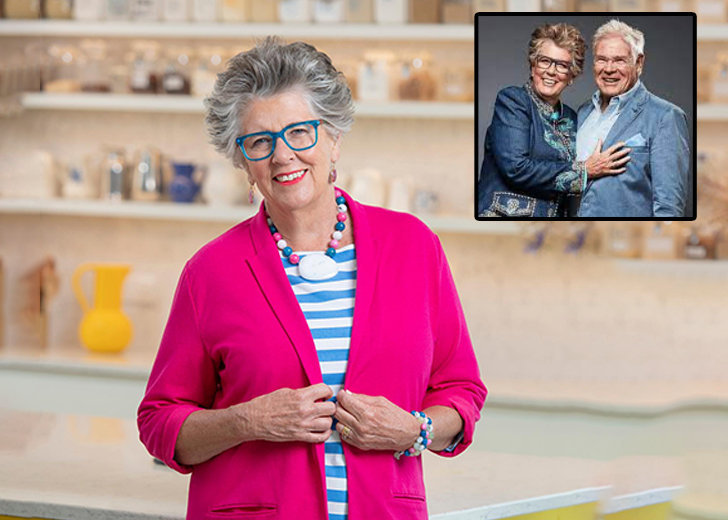 Prue Leith was happily married to her first husband, Rayne Kruger, for almost three decades, from 1974 to 2002. That was when he passed away at the age of 80. 
The Bake Off judge later got into a relationship with John Playfair in 2011. She was 76, and he was 70 then.
After being happily in love for five years, they tied the knot in 2016. 
Prue Leith Got Married in Scotland
As per reports from The Sun, Leith got married in Scotland, not exactly by choice. 
"I had to get married in Scotland, because he refused to wear a kilt south of the border," she shared. 
Now, the dilemma was that she was determined that if she were ever going to get married to Playfair, it'd have to be with him wearing a kilt. 
The couple, although in their elder years, has led quite an unorthodox love life. 
Prue Leith & Husband Live in Different Houses
For starters, the couple still owns different houses. It's not that they don't own homes together. They bought their first house together in November 2020, after being together for nine whole years. 
Apparently, the husband has a special name for their new home: "retirement home." 
Going by reports published by Dailymail, both the husband and wife own their own houses where they spend time every day. 
At face value, that statement might sound awkward, but Leith explained why it was so. 
"I have to say, this is a slight press exaggeration," she clarified. "We live together in my house, sleep together in my house each night, but the thing is, he still has his house where all his stuff is." 

Prue Leith & her husband John Playfair (Source: Instagram)
When you actually think about it, it makes sense. Both had lived their own lives 70 years and then some before they came together. 
Naturally, they own quite a lot of stuff. 
"Imagine, me having to move half my clobber out the house for his," she explained. "He is the most untidy man I have ever met, I am neat and organized, it would be awful!"
Still, every morning he wakes up and makes his darling wife a cup of tea. 
"I get it in bed," she gushed. "He goes back to his house and cleans the shoes, including mine!"
About Things in the Bedroom
While on the subject, the celebrity chef also confessed that they were still pretty active in the bedroom. 
When she read the report which cited that millennials were having less sex, she actually had a few words of wisdom for them. 
"Try it, it's quite nice," she was quoted saying. 
She candidly explained that at her age, people found sex to be quite "romantic and charming." 
"Younger people think, 'Good Lord, are they really still at it?'" she mused. 
She then added, "It will sound a rather pompous thing to say but it's quite healthy that older women like me are not just expected to sit in a corner and knit." 
Although she doesn't have any children with her current spouse, with her first husband, she became a mother to her son, Danny, and adopted daughter, Li-Da.