Chile's President Gabriel Boric Is a Win for the Swifties and Gay Community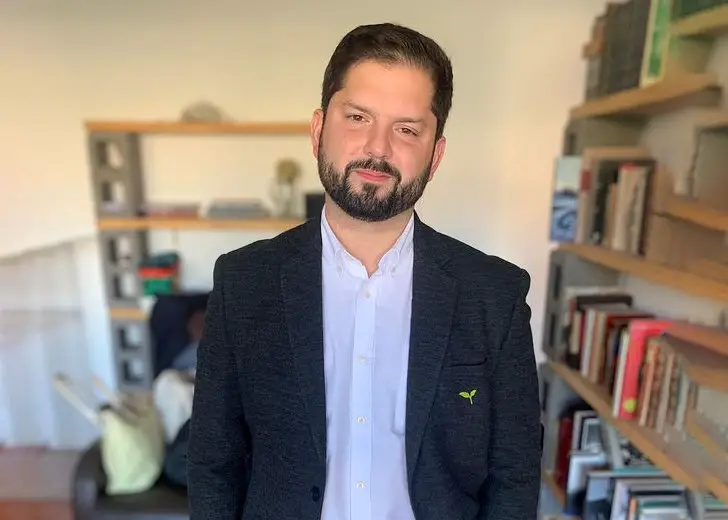 Gabriel Boric made history on December 19, 2021, after winning the presidential election of Chile. He is the youngest President in the country's history and the second youngest in the world. 
Similarly, he also set the record for winning the highest number of votes to date, in the state.
Boric winning has a lot of advantages for Chile since he is an ally for the LGBTQ+ community. 
Recently, it has surfaced that he is also a massive fan of Taylor Swift, aka a Swiftie. 
Chile President Gabriel Boric Is A Swiftie
After Boric won the election, many videos of him and Swifties have surfaced on Twitter. The fans asked if the President was a Swiftie in one particular video. 
Boric had the perfect response — he pulled out a polaroid picture of Taylor Swift from his pocket and showed it to the fans.
After the video went viral, a group of Swifties sent a present to Boric. 
They gifted him a personalized box of cookies that looked like Swift's Folklore album. But instead of the singer, the cookies featured the President, and he was more than happy to receive them. 
The box also contained a CD of the album, which he promised to listen to after listening to Red (Taylor's version). The Chile President has also been photographed wearing Swift's merch. 
For instance, there is a picture of him wearing Taylor Swift's promotional merch for Folklore, a white knitted cardigan.
Similarly, he also had a picture of Taylor Swift as the depiction of Jesus Christ. 
Moreover, there is also a recorded video of Boric listening to the singer's track on his Instagram Live.
He proudly showed off that he was listening to 'Willow' from the singer's Evermore album to his audience. 
Boric has not only stolen the hearts of Swift's fans but also won over the stan culture.
He has been photographed holding pictures of K-pop stars like Jeoongyeon from Twice and Han Jisung from Stray Kids. 

President Gabriel Boric wearing Taylor Swift's merch. (Source: Twitter)
Similarly, he has also responded to an Instagram comment which said, "Stan Loona." Boric replied, "Greetings to Orbits," a name to denote Loona's fanbase. 
Additionally, Boric has also been spotted wearing nu-metal bands' merch like ones from the Deftones, Tool, Nine Inch Nails, and Rammstein.
Chile President Gabriel Boric Is an Ally for LGBTQ+
The history of LGBTQ+ rights in Chile is kind of murky. They legalized gay marriage in 2015, but many parallel rights are missing. 
For example, gay couples or parents do not have the right to adopt kids. The Inter-American Court of Human Rights has recognized the right, but it has not been recognized in the country. 
Boric winning the presidential election is a huge moment for the LGBTQ+ community in Chile.
He was in favor of the gay community and promoting equality throughout his campaign. 

President Gabriel Boric. (Source: Instagram)
He petitioned for gender equality, abortion rules, and reproductive rights alongside the inclusivity of the gay community.
President Michelle Bachelet had plans to legalize LGBTQ+ marriages and adoption rules. 
Unfortunately, these bills have not been passed to date. Recently, President Sebastián Piñera, who Boric succeeds, signed the bill into action. 
While the historic bill has been passed, Boric has to maintain it and promote the gay community in Chile.