Pete Alonso Was Once Bullied For His Long-Distance Relationship with Fiancee
Pete Alonso had to defend his relationship from the haters.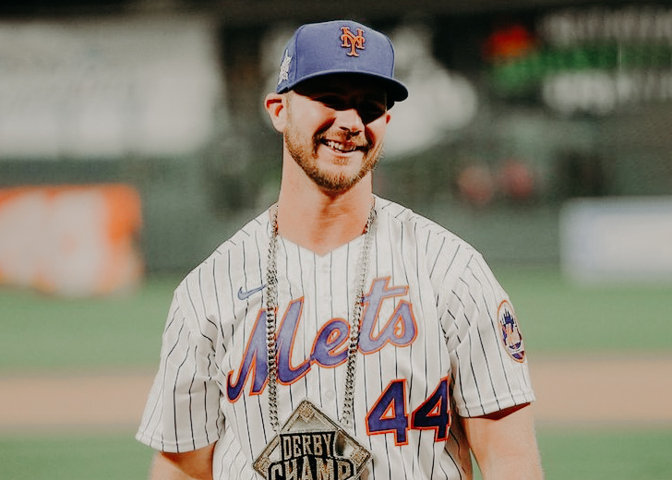 Pete Alonso lit the baseball world on fire two years ago when he made his MLB debut during the 2019 season and broke the major league record for the most home runs by a rookie with 53. 
Alonso, 24 at the time, took down Vladimir Guerrero Jr., who lost the event because of the bracket format.
Since then, Alonso has risen to star status within MLB for his ability to mash home runs with the best of them. He is the first baseman for the New York Mets and one of the most exciting young players in Major League Baseball. 
Despite the fame and success of being a star athlete, Alonso stays grounded. This could be thanks to his fiancée, Haley Walsh. 
Alonso's Love Life
The pair first met while he was playing for the Cape Cod League. 
He was still in college at the University of Florida, while Walsh, a Boston native, was attending Michigan State University. The two had a long-distance relationship for a couple of years, but she eventually moved to Tampa, Florida, to be with him after graduating.
In 2018, Alonso and Walsh got engaged, and he took to Instagram to share the news saying it was "the best day" of his life. However, the post has since been deleted. 
The two of them are also active in charity work. In the spring of 2020, after Alonso's 2019 Home Run Derby win, they launched the Homers for Heroes foundation, which gave back to the everyday heroes all around the community.
Alonso Had to Defend His Relationship
The couple appears to be tied down for a long haul, and we won't be surprised if Alonso and his soon-to-be wife make headlines for tying the knot. But a few years back, Alonso had to stand up for his relationship. 
During an interview with ESPN, the New York Mets player revealed that he received backlash from his teammates and roommates during his time playing for the University of Florida.
They would insult Alonso for his long-distance relationship with his then-girlfriend, Walsh. 
He explained that despite his commitment and persistent dedication to the relationship, some of his peers made comments and sent illicit photos to his social media, hoping to tarnish his relationship. 
It got bad to where they were totally tearing into me about it. And then I was really upset.
Alonso, who had been bullied throughout his life, was used to absorbing the cruel words instead of retaliating. However, one day he finally had enough, and he confronted the person who had sent the images to his social media. 
He grabbed the instigator by his shirt, pulled him off a scooter, and warned him to stop. 
Looks like the haters had nothing on Alonso and his relationship. And we wish the pair all the success moving forward.