Paul Stanley and Wife Erin Sutton's Married Life of 16 Years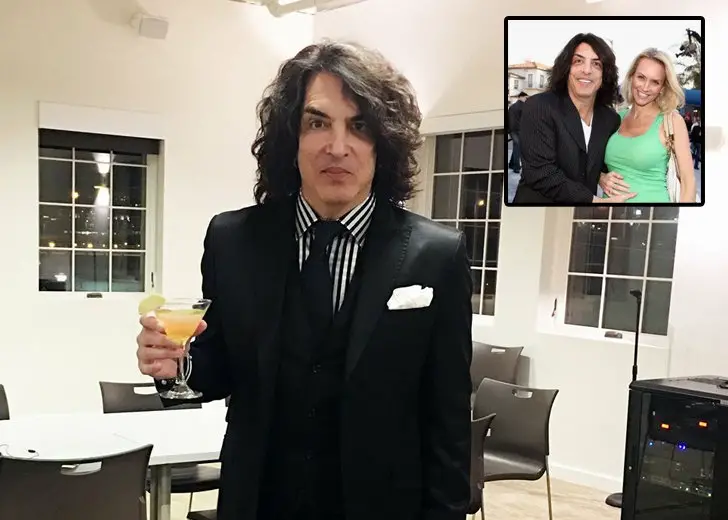 Paul Stanley and his wife Erin Sutton have remained happily married since exchanging their vows in Pasadena, California, on November 19, 2005.
The couple is proud parents to their three children, including a son and two daughters.
Their son Colin Michael Stanley was born in 2006, while daughters Sarah Brianna Stanley and Emily Grace Stanley were born in 2009 and 2011.
The Kiss frontman also has an elder son named Evan Stanley from his first missus, Pamela Bowen, with whom he was married between 1992 and 2001.
Paul Stanley's Divorce from First Wife
Stanley's marriage with Bowen ended after his former spouse filed for divorce in Los Angeles Superior Court, citing irreconcilable differences.
In her court papers, Bowen asked for spousal support and joint legal and physical custody of their son, who was six-year-old at the time.

Singer Paul Stanley shares a photo with his current spouse Erin Sutton. (Photo Credit: Instagram)
At present, Stanley has remained supportive of his son, a musician like himself, who is known by his stage name, George Martian.
The Kiss co-founder has been spotted promoting Evan's music on his different social media accounts, reflecting the strong bond he shares with him despite his painful split with his previous spouse.
In December 2020, Stanley took to his Twitter and shared the details about his son's new music release with his following, calling him his "widely talented son."
Paul Stanley's Relationship with Second Wife
Reportedly, Stanley and Sutton first met at a restaurant nearly two decades ago and immediately knew they were meant for each other. 
However, as of this writing, distinct information regarding their first meeting and early dating years isn't available.

Paul Stanley's children he shares with his second wife, Erin Sutton. (Photo Credit: Instagram)
Despite spending a long time together, their love has only grown stronger with each passing year.
Stanley publicly praises his other half on his many social media posts and media interviews.
In addition, he rarely misses to post on the couple's wedding anniversary and expresses his love and affection to his partner.
During his tenth wedding anniversary with his spouse Sutton, the musician took to his social media to post a long message.
He wrote, "10 years ago today I married Erin [Sutton]. Some people say marriage is confining like jail. Mine was my ticket to freedom."
Likewise, to mark his fourteen years together with Sutton, Stanley posted a picture of his better half and wrote a lengthy tweet on November 19, 2019.
In the first sentence, he shared how he found the key to a life filled with gifts that he never imagined after meeting Sutton.
"My love for her only grows deeper," the Kiss singer continued urging his fans and followers to find the right person for themselves regardless of anyone else's concept, intolerance, or prejudice.
Stanley ended his writing by stressing how nothing is more meaningful than finding the right partner for oneself.
His wife is frequently spotted accompanying her husband on various red carpet events and award ceremonies, but unfortunately, she is understood to be an extremely private person.
Her personal life, including her profession, isn't known in public as of this writing.
Likewise, she also prefers to shy away from the limelight and interviews. In addition, her social media account has remained private.