Twitterverse Wonders Why Paul Pierce Was Fired but Not Rachel Nichols
Paul Pierce and Rachel Nichols became the target of cancel culture after controversial actions.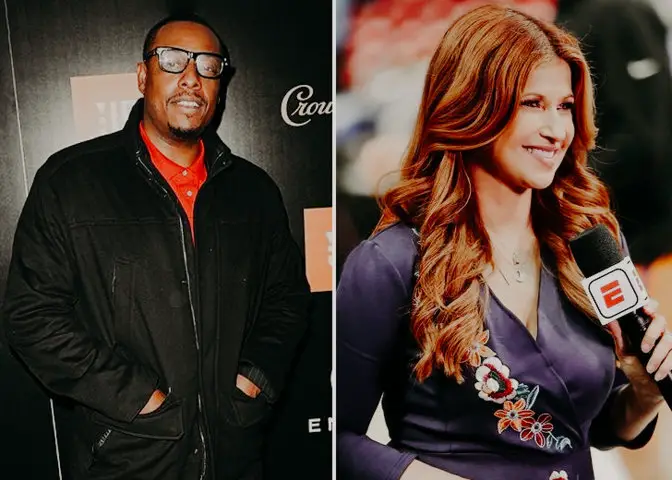 Social media is the voice of society. It is a powerful force that governs the way of life for many. No matter who it is that sits at the apex of it; people in the spotlight have to be cautious of their speech and actions.
When people are provoked emotionally, celebrities get canceled over the most minor things. From racism to misconduct and indecent harassment, stars will be held accountable for everything they say and do. 
Recently Boston Celtics legend and ESPN analyst Paul Pierce and Rachel Nichols, another NBA analyst on ESPN, found themselves the target of cancel culture. 
Pierce Fired After Racy Video
In April, Pierce uploaded a suggestive clip on Instagram in which he was seen smoking and playing poker with his friends while several women twerked in the background. It didn't take long for basketball fans, along with the rest of Twitter, to slander the former All-Star. 
Shortly after this incident, it was reported that ESPN had parted ways with Pierce effective immediately, a subtle way of saying he was fired. 
The suggestive nature of the clip was likely unacceptable for ESPN — a company owned by the family-friendly Walt Disney Company. In the video, Pierce and his buddies also appeared maskless and disobeying Covid protocols set up at the network.
Since retiring from the league in 2017, the former NBA Finals MVP had been an analyst for the network on multiple NBA shows. Some shows included Nichols' weekday show The Jump and its pregame show, NBA Countdown. 
The news came two weeks after Pierce was announced as a finalist for the Naismith Memorial Basketball Hall of Fame class of 2021.
Nichols Parted Ways with ESPN
Similarly, Nichols was slandered after critical comments she made about a Black colleague came to light. 
Nichols was both a sports analyst, an anchor, and host of The Jump on ESPN. She started covering the game in 1995 and was considered the most accomplished woman in the field. 
Recently, the recording of her private conversation with Adam Mendelsohn, LeBron's spokesperson, was leaked, and the story was covered by the New York Times. 
Rachel Nichols history:

Brought up D Rose's rape allegations the night after he had 50

Asked Dame if he felt bad for beating the Lakers on Kobe night

Said Lebron should win MVP because of Kobe's death

And now is saying Maria Taylor is working the finals because of her race — 𝙈𝙖𝙩𝙩¹³ðŸŽ¡ (@thehurryupnba) July 4, 2021
In the audio, Nichols, who is Caucasian, says Maria Taylor, who is  African American, was chosen over her to be the head of last year's NBA Finals coverage because of the company's diversity efforts. 
People were vexed over her comments, and the first thing that all NBA Fans did was dig up her past, which apparently seems far worse than what people expected. Over the years, she had made many insensitive remarks and gotten away without penalty. 
These people also noted that the treatment was unfair as Pierce lost his job for a less severe offense than Nichol's. Nichols apologized on-air following the news, saying she was "deeply, deeply sorry I am for disappointing those I hurt, particularly Maria Taylor."
With the world watching out for ESPN's reaction, the network announced shortly after that Nichols would no longer be the network's sideline reporter for the NBA Finals.