Know about Paul Anka's Children, Songs, Age, Net Worth, Death Rumors, Ex-wives, Net Worth and Height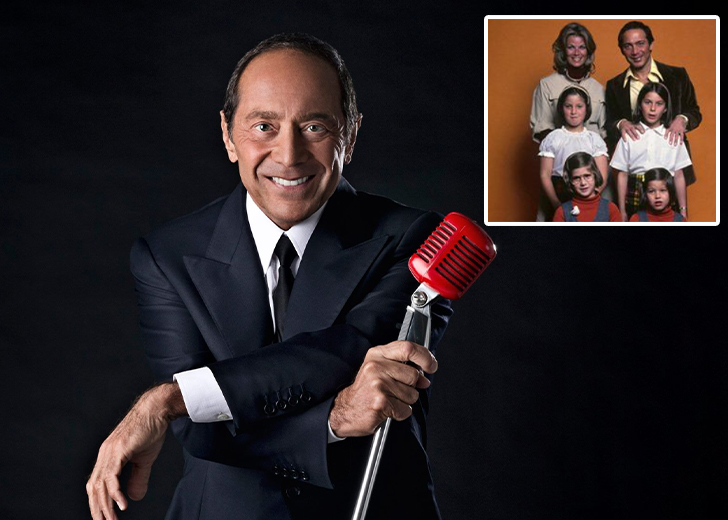 The greatest teenage pop sensation to the current generation might be Britney Spears, but in the 50s, it was Paul Anka, who experimented with diverse genres, including pop soft, rock, jazz, doo-wop, rock and roll, and swing
Anka sure had an interesting life both on and off the stage.
He became a teen millionaire and later had many children with three different spouses. 
But as fate would have it, despite having a successful career, his personal life was far from perfect. 
He married three times, but all of them failed. 
Read the full article to know about the frequently asked question about Paul Anka's family life, children, songs, age, death rumors, ex-wives, net worth, and height
Interesting Read: Introducing 'Gilmore Girls' Star Dog Paul Anka
Is Paul Anka Sill Alive?
Anka, who stands at the height of 5 feet and 6 inches, is still alive and is 81 years old. 

Hence, the death rumor that circulated over the internet after a Facebook page titled 'R.I.P. Paul Anka' went viral in January 2023 about his death was a mere hoax. 
What are Paul Anka's most Popular Songs?
Canadian American singer, songwriter and actor Paul Albert Anka is best for his hit songs such as 'Put Your Head on My Shoulder,' 'Diana,'  '(You're) Having My Baby,' 'Times of Your Life,' 'Goodnight My Love,' '(I Believe) There's Nothing Stronger Than Our Love,' and 'It's Time To Cry.'
And if you didn't know, the Ottawa native is also credited for writing Tom Jones' 'She's a Lady,' an English version of Frank Sinatra's signature song 'My Way' presented in Claude François and Jacques Revaux's music, and the theme song for The Tonight Show Starring Johnny Carson.
With the legendary "King of Pop" Michael Jackson, he also co-wrote three songs, namely 'This Is It,' 'Love Never Felt So Good,' and 'Don't Matter to Me.'
What is Paul Anka's Net Worth?
Paul Anka has come a long way from the time when he ventured out to New York as a teenager to pursue a music career with only $100 gifted to him by his uncle. 
Before moving to New York,  he had recorded his first song, 'I Confess,' in Canada at the age of 14.  
According to Celebritynetworth, Anka has an estimated net worth of $80 million as of now. 
Is Paul Anka still Married?
Anka's last spouse was Lisa Pemberton, a former adolescent counselor, and actress. 
They divorced in 2020 but didn't comment about their separation back then. Later, Anka claimed that he was very unhappy in the relationship.
"One day I pulled out my birth certificate and said, 'See this? How much longer do I have? I can't live like this anymore!'" he shared he felt at the time.  
Previously, they had tied the knot in October 2016, which was Anka's third marriage. At the time, Anka was 75. 
The most special part of the celebration for the singer was watching his 11-year-old son Ethan walk his bride down the aisle.
"He's a cool little guy and my only son. I wanted to make him be a part of it," said Anka. 
How many Children does Paul Anka have?
Paul Anka has altogether six children — son Ethan (with second-wife Anna Anka), and daughters Amelia, Anthea, Alicia, Amanda, and Alexandra from his marriage with first wife Anne de Zogheb.
His offsprings are mostly adults now. They have different careers and even started their own families. 
His daughter Amanda became an actress and in 2001 married actor Jason Bateman, who famously starred opposite Laura Linney in Ozark.
The couple had two children together.

Paul Anka and his family at his birthday celebration (Source: Paul Anka/Instagram)
Meanwhile, his oldest daughter became a screenwriter and worked in films including Battlecreek and Alleycats.
Despite living their own lives, Anka and his children have a close-knit bond. 
The special father-daughter bond was evident in a 31 July 2019 Instagram image that the singer shared. 
He shared the photo with his family during his birthday celebration.
Who are Paul Anka's other Ex-Wives?
Anka's first spouse was Anne de Zogheb, a model of Lebanese, English, French, Dutch, and Greek descent. She died in 2017.
He met de Zogheb in 1962 during his trip to Puerto Rico to film 'The Longest Day.' At the time, his former spouse worked for Eileen Ford Agency. 
A year later, they tied the knot in a ceremony at Paris-Orly Airport. 
The couple welcomed five daughters, Amelia, Anthea, Alicia, Amanda, and Alexandra, during their marriage, but after 37 years of marriage, they amicably divorced in 2000 after four decades of being together only because of Anka's busy career and lack of family time. 
Although the pair didn't immediately conceive kids after marriage. But when they did, it become trouble for the "Put Your Head On My Shoulder" crooner to carve out time for his extended family amidst his "crazy schedule" involving tours and recordings. 
When the daughters were young, he and his wife at least could travel with them. However, after they hit their teenage years, Anka usually would miss the important days in his children's life, whether that be their birthdays, school games, plays, or awards ceremonies. 
Talking to Express in 2021, he shared that he missed as many as "200 days" in a year. He said,
I did my best, but I was travelling 200 days a year," he says. "My first wife, Anne de Zogheb, was a top model and the love of my life, and we had 40 good years together.
In his autobiography 'My Way,' he wrote, "It's hard to explain what it was like, how hard that transition was, from five-star hotels to changing diapers. The way I would float in and out of my girls' loves trying to attend their school recitals, falling asleep in the middle of a performance and Anne nudging me."
He revealed in the book that Zogheb's parents were aristocratic and "grilled" him because they were concerned if he had adequate wealth and money to take care of their daughter or not. 
They first met in Paris when he had been filming in his army fatigue costume.
Paul Anka's Custody Battle with Secod Wife's 
While things seemed cordial between Paul Anka and his first spouse, the same could not be said of his second spouse. 
After his divorce from his first wife, he met Anna Aberg, a Swedish model and actress, who was 30 years younger than him. 
The duo met when Aberg was appointed as his personal trainer, and they had a casual relationship.
And after the model told him she was pregnant, they tied the knot in 2008 and welcomed a son, Ethan Anka, shortly after.
However,18 months later, in 2010, they separated, and Anka was given full child custody. 
"It's the greatest day of my life. This was all about protecting Ethan. The system has worked," said Anka. 
According to reports, Aberg had not seen their son in over two years after Ethan developed "an intense dislike of his mother."
However, the model's attorney Lisa Helfend Meyer argued that was no evidence suggesting that she was not cut to be a mother.  
Aberg argued she did not have the power or the fame to fight Anka and thus lost the battle.
Paul Anka's Son Ethan has a Better Relationship with Him in comparison to Other Children
Paul had already crossed his youthful days when he and Anna welcomed their son, Ethan, which translated to him giving more time to raising his son and bonding with him—a milestone he couldn't enjoy with his previous children. 
"It was different in the sense that at this stage, how many summers do I have left? I don't work in my office anymore. I work at home. I'm up every morning with him, I take him to school, and I pick him up at school. He's always with me.
Now, Paul has revived his role as an ideal family man and allocates time to his family since he is past his prime career. But his career is far from over, he does occasional tours and shares his classic hits. He released his latest album, Making Memories, in 2021 on the occasion of turning 80.
"I'm already working on my next album. I'm really excited about it," he shared.
Altogether, Paul has nine grandchildren.