A Peek Into Paul Anka's Life with Wives And Children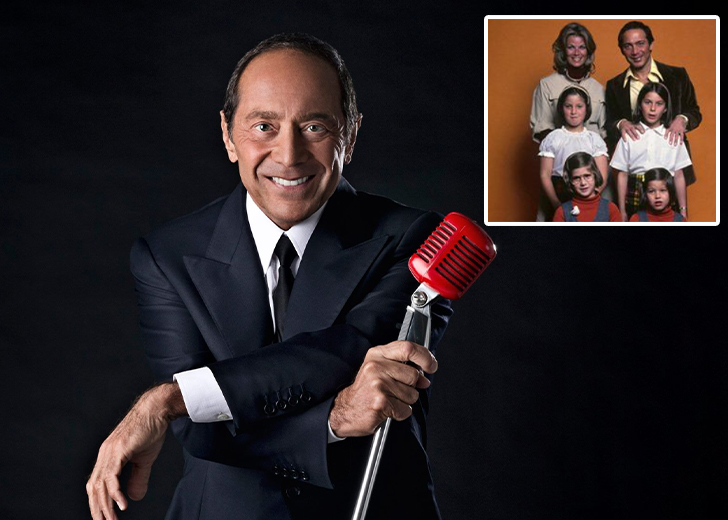 The greatest teenage pop sensation to the current generation might be Britney Spears, but in the 50s, it was Paul Anka. 
Anka sure had an interesting life both on and off the stage.
He became a teen millionaire and had many children with three different spouses. 
But as fate would have it, despite having a successful career, his personal life was far from perfect. 
He married three times, but all of them failed. 
His last spouse was Lisa Pemberton. They tied the knot in October 2016, which was Anka's third marriage.
The most special part of the celebration for the singer was watching his 11-year-old son Ethan walk his bride down the aisle.
"He's a cool little guy and my only son. I wanted to make him be a part of it," says Anka. 
But the singer and Pemberton divorced in 2020, claiming that he was very unhappy. 
Besides Ethan, the singer has five children — daughters Amelia, Anthea, Alicia, Amanda, and Alexandra. 
Let's look at Anka's family life, including his children and previous spouses. 
Paul Anka's First Spouse and Children
Anka's first spouse was Anne de Zogheb, a model of Lebanese, English, French, Dutch, and Greek descent.
He met de Zogheb in 1962 during his trip to Puerto Rico to film 'The Longest Day.' At the time, his former spouse worked for Eileen Ford Agency. 
A year later, they tied the knot in a ceremony at Paris-Orly Airport. 
The couple welcomed five daughters during their marriage, but after 37 years of marriage, they divorced in 2000.

Paul Anka and his family at his birthday celebration (Source: Paul Anka/Instagram)
His offsprings are mostly adults now. They have different careers and even started their own families. 
His daughter Amanda became an actress and in 2001 married actor Jason Bateman, who famously starred opposite Laura Linney in Ozark.
The couple has two children together.
Meanwhile, his oldest daughter became a screenwriter and worked in films including Battlecreek and Alleycats.
Despite living their own lives, Anka and his children have a close-knit bond. 
The special father-daughter bond was evident in a July 31, 2019, Instagram image that the singer shared. 
He shared the photo with of his family during his birthday celebration.
Paul Anka's Custody Battle
While things seemed cordial between Anka and his first spouse, the same could not be said of his second spouse. 
After his divorce from his first wife, Anka met Anna Ageb, a Swedish model and actress who was 30 years younger than him. 
The duo met when Aberg was appointed as his personal trainer, and they had a casual relationship.
But after the model told him she was pregnant, they tied the knot and welcomed a son shortly after.
However,18 months later, in 2010, they separated, and Anka was given full child custody. 
"It's the greatest day of my life. This was all about protecting Ethan. The system has worked," said Anka. 
According to reports, Aberg had not seen their son in over two years after Ethan developed "an intense dislike of his mother."
However, the model's attorney Lisa Helfend Meyer argued that was no evidence suggesting that she was not cut to be a mother.  
Aberg argued she did not have the power or the fame to fight Anka and thus lost the battle.