How Laura Linney and Her Husband Marc Schauer Fell in Love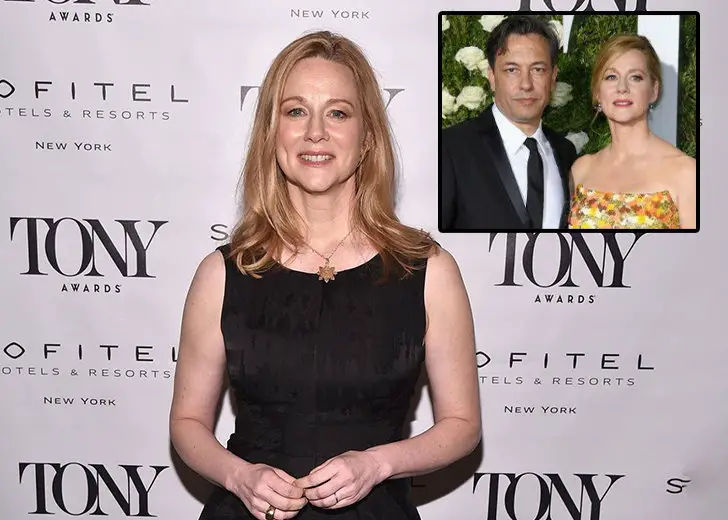 Laura Linney is happily married to her husband, Marc Schauer.
That is to say, her real life is a far cry from her on-screen life. She has a fair share of marital woes in Ozark, where she portrays the ambitious Wendy Byrde. 
In the Emmy-winning Netflix drama, her character is married to Jason Bateman's Marty Byrde.

Laura Linney and her on-screen husband Jason Bateman. (Source: Laura Linney/Instagram)
Even before Ozark, the Emmy Award-winning actress was already a huge name in Hollywood with appearances in several films, including Primal Fear, The Truman Show, Love Actually, and You Can Count On Me. 
So it is only natural that her fans want to know about her personal life, like when she got married and if she has kids. 
Laura Linney and Her Husband's Love Story 
Linney married her real estate agent husband in May 2009 after getting engaged in 2007.
The pair first met in 2004 at the Telluride film festival in Colorado. Schauer was working as a host and a liaison between the town and the festival. 
In an interview with The New York Times in 2010, she reminisced about the time she first met him. She explained Schauer was a V.I.P. host assigned to her for the weekend. 
The Ozark actress fell in love with the real estate agent at first sight.
She admitted she looked at him at one point and questioned if she was attracted to him. She knew the feeling was unlike her but accepted she was "feeling something nice."
The duo ended up exchanging emails and arranged to meet in Chicago. And when they met again, Linney felt as all her anxieties had disappeared. They fell in love hard and fast. 
Soon they tied the knot in an outdoor ceremony. The married couple is relatively private regarding marriage. Hence, not much is known about their relationship.
Laura Linney on Motherhood
Linney and her husband welcomed their son, Bennett Armistead Schauer, in January 2014. She was 49 at the time and had kept her pregnancy under wraps. 
During an appearance on Live with Kelly, Linney told Kelly Ripa that she did not hide the pregnancy intentionally; she just didn't advertise it. 
She had difficulty conceiving. So she stayed quiet to ensure her child arrived safe and healthy.
After welcoming her son, she realized motherhood changed her in ways she could not imagine.
She noted her body changed and behaved differently, and her emotions became powerful. She ended up smiling so much that her facial muscles were sore.
Linney also admitted it was difficult balancing motherhood and the demands of her career.
The actress was tempted to spend all her time with her son but knew it was impossible. In the end, all she could do was her best to balance motherhood and career.