Patsy Palmer's Children Follow in Her Footsteps into the Entertainment Industry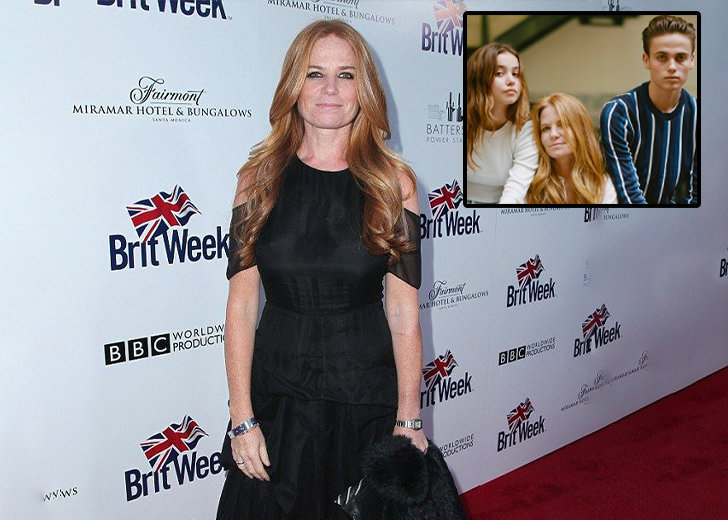 EastEnders star Patsy Palmer is a mother to four children, and the three oldest have followed in her footsteps.
During a chat on Lorraine, Palmer had revealed all of her children were keen on cracking the entertainment industry, despite her warning.
Her oldest son, Charley Palmer Rothwell, is already a movie star. She gushed about him during her appearance on the talk show. "He's 25 now, he's a man, he's towering above me. He's done incredible things."
She further added that Charley had starred alongside Tom Hardy in Legend, playing the Venom star's boyfriend in the movie.
Some of his other notable works are Dunkirk (2017), Darkest Hour (2017), Beast (2017), and Our Girl (2013-2014).
Palmer's second son, Fenton, is a model signed to the Dragonfly Agency. He previously made headlines when it was rumored that he was going out with Kaia Gerber, Cindy Crawford's daughter.
He was later linked romantically with Real Housewives of Beverly Hills star Lisa Rinna's daughter, Amelia Gray.

Patsy Palmer with her children (Source: Instagram)
Palmer's only daughter, Emilia, is similarly signed to the Dragonfly Agency. She has starred in campaigns for Calvin Klein and landed high-profile covers for magazines such as Tatler and Wonderland.
Patsy Palmer Credits Husband for Family & Children
Palmer credits her husband, Richard Merkell, for her current family life. "He's given me what I've always wanted - a real family."
Before the two got together, Palmer had a serious issue with drugs and alcohol. She first went on stage at six and started drinking when she was eight.
By the time she was 13-year-old, she was already snorting cocaine. The actress got candid about her substance abuse in her autobiography, All Of Me.
"By my 20s I was binging my life away on cocaine, ecstasy, and enough vodka and Laurent Perrier Champagne to quench a small village's thirst for several hours," she wrote.
"I would be out of my head for two or three days in a row - whole chunks of time were lost. I took so many drugs I'm amazed I survived."

Patsy Palmer with husband and children (Source: Instagram)
She married Merkell in 2000, and the two had been friends for 14 years before they started going out. It was this marriage that helped her enter rehab in 2004 and get sober.
Patsy Palmer and Husband Have Three Children
Palmer and her husband Merkell tied the knot on August 1, 2000. They welcomed their first child together, son Fenton, on June 13, 2000.
A year later, their family grew larger when she gave birth to her daughter Emilia on June 7, 2001. Then, in December 2010, Palmer and her husband had their third child together, son Bertie.
Palmer revealed all three of her children with Merkell were born by Cesarean section.
Previously Married to Nick Love
Before she got together with Merkell, Palmer was previously in a relationship with boxer Alfie Rothwell starting in 1991.
Palmer and Rothwell share her oldest child, son Charley, who was born in February 1992.
However, their relationship did not last long, and they split two years later, in 1994. She moved on with filmmaker Nick Love, and they tied the knot in August 1998.
This marriage lasted even shorter than her relationship with Rothwell, and they completed their divorce in May 2000.