Patrick Mahomes' Wife Brittany Matthews Clapped Back at Haters for Her Champagne Celebration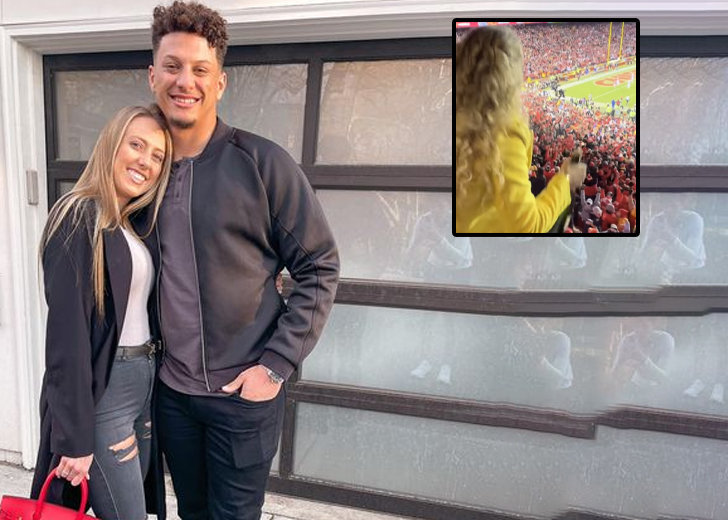 Patrick Mahomes' wife, Brittany Matthews, received a lot of backlash for her celebration of the Kansas City Chiefs' overtime victory against the Buffalo Bills in January 2022.
Matthews shook a bottle of champagne and sprayed it over the crowd below from her suite after her husband's team clutched a 42-36 victory. The win also landed them a spot in the AFC Championship Game.
Mahomes' little brother, Jackson, recorded the celebration, and Matthews later posted it on her Instagram.
"Chiefs Kingdom, YALL ROCK," she captioned the post, followed by a fire and 100 emoji.
Not long after she made the post, Matthews faced criticism on social media. People pointed out how the fans in the stadium below wouldn't have wanted to be drenched in alcohol in freezing temperatures.
Patrick Mahomes' Wife Responds to Criticism
After the backlash, Matthews took to Twitter to respond.
"I just wish I could do what I want without getting attacked every week," she wrote on January 25, 2022.
However, the criticism and hate she received on the internet did not die down. In fact, the intensity increased even more.
A few days later, Matthews made another tweet where she pointed out how the people criticizing her were more concerned about "clicks & engagement" than someone's wellbeing.
I fine it pretty pathetic that people care more about clicks & engagement more then someone's well being. Let's be better. — Brittany Matthews (@brittanylynne8) January 27, 2022
She ended the tweet by writing "let's be better," indicating the matter had been blown out of proportion and was similar to harassment/bullying.
Matthews also announced she was creating "Team Brittany" shirts for anti-bullying charity. She revealed the proceeds would go to Red Card KC, an initiative to prevent bullying.
I will be personally matching the donation made to Red Card KCðŸ™ÂðŸÂ¼â¤ï¸Â I appreciate the KC Community! 🙌ðŸÂ¼ https://t.co/tkPePzstef — Brittany Matthews (@brittanylynne8) January 28, 2022
Fans Showered Brittany Matthews with Support
Throughout the ordeal, Matthews had received plenty of support from her husband's fans. Many came to her defense against the online comments directed at her celebration.
"I was sitting below her at this game. I'm sure it wasn't unanimous, but the crowd was cheering WITH her and encouraging her when she did it," wrote one user.
Another pointed out how absurd it was that Mahomes' wife, who was also the mother of his daughter, couldn't celebrate without people calling her out for it.
Later on, in another game, fans showed their support for Matthews by holding up a sign that read, "Let's spray some more champagne #TeamBritt."

Fans showing support for Patrick Mahomes' wife Brittany Matthews. (Source: Instagram)
Another sign read "Ready for a champagne shower," and Matthews showed her appreciation for the support in her Instagram stories.
Patrick Mahomes and Brittany Matthews Married in March
Mahomes and Matthews have been together for a long time. The two first met each other while studying at Whitehouse High School in Texas. 
Mahomes was a sophomore while his wife was a junior. They began dating not long after and have been together ever since.
After years of being together, they got engaged in 2019. He had proposed to her shortly after receiving his Super Bowl ring before the 2019 NFL season.
Two years later, the duo became parents for the first time on February 20, 2021. Matthews gave birth to their daughter Sterling Skye Mahomes.
She announced the birth of their child with a picture of the three holding hands together.

Patrick Mahomes with his wife and daughter on their wedding day. (Photo: Instagram)
A year after their daughter's arrival, Mahomes and his fiancee tied the knot in March 2022.
The football quarterback wore a grey check suit on a white shirt while his bride donned a white cut-out wedding dress. 
After the ceremony, Mahomes announced the wedding through an Instagram post captioned "Mr. & Mrs. Mahomes."