A Deep Dive inside the Lives of Paige Hurd's Four Siblings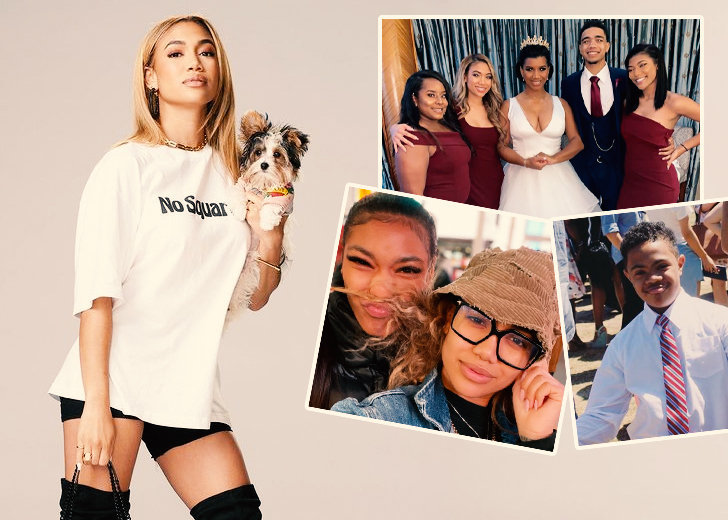 Paige Audrey Marie Hurd, popularly known as Paige Hurd, is a talented actress renowned for her recurring role as Tasha Clarkson on the American sitcom Everybody Hates Chris.
Her other notable roles include Samantha Grover in Hawaii Five-O and Gayle Franklin in Tyler Perry's The Oval.
Paige was born to an African-American father and a Puerto Rican mother on July 20, 1992, in Dallas, Texas. She is the second child of her parents' five children — she has one elder sister, one younger sister, and two younger brothers.
But since the actress manages a private personal life, not much is known about her siblings. In addition, her siblings are not as famous as her, which keeps them low-profile.
Meet her four siblings and get the details about their lives here!
Paige Hurd's Elder Sister Is Married
Paige's elder sister, who does not have an Instagram handle, goes by the name, Erin. Her lack of social media handles has resulted in not much being known about her life.
That said, Erin is happily married to her husband, Qui-Juan Jones, who is a singer-songwriter by profession. On November 5, she and her husband also celebrated their third wedding anniversary.
The couple also shared another good news back in August this year. They announced that they were expecting their first baby.
Paige Hurd's Younger Sister Turned 21 in June
The third child of the family, Cloe, is 21-years-old. She turned 21 this June, and on that occasion, Paige posted a series of videos and pictures of them together on her Instagram.
"Happy Birthday to my cancer twin, firecracker, take NO [expletive], and always says what's on her mind, loving, hustler bad [expletive] sister of mine," the actress wrote in the post.
Cloe, who goes by the username @lilmamaclo on Instagram, has a private handle with 4,054 followers.
Paige Hurd's Younger Brother Is an Aspiring Musician
Paige's third sibling, who goes by the username @thehitmanburd on Instagram, is an aspiring musician. He has also released some songs and is registered as "BHURD" on Soundcloud.
Back in June 2016, the actress's younger brother graduated from El Camino Real High School.
"Not only did the kid wear pajamas to graduation but he did this. You the real MVP @lilbhurd Congrats on graduating...i love you," Paige wrote on the day of her brother's graduation.
Paige Hurd's Youngest Brother Is Diagnosed with Down Syndrome
Paige's youngest brother, Pierce Harlin, who turned 19 this year on March 22, has Down Syndrome. Not just that, the actress once revealed that her brother was also a cancer survivor.
"The baby of our family celebrated his golden birthday Friday and today is also his day! Pierce not only has Down syndrome but Pierce is also a cancer survivor," she wrote in her March 2021 post, while speaking about her brother.
She continued to write,
I'm so beyond proud, grateful, and happy that he is MY brother. P, you are the coolest, sweetest, funny soul I have ever met.
In June 2021, Pierce graduated his high school and expressed his happiness through Instagram, writing, "WE MADE IT!"