For Oksana Masters, The Jump to Skiing Was an 'Easier Transition'
'It's the mind that's more responsible in the race than your body,' Oksana Masters says.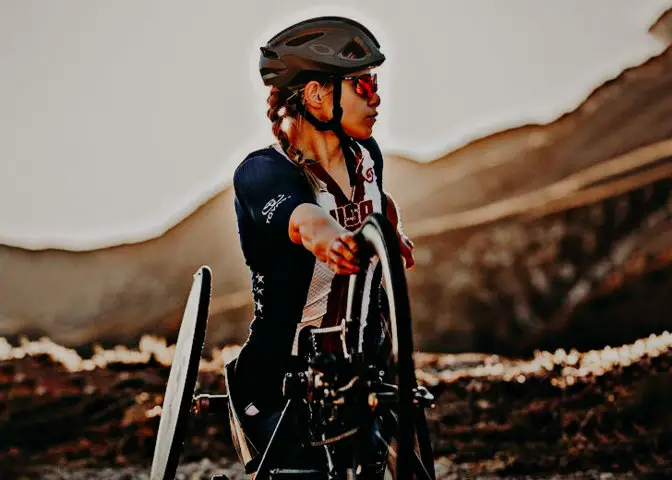 Oksana Masters is a Ukraine-born American Paralympic rower and cross-country skier who has won eight medals representing her country.
She won her first-ever United States medal in trunk and arms mixed double sculls at the 2012 Summer Paralympics in London.
The 32-year-old was also part of the U.S. Nordic skiing team at the Sochi 2014 Winter Paralympics and the Pyeongchang 2018 Winter Paralympics, where she won two Paralympic medals and five Paralympic medals, respectively. Out of the five Paralympic medals in the latter year, two were gold.
More interestingly, she is one of the few para-athletes who has competed in four different Paralympic sports — rowing, cross-country skiing, biathlon, and cycling.
And while many might feel that it must be hard for Masters, who was born without any of the weight-bearing bones in her legs, to transition between varied sports, she explains it was not that tough, especially skiing.
Skiing Was an Easier Transition
Speaking with GQ magazine in July 2021, Masters talked about the journey to her successful sporting career. She revealed that she first started rowing when she was in middle school after her adoptive mother asked her to try the sports.
"When I was 13, I got in the boat for the first time," she added while saying the sports helped her make friends and find a place to let go of all her frustrations.
But as she transitioned into other sports, she didn't find it much challenging. She precisely mentioned that skiing was particularly easier for her since she was strong with her triceps.
Even in the orphanages, on days where I wasn't able to walk, I would just scoot. It was a lot of triceps, and that's why skiing was an easier transition for me. 
Masters was so accustomed to using her triceps because of her anatomy that she does skiing with her triceps than her lats. That also makes her hands and arms look bigger than they actually are.
It Is Mentally Difficult
Even though some sports come naturally to Masters, she noted it can be mentally difficult when you're performing the action.
In the previous interview, she shared that taking on four different sports takes a toll on one's mental health all the time.
"Especially in a long race and you're like, 'I'm only one mile in and I feel like I'm about to die. There's no way I can sustain this for another 19 miles,'" she added.
But Masters revealed she avoids such negative conversations with herself in the middle of a race, and instead, she tunes into the counting.
Over the years, she has also realized that training your body and being fit makes it easier to push yourself physically. While on the topic, she also stated the mind plays an even bigger role in pushing the muscles. 
"It's the mind that's more responsible in the race than your body," Masters implied.
At the end, when GQ's interviewer Clay Skipper asked her what advice she would give to a rookie who is struggling to break through mental or physical barriers, the cross-country skier said one needs to trust the hours they put into their training.