The Norwegian Women's Beach Handball Team Flip Misogynistic Rules — EHF Takes Action
A change is definitely needed for women in sports.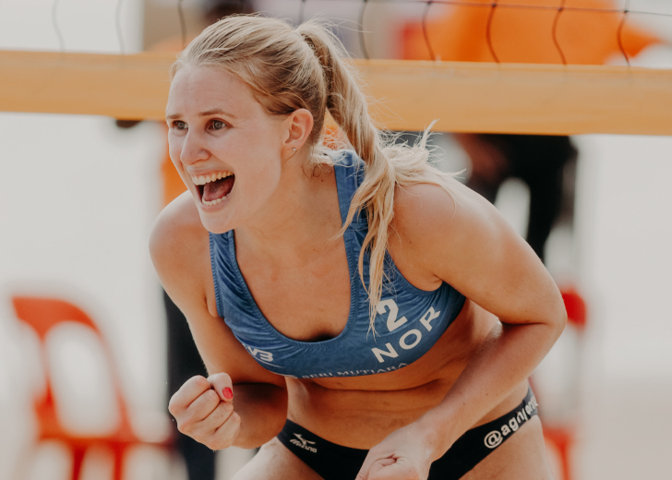 At the European Beach Handball Championships in Bulgaria last week, the Norwegian women's beach handball team was fined after wearing spandex shorts rather than the mandated bikini-bottom design. 
Norwegian Handball Federation president Kåre Geir Lio told NBC News that the Norwegian team had petitioned from the start of the tournament to wear shorts, prompting the European Handball Federation to threaten the team with a fine or disqualification.
In the end, the team was fined 150 Euros apiece (total 1,500 Euros, or about $1766) for wearing "improper clothing" during its bronze-medal match against Spain.
They received a lot of support from fans and celebrities alike, including pop star Pink who took to Twitter a few days ago to rally behind the team. 
I'm VERY proud of the Norwegian female beach handball team FOR PROTESTING THE VERY SEXIST RULES ABOUT THEIR "uniform". The European handball federation SHOULD BE FINED FOR SEXISM. Good on ya, ladies. I'll be happy to pay your fines for you. Keep it up. — P!nk (@Pink) July 25, 2021
The singer commended the Norwegian team for protesting the rules that prevented them from wearing shorts like their male counterparts and offered her financial support. But Pink's help was apparently not needed. 
The fines were paid, but not by the Norwegian team.
The European Handball Federation ended up paying the fine itself, noting that it would donate the amount paid by the Norwegian Handball Federation "to a major international sports foundation which supports equality for women and girls in sports."
Women Athletes Rarely Have Options
The Norwegian women's beach handball team case is not singular.
In a similar event, double world champion para-athlete Olivia Breen was left speechless and angry when a competition official remarked that her briefs were "too short and revealing."
After competing in the long jump at the English Championships in Bedford on July 18, an official told her to wear "more appropriate" shorts. The athlete recounted her experience to FRANCE 24. 
She even took to Twitter to share the incident to stop it from happening to others and noted the double standard regarding athletic dress codes that women have to face. 
Unfortunately, double standards in sports uniforms aren't new. 
In 2011, one of the most egregious offenses occurred ahead of the London Olympics. The Badminton World Federation decided that female players must wear skirts to look feminine and presentable. 
Misogyny in Sports 
Women are often dictated by how they present themselves. They are judged on their feminity and not their athleticism. 
According to Akilah Carter-Francique, the executive director for the Institute for the Study of Sport, Society and Social Change at San José State University, sports often reflect a "microcosm of our society."
 From hair to makeup to clothing, to how tight [or loose] the clothing is, to the colors. All so that they can be more in line with this notion of girlhood, of womanhood, of what is deemed femininity.
These reasons also contribute to the low participation numbers of women in sports, according to a report from the Women's Sports Foundation. 
And even when girls participate, they do not receive enough attention and funding. 
A change is definitely needed.