'14 Peaks' Star Nims Purja Gets on 'The Joe Rogan Experience'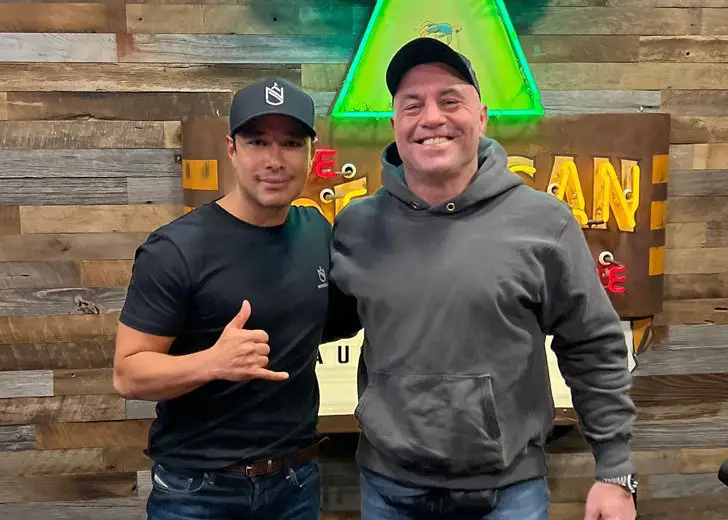 If you haven't tuned in to the Netflix documentary 14 Peaks: Nothing Is Impossible, you are missing out on a lot.
Directed by Torquil Jones, the documentary is about Nepali mountaineer Nirmal "Nimsdai" Purja, also known as Nims Purja, and his quest to summit all fourteen of the world's 8000-meter peaks in a single climbing season. 
Italian climber Reinhold Messner was the first to complete ascents of all 14 of the world's 8,000-meter peaks in 1986, but it took him 16 years. 
By 2019, the record had reduced to seven years.
There was a lot on the line for Purja, who faced avalanches, treacherous weather, near-death experiences, and political barriers. 
"Giving up is not in the blood, sir. It's not in the blood," says Nimsdai. 
The tasks seemed near impossible, but with sheer determination and possessed of a belief in his own success, Nimsdai succeeded.
He completed it in six months and six days.
Nims Purja Invited on 'The Joe Rogan Experience Podcast'
No one in the climbing world had heard of Purja, but after obliterating the speed record for climbing the world's tallest 14 mountains, he became a legend in the field. 
On March 9, 2022, the record-breaking climber was invited to Joe Rogan's The Joe Rogan Experience podcast. 

Nirmal Purja on The Joe Rogan podcast (Source: Powerful JRE/YouTube)
As usual, Rogan posed interesting questions to Purja in their almost three-hour episode. 
Purja shared he got the idea to climb 14 peaks and film it after realizing he wanted to show the world that nothing was impossible. 
He also wanted to give the Sherpas the proper credit they deserved from the mountaineering community. 
He was in the special forces in the UK and was about to receive his pension, but he quit his well-paying job to fulfill his dream of showing the world that anything was possible.
After that, he began raising funds for his projects, but it was easier said than done. 
He got many rejections, and people told him straight up that he wouldn't be able to achieve it. 
The climber shared he needed approximately 2 million dollars for the project, and he was so relentless that he wrote a handwritten letter to the CEO of Virgin Group, Richard Branson. 
Fans Rejoice at Nims Purja's Appearance
Purja said that out of everything he went through, getting the funds, especially after quitting his job, was the most stressful period of his life.
This is just a snippet of the conversation from their two-hour-long conversation. 
After the podcast went live, Purja took to Twitter to share the news of his appearance. 
"All our fans have been waiting for this one - Nimsdai on the Joe Rogan Experience! Folks, get ready to get inspired, get motivated, and start living rather than just existing - a must-listen podcast!" wrote the climber.
Fans took to the comment section and congratulated Purja on his appearance.  
One Nepali user wrote, "It is sheer pleasure to see and listen to our national anthem in JRE. Who would have thought that one day we will be watching #nimsdai on JRE and listening to our national anthem."